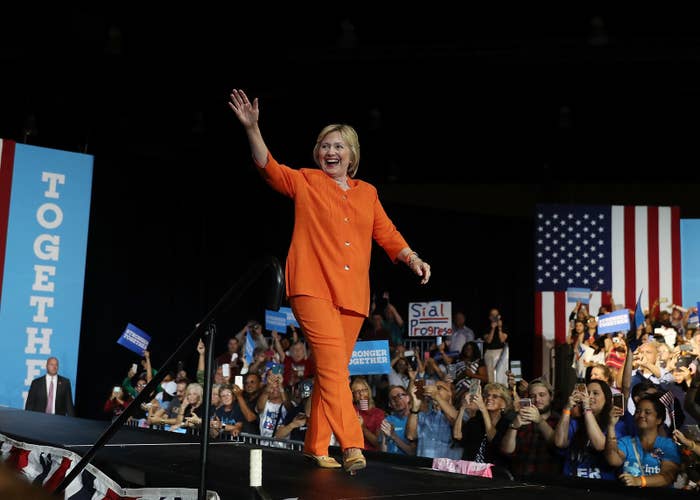 Hillary Clinton will pitch her candidacy to Mormon voters in Utah with an op-ed Wednesday in the church-owned Deseret News.

"I've been fighting to defend religious freedom for years," Clinton writes in an excerpt of the op-ed provided to BuzzFeed News. "As secretary of state, I made it a cornerstone of our foreign policy to protect the rights of religious minorities around the world — from Coptic Christians in Egypt, to Buddhists in Tibet."
While members of the Church of Jesus Christ of Latter-day Saints have traditionally been some of the most reliably Republican voters in the country, they have been strongly resistant to Donald Trump's candidacy this year. Several Utah polls have shown Clinton within striking distance of Trump. Meanwhile, two third-party candidates — Libertarian Gary Johnson, and independent conservative Evan McMullin — are headquartering their campaigns in Salt Lake City, hoping to take advantage of Trump's struggle to connect with the electorate there.
Still, Clinton's attempt to court voters in Utah, a state that hasn't gone blue in a presidential election year since 1964, is striking.
Paul Edwards, editor and publisher of the Deseret News, said, "Given the interest that has been focused on Utah voters this year, we reached out to both campaigns and were very pleased that Secretary Clinton would be willing to speak directly to Deseret News readers."

The paper's opinion editor told BuzzFeed News they have made several attempts to contact the Trump campaign and have so far not heard back; he said they hope the Republican nominee will take them up on their offer.
UPDATE
The Deseret News has now published Clinton's op-ed, in which she cites Mormon GOP leaders criticizing Trump and invokes the faith's historical persecution:
"Trump's Muslim ban would undo centuries of American tradition and values. ...
"But you don't have to take it from me. Listen to Mitt Romney, who said Trump "fired before aiming" when he decided a blanket religious ban was a solution to the threat of terrorism.
"Listen to former Sen. Larry Pressler, who said Trump's plan reminded him of when Missouri Gov. Lilburn Boggs singled out Mormons in his infamous extermination order of 1838.
"Or listen to your governor, who saw Trump's statement as a reminder of President Rutherford B. Hayes' attempt to limit Mormon immigration to America in 1879.
"Instead of giving into demagoguery, Gov. Gary Herbert is setting a compassionate example and welcoming Syrian refugees fleeing religious persecution and terrorism."