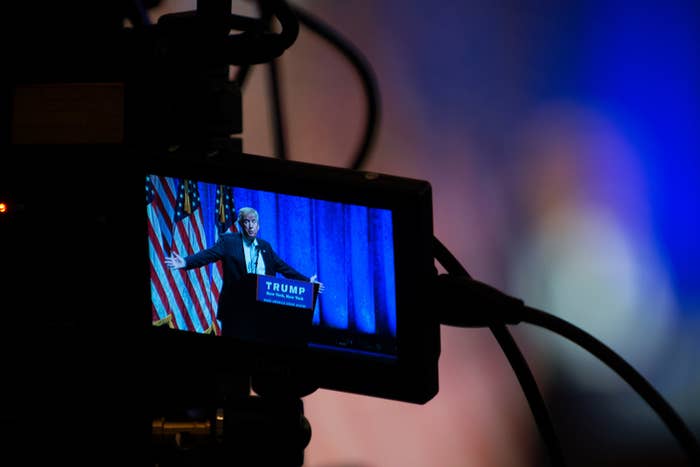 The former political adviser whom Donald Trump is bringing arbitration proceedings against for allegedly leaking confidential campaign dirt to the New York Post once made himself invaluable to the billionaire by doing something roughly similar: gathering intel on political journalists and sharing it with his boss.

Back in April 2014, Sam Nunberg — the consultant from whom Trump is now seeking $10 million in damages — prepared a document titled "Trump reporter assessments 2014," which BuzzFeed News recently obtained. In the document, Nunberg listed 67 journalists who had received credentials to cover the upcoming New Hampshire Freedom Summit, and added notes on which ones Trump should talk to and which ones to avoid.
Press strategy memos like this are common in politics. But Nunberg's document is unique for the early glimpse it provides at how Trump — a veteran of the old tabloid-dominated New York City media — was first introduced to the political press corps that would follow his unlikely ascent to the GOP presidential nomination.
According to the all-caps notes in the column titled, "Sam Nunberg Suggestions," one guiding rule about whether a given reporter would get access to Trump was, unsurprisingly, whether they had been "negative" or not.
Next to The Atlantic Molly Ball, Nunberg wrote, "NO – VERY NEGATIVE TOWARDS MR. TRUMP." David Martosko of the Daily Mail was deemed a "medium priority" because he "has been positive for Mr. Trump. He used to work at Daily Caller. I have worked with him before."
Instead of talking to Byron York of the conservative Washington Examiner, for example, Nunberg proposed a "STRATEGIC ALTERNATIVE" interview with his coworker Rebecca Berg. "York has consistently been negative towards Mr. Trump. The Washington Examiner is influential. I can arrange a pre-trip piece with Rebecca Berg about Mr. Trump's 'second NH visit.' She covered Mr. Trump at American Spectator favorably."
Nunberg suggested offering Fox News correspondent Carl Cameron "A QUICK 1-MINUTE INTERVIEW, MAYBE TRY ON SITE."
Any interview with Breitbart News, meanwhile, was treated like a no-brainer. Company chairman Steve Bannon had requested an interview for his Sirius XM show, and Nunberg wrote, "HIGH PRIORITY ... MAJOR SUPPORTER OF MR. TRUMP." Breitbart political editor Jonathan Strong was also deemed a "priority" — "WILL BE EASY TO SCHEDULE. BREITBART WILL SCHEDULE AROUND MR. TRUMP."
Some journalists were passed over without much explanation. Politico's Maggie Haberman: "NOT NOW." The New York Times's Jeremy Peters: "NO." Business Insider's Brett LoGiurato: "Maybe."
Next to Time's Zeke Miller, Nunberg wrote, "I CAN SPIN ZEKE IN BACK ON DEEP BACKGROUND." And for Newsweek's Matthew Cooper, he wrote, "NO. COOPER IS A LIBERAL."
In two cases, Nunberg included information about journalists' personal romantic relationships, and their partners' political leanings. One reporter, he wrote, had been married to a well-known Democratic strategist; another, he said, was dating an adviser to a Republican. Nunberg suggested denying access to the former, and giving an interview to the latter.
Demonstrating his understanding of presidential politics — and his desire to get Trump to take a potential campaign seriously — Nunberg deemed all requests from local media outlets in New Hampshire and Massachusetts to be the highest priority for Trump.
I got a hold of Nunberg's document — along with a number of other internal memos written to Trump from 2014 to 2015 — while working a profile of the Republican presidential nominee. Nunberg, who was fired by the campaign last summer, spoke to me several times over the course of my reporting for the story. He declined to comment on this specific document.