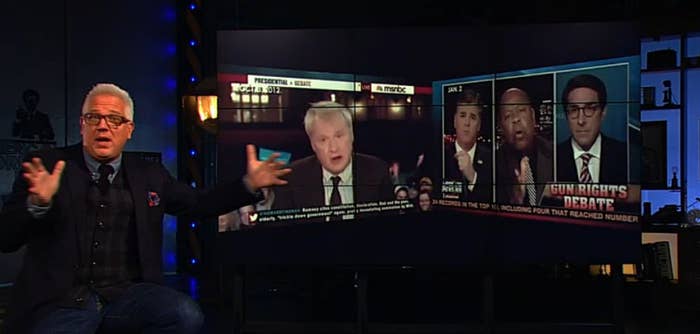 Glenn Beck announced plans Tuesday during his online television program to expand the news operation in his media company, The Blaze, and refocus it as a libertarian network, opening three foreign bureaus, debuting a nightly newsmagazine show, and relocating his New York staff to showy new offices.
Beck introduced his ambitious plans by standing in front of a split screen with MSNBC's Chris Matthews on one side and Fox News's Sean Hannity on the other, and bemoaning the fact that cable news has devolved into the "far left [and] far right... yelling at each other."
"We're not gonna play in that crazy space as a network," he said, adding, "I consider myself a libertarian... I'm a lot closer to Penn Jillette than I am to Chuck Hagel."
He said over the next 60 days, The Blaze will open three foreign bureaus in cities that are "important to America." He will also relocate his New York staff from their current midtown offices into a building that will "send a very clear message to everyone in New York... it will piss everyone off."
Beck also showed a teaser for a new nightly 30-minute newsmagazine show called For the Record.
"Our Nightline will be a nightly half hour broadcast to update you on a topic that no one else quite frankly has the balls to do. I will," he said.
The trailer for the show — which he said will be "the most expensive show on the network, including mine" — featured future episodes exposing the NSA for turning America into a "surveillance state," and warning that the UN "want[s] your guns," both big issues in libertarian circles.
After the in-your-face trailer ended, Beck chuckled, "Security is going to be a real issue for the people in our company."
The Blaze also has plans to hire investigative journalists and plans to produce more documentaries, Beck said.
"We are currently looking for our own Woodwards and Bernsteins," he said. "Maybe they don't exist anymore, and if that's the case I don't really care. We'll grow our own!"
Beck launched his online TV network, then called GBTV, in 2011, and has brought all his media properties — including a news and opinion site, a monthly magazine, and an online radio network — under umbrella of The Blaze brand. Last year, the network began airing on a Dish Network channel, and last week, Beck revealed that he tried to buy the channel currently airing Al Gore's Current TV — a sign that he hopes to expand into cable soon.
But Beck's decision to orient the network's programming around libertarian politics — or at least brand it that way — could be a play for younger, conservative viewers, who find the Republican Party, and the network that most closely aligns with its ideals, Fox, distasteful.