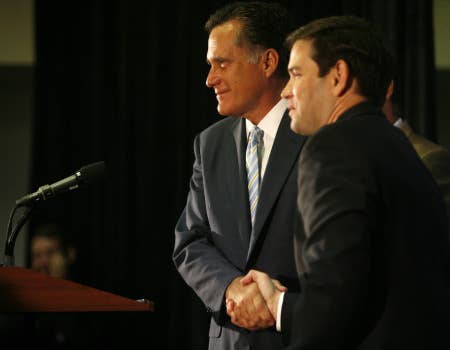 In the compelling personal narrative that has helped propel Florida Senator Marco Rubio to national political stardom, one chapter has gone completely untold: Rubio spent his childhood as a faithful Mormon.
Rubio was baptized into the Church of Jesus Christ of Latter-day Saints with his family at around the age of eight, and remained active in the faith for a number of years during his early youth, family members told BuzzFeed.
Rubio spokesman Alex Conant confirmed the story to BuzzFeed, and said Rubio returned to the Catholic church a few years later with his family, receiving his first communion on Christmas day in 1984 at the age of 13.
The revelation adds a new dimension to Rubio's already-nuanced religious history—and could complicate his political future at a time when many Republicans see him as the odds-on favorite for the 2012 vice presidential nod. Vice presidential candidates are traditionally chosen to provide ethnic and religious balance to a ticket. Mitt Romney's Mormonism and Rubio's Catholic faith would already mean the first two members of minority traditions on a Republican ticket in American history. Rubio's Mormon roots could further complicate that calculation.
A sign that Rubio's aides see the story as potentially damaging: BuzzFeed's inquiries appear to have sent them into frantic damage-control mode, and after email inquiries from BuzzFeed — but minutes before Conant responded with a phone call this morning — a brief item appeared on the blog of the Miami Herald mentioning the Senator's religous past. Conant said Rubio planned to discuss his time as a Mormon in his forthcoming book.
The story of Rubio's conversion to Mormonism, his enthusiastic immersion in LDS adolescent life, and his eventual departure from the church was recently related to BuzzFeed by two of the Senator's first cousins, Mo Denis, a Democratic State Senator in Nevada, and his sister Michelle—both of whom were close to his family at the time.
By the cousins' account, the Rubios were introduced to Mormonism in the late 70's, after moving into a house in the Denises' neighborhood. The two families' mothers had always been close as sisters growing up in Cuba; now they were building congruent lives in the same middle-class suburb of Las Vegas.
Mo said the Denises—who had converted to Mormonism years earlier—wasted little time in sharing their religion with the Rubios.
"Right when they moved here, they started going to the church activities with me," said Michelle, who grew close to Rubio and his sister, Veronica. "Our parents didn't let us hang out with non-family members too much. They were pretty strict."
It wasn't long before the Rubios were sitting down with Mormon missionaries, reading the Book of Mormon and preparing for baptism. It's unclear how many in the family ultimately converted; the Denises recalled only the baptisms of Marco, Veronica, and their mother, Oria. But one family member definitely abstained: Marco's father, Mario.
An overworked bartender at Sam's Town Hotel and Casino, Mario had little use for a religion that promoted a strict code of moral conduct that seemed at odds with the way he made a living, said Michelle.
"He liked to smoke and drink," she laughed. "Plus, I don't know if he was ever around too much. He was always working."
As the family patriarch toiled to support his wife and children, Michelle said Marco—or "Tony" as the family calls him, after his middle name Antonio—stepped in at a very young age as a natural leader in the family. Smart, confident, and slightly stubborn, Rubio was skilled at persuading his siblings, cousins and even his mother to see things his way, Michelle said.
"I think we always thought he'd be something because he had a big mouth, and he was very bossy," she said. "He could convince his mom to do anything."
And for a number of years during his early adolescence, that meant enthusiastically encouraging participation in his family's new church.
"He was totally into it," Michelle recalled. "He's always been into religion. Football and religion. Those were his things."
Over the years, he and his cousins frequented LDS youth groups, attended church most Sundays—often walking to the chapel because his mother didn't know how to drive—and latched on to the mainstream Mormon culture that was easily accessible in LDS-heavy Nevada.
For example, when they were in elementary school, Rubio formed a singing group with Michelle and his sister that would put on performances for extended family. Their inspiration? The Osmonds, of course.
"It was just the same Osmonds song at every family function," Michelle said. "It's the only one we knew."
The fascination with the Osmonds—who were the most famous Latter-day Saints in the country at the time—didn't end with the cover band. In a sort of pilgrimage of pop Mormonism, Michelle said her family would make annual treks to Provo, Utah, where they would tour the Osmonds' recording studio. Rubio tagged along more than once.
"It was just the thing to do," said Michelle. "Then we'd go hang out at BYU."
The cousins said Rubio's participation in the Mormon church continued for several years, until his parents decided to move them to Miami—though Conant said the family left the church before leaving Nevada.
Rubio was just reaching high school age when his family relocated, and Mo speculates that their transition to an area with fewer Mormons likely took its toll.
"When they went to Miami, they basically stopped going to church," said Mo, who currently serves in the lay Mormon leadership in Las Vegas. "I think they probably didn't have the [LDS] church around them there."
Conant told BuzzFeed that Rubio never requested to have his name removed from the LDS Church's records, which means officially, the church is likely still counting him as a member.
Michelle said the family eventually started identifying as Catholic—once again, at Marco's urging.
"He really convinced the whole family to switch religions," she said. "He's very vocal so he convinced them all the become Catholic."
The reason for his adamancy is unclear. But even while the conversion marked a return to his family's religious roots, it wasn't the end of his spiritual evolution. While Rubio continues to identify as a Conservative Roman Catholic, he frequently attends a non-denominational Baptist church with his family in Florida. As his notoriety increases, both communities have sought to lay claim to the rising political star, with little resistance from Rubio himself.
In fact, the politician has cooperated for profiles in both the Catholic Advocate, and the Evangelical World Magazine—granting pitch-perfect interviews to each.
In its 2010 profile, the Advocate cast him as a bold champion of conservative Catholicism:
Rubio has not been shy about mentioning his Catholic faith on the campaign trail. He told me that he hasn't met any objections: "I don't think my views should offend anyone—you can't force religious views on anybody, but it's an essential part of who I am, how I view the world, how I try to live, and part of that is we are all flawed and need forgiveness."
The World, meanwhile, was sure to make mention of the church he currently attends:
Rubio turned to faith and family when trying to determine whether he wanted to run for the right reasons. "For those who have the Christian faith and are in politics, there is a constant struggle between a desire to do what is right and how that sometimes may not coincide with what is popular," said Rubio, a Roman Catholic whose family has spent the last six years attending a Miami-area nondenominational church, Christ Fellowship. "I hope that, more often than not, I make the right choice."
He has been less open about his ties to the Mormon community, never mentioning it in public. Michelle, who doesn't attend church regularly anymore, said Rubio has rarely mentioned Mormonism to her.
"It really never comes up," she said.
Similarly, Mo said a few years ago, he mentioned his church service to Rubio over the course of conversation. Rubio responded by telling him that the law firm he was working for had recently taken on the LDS Church as a client to help handle a zoning issue for a large cattle ranch it owned in Florida.
Rubio didn't personally work with the church, but he thought his cousin would find the coincidence interesting.
"He said it like he didn't even remember he used to part of the church," Mo said.
UPDATE: An earlier version of this story did not clearly attribute to his two cousins a claim about exactly when Rubio changed his observance, as the current version does.