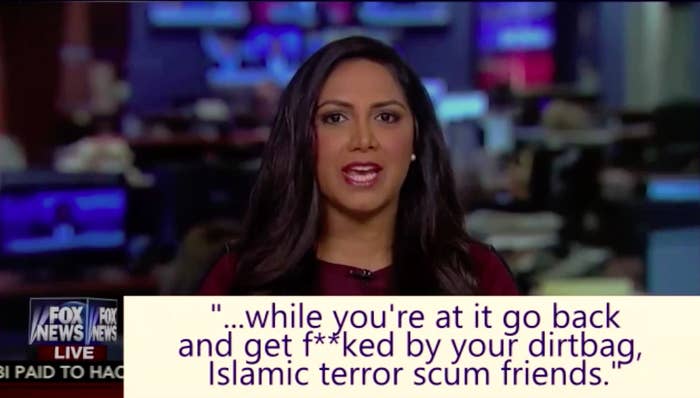 Evan McMullin's presidential campaign has taken a racist tirade recently left in a staffer's voicemail inbox and turned it into a political ad highlighting the dangers of "Donald Trump's America."

The ad, which will air online in select markets, features a recording of a personal cell phone message campaign spokeswoman Rina Shah received after appearing on Fox News last Friday.
"You frothing, libtard piece of shit Islamic dog," the caller, identified only as "Alan," is heard saying in the ad, while a transcript of his rant runs along the bottom of the screen. "Vote for the pathological lying criminal you fucking piece of shit ... and get out of our country ... while you're at it, got back and get fucked by your dirtbag Islamic terror scum friends. Slut."
The campaign's ad concludes with a warning: "Alan is a preview of Donald Trump's America. We can do better."
As the ad notes, Shah was born in West Virginia. She is also not a Muslim. But in an interview with BuzzFeed News, she said Alan's voicemail was just a small sample of the abuse she has endured from Trump supporters since she publicized her opposition to Trump and then joined McMullin's campaign.
"I could send you, I'm not kidding, hundreds of emails I've received," she said. "You know, 'You're a Muslim,' 'You're a C-U-N-T' — I get a lot of, 'Go back to your country.'"
Shah, who is Indian-American, gave birth to her first child last year, and said she's grown increasingly worried about how her young family would be affected by a Trump presidency.
"I never cry," she said. "It's like my rule. I've never been a crier. But I think it's really hit me this past week. ... It's just hard to imagine a scenario where it would be good for us if he were to win. And when I say 'us,' I mean women, young people, people of color — because [Trump] seems to only look out for one type. If one of his supporters were to punch me in a rally, would he even blink an eye? I don't think so."
Reached by phone Tuesday evening, the man featured in the ad told BuzzFeed News his full name was Alan Pryce. He seemed at first not to remember leaving the voicemail on Shah's phone, but after hearing a transcript of the message read aloud, he said, "Oh yeah, a few days ago? I stand by every word of it."

Informed that Shah was born in in the U.S., Pryce replied, "Really? Well, she's absolutely a first-gen whatever. Look, I didn't do a biography on her."
"Clearly, she's an anti-American supporter of a pathological lying criminal," Pryce continued. "Anyone who supports [Hillary Clinton], either actively or tacitly, is anti-American scum in my mind."
He claimed he had been disabled by an undocumented immigrant, and said he was supporting Trump as a consequence (though he declined to provide personal details that would help verify his story).

Though he was strongly critical of McMullin, whom he called "the definition of the word 'cuck,'" Pryce didn't mind being featured in his campaign's ad. "Honestly," he said, "I think it's hysterical."