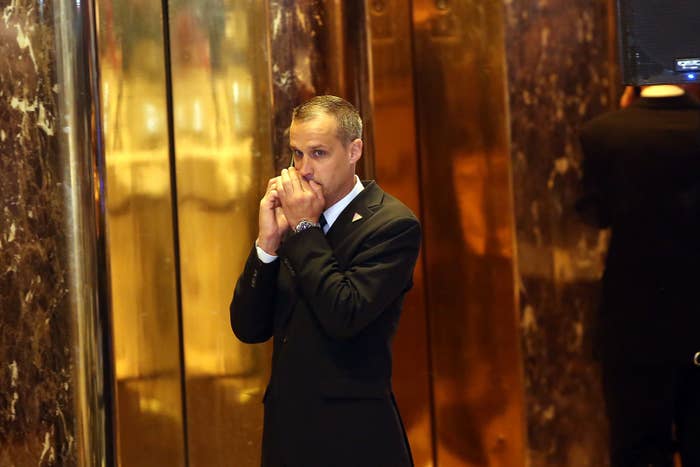 When news broke Monday morning that Donald Trump had fired Corey Lewandowski as his campaign manager, Twitter erupted with eager speculation about the juicy tell-all book he seemed certain to write.
But those anticipating an unfiltered, score-settling account from the axed Trump aide may be waiting a long time, conservative publishing sources said Monday. It remains unclear whether Lewandowski will even try to ink a book contract, but if he does, he will likely face two big obstacles in pitching publishers: his nondisclosure agreement with the famously litigious billionaire, and a general skepticism about where his book would fit in the increasingly bearish market for Trump tomes.
BuzzFeed News first reported last month that Lewandowski was working on a book — a project described by one source as the insider's story of "how Trump did it." At the time, industry insiders said multiple imprints were expressing interest, and that the operative had even reached out to a potential ghostwriter.
According to Politico, the anti-Lewandowski faction of the fractious Trump camp seized on the BuzzFeed News story and circulated it to raise doubts about his loyalty to the campaign — a dynamic that suggests that Trump had not (yet) signed off on any book deal for his aide.
Lewandowski promptly denied the report, specifically citing his confidentiality agreement with Trump.

If Lewandowski is able to somehow wriggle out of this contract, he could find success in selling an unfiltered book that's "not beholden to the campaign," said one literary agent plugged into the conservative publishing world. But that remains a big if — even Lewandowski's own former attorney noted Monday that the terms of his confidentiality agreement with Trump could prevent him from writing a book.
Of course, there are ways Lewandowski could try to get around the NDA issue. (One source mused that he could pen a thinly fictionalized roman à clef, a la Primary Colors.) But publishers may not want to risk years of litigation with Trump unless they think they have a hit on their hands — and that could be Lewandowski's bigger problem: It's not clear who exactly his audience would be.
"I feel like it's the kind of thing that would get a ton of media, and then nobody would buy the book," said one editor at a prominent conservative imprint, adding, "I would read a proposal from him, I guess, but with great skepticism."
The problem, the editor said, is that the would-be author's personal brand is already so closely tied to that of his former boss that any reader who "would get excited about an anti-Trump book won't want to hear from [Lewandowski]."
And what if he tries to go the good-soldier route — as he has so far in his television interviews — and writes the sort of glowing, upbeat account that Trump would approve? He might get a contract that way, said one conservative publishing insider, but by the time it's published he would likely be competing with bevy of campaign chronicles. Given the timing of his termination, the former campaign manager would have to fill a crucial four-and-a-half-month hole in the narrative with his observations as an outsider. In other words, this would not be the buzzy, backstabbing Trump Tower tell-all that political junkies have their hearts set on.
Much could change between now and November, of course — including, even, the operative's status in the Trump orbit. But for now, publishing types see some serious hurdled standing between Lewandowski and bestseller status.
"It seems like a ridiculously long long-shot," the conservative editor said. "But then again, sometimes those long-shots pay off."