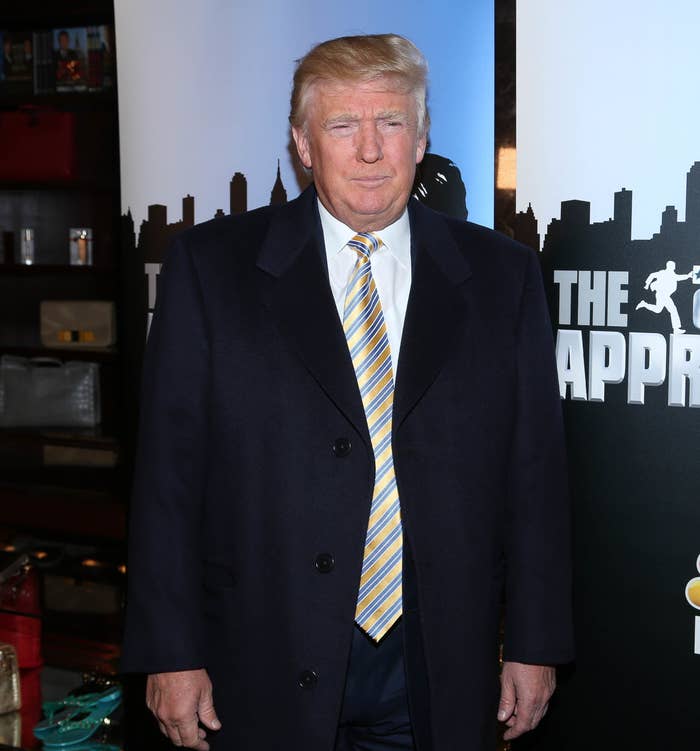 A decade before he launched his presidential bid, Donald Trump was a reality TV sensation in search of a new gimmick for the upcoming season of The Apprentice. In the summer of 2005, he thought he had found it: pit black contestants against white ones in the televised battle for boardroom supremacy.

Trump floated the prospect of racially segregated Apprentice teams during his short-lived syndicated radio show on July 11, 2005.
Explaining to listeners that he "wasn't particularly happy" with the show's most recent season, Trump said he was mulling "an idea that is fairly controversial — creating a team of successful African-Americans versus a team of successful whites. Whether people like that idea or not, it is somewhat reflective of our very vicious world."
The idea — which he had also raised on Howard Stern's show a couple months earlier, according to a 2005 Entertainment Weekly article — drew an avalanche of coverage, commentary, and question-mark headlines at the time.
"Will next Apprentice play race card?" asked UPI.

"Will The Apprentice become a battle of the races?" mused MSNBC.com.
(In a bizarre bit of time-capsule trivia, multiple critics suggested Trump was inspired by a reality show that ABC had recently yanked before airing, Welcome to the Neighborhood, which would have allowed three white families in suburban Texas to choose their new neighbors from among a group of contestants that included Koreans, African-Americans, pagans, and a same-sex couple with an adopted black child.)
Renee Graham, a black Boston Globe columnist, wrote that Trump's idea would make for "nothing short of revolutionary, must-see TV."
In dividing the ''Apprentice" teams by race, there would finally be a reality show nervy enough to deal with one of the more difficult dilemmas of our own reality, and where the ultimate stakes would be far more important than just determining who gets to be the Donald's latest lackey.
But for the most part, Trump's proposal was panned by critics and commentators, and a rep for the billionaire moved quickly to tamp down the uproar, assuring reporters, "it's just an idea." Sure enough, Trump never went through with it.
Tara Dowdell, a black communications consultant who appeared on season 3 of The Apprentice, recalled being "floored" when she first heard Trump's casting idea in 2005. But in retrospect, she says, it seems like the whole episode foreshadowed a 2016 campaign strategy that has cynically fanned the flames of racial resentment and xenophobia.
"Best-case scenario, it was huge blind spot. Worst-case scenario, it showed [Trump's] willingness to exploit race and be divisive — to do anything to promote himself," Dowdell told BuzzFeed News. "The presidency can't be one crazy, ill-advised publicity stunt after another."
She added that she is especially amused now by the presumptive GOP nominee's claims that he will bring the country together: "He has the audacity to say he's a uniter when he proposed Apprentice: The Race War?"