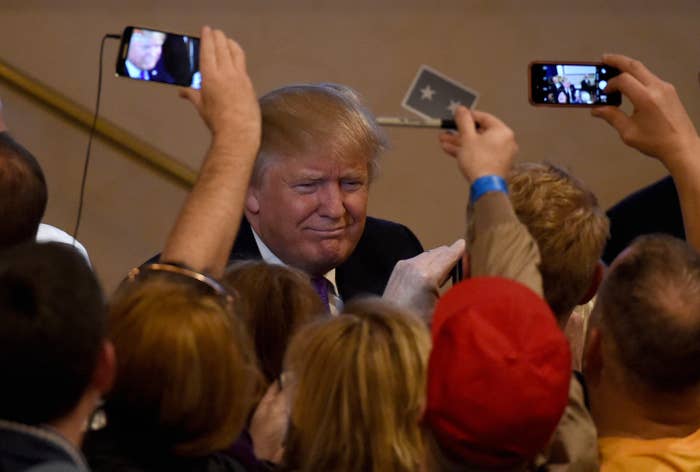 LAS VEGAS — "This is a cultural phenomenon," a woman enthused to her companion Tuesday night as they joined the line for the hottest show on the Strip. "We have to see it."

It was just before 9:00 p.m. local time. Votes were still being counted; results were not yet in. But at the Treasure Island Hotel and Casino, people had already been queuing up for hours to see firsthand what The Incredible Donald Trump would do when he won Nevada's Republican presidential caucuses.
The line to get into his victory rally snaked around the pirate-themed slot machines that flashed and jingled and squawked; it stretched past the gift shops and overpriced eateries hocking perfume and frozen yogurt; near the end it became tangled up in the crowd waiting for admittance to Cirque de Soleil — and when those revelers found out The Trump Show was in town, several expressed regret that they'd wasted money on their tickets.
Those who made it through the Secret Service checkpoint were treated to a raucous ballroom full of supporters and gawkers (two increasingly indistinguishable categories) drinking Budweiser and dancing to classic rock.
Attendees snapped selfies with giant playing cards that showed Trump's mug on the ace of hearts and Hillary Clinton's on the joker.
An Elvis impersonator in gold hip-swiveled his way around the premises.
When a CNN reporter mentioned, during a live shot from the event, that Trump had just one day earlier declared his desire to punch a protester in the face, the ballroom erupted in riotous applause.
Trump's third consecutive victory speech was, like the first two, brief but not boring — they're never, ever boring — and afterward, he was mobbed by smartphone-wielding super-fans clamoring for pictures.
The Trump phenomenon is powered by a lot of things — anti-Washington anger, economic anxiety, nativism — but it also about entertainment and captivation. Trump has mastered the trick of the most successful mass-market television writers, who introduce new plot twists and cliffhangers before every episode ends. It's impossible to stop watching. To the people who had flocked to Trump's Treasure Island extravaganza Tuesday night, his candidacy is the best show on TV — in many cases, literally.
Joe Downward said he got hooked on Trump while watching daytime TV in the Moab, Utah, gas station that he owns.
"I'd sit there and watch the stock market channel, I'd watch The Price is Right, I'd watch whatever dumb thing was on," he said. "Now, I watch the politics channel all day. I started watching this from the very first day one." Finally, he decided he had to see it for himself, so he made the drive to Las Vegas this week. He wasn't disappointed.
"It's the most unreal thing I've ever seen in my life," he raved. "Unbelievable! I mean, I got chills a couple times. I was just like, holy shit, this guy is powerful."
Mike Donohue, a retiree who splits time between Los Angeles and Las Vegas, said The Donald's candidacy has turned him into an incurable cable news junkie.
"It affects everybody in different says," he said of Trump-mania. "I have been, since Trump announced, watching Fox and CNN four hours every freakin' night." While defending Trump's penchant for slicing up the electorate into tribes that he can then pits against each other, Donohue, perhaps reflexively, turned to reality TV.
"He's playing Survivor basically," he said. "A lot of the stuff he says about other groups of people — he's dividing them up because he wants to win the contest."
Ben Labadie, a friendly, clean-cut Canadian nursing a Bud Light, likened Trump to a "super-hero" and said he had taken the liberty of tweaking his campaign slogan to "Make North America Great Again." He said he and his eight-year-old son had been watching Trump on TV nonstop for months, and eventually they began traveling from Ontario to see the show live.
"You have hockey cards, you've got baseball cards, and people look up to those guys. Not many people look up to politicians, but we all should. We should be able to look up to them like we were eight years old," Labadie said. "And I think that's what [Trump] is bringing back."
His son, he said, has been so inspired by the candidate that he wants to take a public speaking class so he can learn to talk like Trump. The boy has also become so fully immersed in American political media that, during a recent argument with his sister, he told her, "You're being like Bob Beckel."
Labadie, who brought his son down to Nevada to help volunteer for the Trump campaign, said they'd attended Marco Rubio's rally that morning.
"I wanted to show him the other candidates to be fair," Labadie said. "But he was bored. With Donald Trump, he pays attention the whole time. He listens to what he says. He was like captivated by it. No politician should be able to capture a kid's attention for that long, but he does."