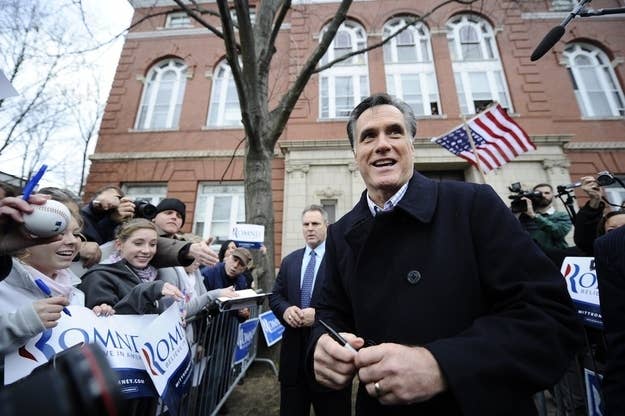 NASHUA, New Hampshire -- Showing off his finance chops to a ballroom full of local business leaders Monday, Mitt Romney told a story about how he saved Massachusetts millions of dollars as governor by cleverly reforming the state's homeless shelter policy.
When he came into office, Romney said, the state was spending "tens of millions" of dollars a year on hotel rooms for people turned away from crowded homeless shelters. At the time, the state ensured that anyone turned away from a shelter would be able to spend the night in a hotel on Massachusetts's dime.
Romney suspected the system was incentivizing wasteful freeloading. "I bet the word gets around," he recalled telling state policymakers. So he proposed a solution: instead of footing the bill for newcomers, the shelter would make room by sending the person who had been there longest to a hotel.
This is an anecdote he's related before on the trail, and it's used to demonstrate how he would apply his consultant-style problem-solving skills to the presidency.
By Romney's account, the reform worked like a charm. Moochers who found the prospect of staying in a shelter less appealing stopped taking advantage of the system, while the truly homeless still had access to essential services. Romney said that under his leadership, Massachusetts went from renting an average of 599 hotel rooms per night to renting none at all.
But the ex-governor's record on homelessness is a bit more complicated than that. According to a 2004 report by UMass Boston's Center for Social Policy, the number of people who entered the state's shelter system actually ticked up somewhat dramatically in the first years of Romney's governorship--as many as 29,000 residents spent a night at a shelter in 2003 alone.
Speaking to The Boston Phoenix at the time, the report's co-author Brian Sokol diagnosed the problem with Romney's approach to homelessness.
"One of the governor's big pushes is the chronic homeless...the push is to get them out of the system because they're using a majority of resources," he said. "But if you only concentrate on them, you're ignoring those who become homeless."
What's more, there are signs that Romney's fix to the shelter system was only temporary, made possible by a stronger-than-usual economy. With Massachusetts shelters now overcrowded due to the recession, the state's current governor has returned to housing homeless people in hotels--spending $28 million on the practice last year alone.