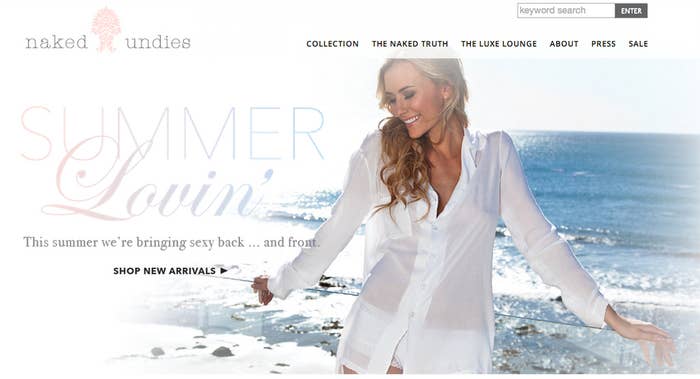 Like most politicians, New Hampshire Sen. Jeanne Shaheen routinely pays lip service to the plight of the small business. But unlike many of her peers, her family has put its money where its mouth is: An "intimate apparel boutique" called Naked Undies is registered to her home address in Madbury, New Hampshire.
The business was registered in the state in 2011 as a limited liability company (LLC) by Shaheen's husband Bill, a prominent attorney and Democratic political operative in New Hampshire. But reached for comment, Bill told BuzzFeed the business is run by their daughter, Molly, and her business partner.
"I didn't select the name — that's her name," he said. "But I encouraged her to start her own business because she's a very talented girl."
According to the Naked Undies website, the business specializes in "chic, versatile, timeless intimates that go from the boudoir to pooch strolling, and from a night out to a weekend away."
The website's "about" section tells the story of how Molly and her partner, Rachel Zimmerman, came to work together — "Rachel thought Molly was a statuesque beauty and Molly thought Rachel was an exotic bombshell" — and makes reference to Sen. Shaheen:
Molly was working tirelessly on the campaign trail speaking to thousands of voters across the country on behalf of her mother, Jeanne Shaheen, the first woman in U.S. history to become both a Governor and Senator. Eventually, Molly planted her roots in Los Angeles, working for top talent agencies.
And in a Q&A section of the site called "Get in bed with Molly & Rachel," Molly writes that if she could "walk a mile in someone's shoes," she would choose her mother "because she is completely amazing and way cooler than I will ever be." (Molly's partner's answer: "Louboutin, of course.")
Molly has been an active surrogate for her mother, blogging from the campaign trail during Shaheen's successful 2008 Senate bid.
While the business was officially registered in New Hampshire, Bill Shaheen said his daughter and her partner now operate multiple stores in Massachusetts, California, and Oregon. [Update: A source familiar with the business clarified that Naked Undies sells its products in those states, but does not own stores in those states.]
As of Monday, Naked Undies LLC was listed on the New Hampshire Secretary of State's website as "not in good standing." But when BuzzFeed asked Bill about the matter, he looked into it and said the problem was the result of an oversight by his law firm, which failed to file an annual report with the state and pay a fee of $150. But Tuesday morning, the company's status had been changed to "good standing."
Bill said he was proud of his daughter's success.
"It's very impressive the quality of the product they sell," he said. "And all American-made, by the way."
Header on the Q&A section of the Naked Undies website: