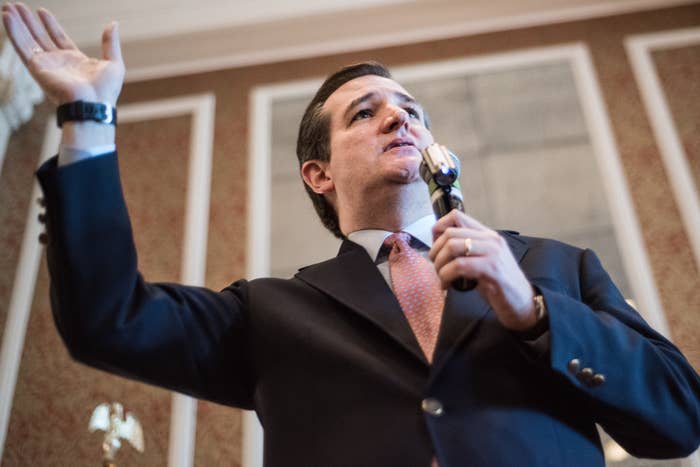 GREENVILLE, S.C. — As Republican candidates compete fiercely for evangelical voters in the run-up to Saturday's South Carolina primary, several high-profile campaign surrogates for Ted Cruz have been circulating reports from Christian websites that Marco Rubio's deputy campaign manager once publicly advocated for same-sex marriage.

As it turns out, though, Cruz's campaign team has its own contingent of vocal marriage equality supporters.
The Cruz camp's new line of attack began 10 days ago, when a website called Baptist Message — tag line: "Helping Louisiana Baptists impact the world for Christ" — posted a 1,100-word story headlined, "Rubio's No. 2 campaign staffer a gay marriage advocate."
Rich Beeson, deputy campaign manager for presidential candidate Sen. Marco Rubio, was one of more than 300 establishment Republicans to sign a controversial friend of the court brief last year asking the U.S. Supreme Court to legalize gay marriage.

Although reported by Politico in an April 2015 article, "Republicans try to have it both ways on gay marriage," it is an issue that largely has gone unnoticed during the campaign, even as Republican candidates seek to secure conservative support.

Cross checking the names of campaign staffers for billionaire Donald Trump, Sen. Ted Cruz and Rubio against the names attached to the writ of certiorari [which described the signers as having "traditional conservative values" that are "consistent with—indeed, are advanced by—providing civil marriage rights to same-sex couples"] shows no other staff members from the three leading Republican campaigns were among those listed.
The story bounced around conservative Christian social media, and was aggregated by a handful of other websites.
It began spreading rapidly on Twitter in recent days after being shared by prominent social conservatives in Cruz's camp — including Family Research Council president Tony Perkins, conservative talk radio host Steve Deace, and Iowa evangelical powerbroker Bob Vander Plaats, who also serves as Cruz's national campaign co-chair.
But if Team Cruz is, indeed, troubled by the "bad company" Rubio keeps, they appear inclined to give their own candidate a pass on the same question.
Among the Republican signatories in the Supreme Court amicus brief referenced in the Baptist Message story: Cruz campaign lawyer Chris Gober, and digital strategists Zac Moffatt and Abe Adams, whose firm was paid more than $245,000 in 2015 by the Cruz campaign.
Cruz has been outspoken in his criticism of the Supreme Court's 2015 decision in Obergefell v. Hodges, which ruled that states cannot ban same-sex couples from marrying.
"I think that decision was fundamentally illegitimate, it was lawless, it was completely inconsistent with the Constitution, and it will not stand," Cruz said at a CNN town hall this week.

A recent poll found that just 40% of people in South Carolina support same-sex marriage, and the proportion is even smaller among Republican primary voters here — a reality that no doubt motivated the Cruz camp's attacks.
But, of course, there is always danger in a campaign picking fights over the ideological loyalties of an opponent's aides and advisers. It is generally well-known in D.C. that professional consultants in both parties tend to support gay rights. And even for an outsider candidate like Cruz, it's hard to build a national campaign without hiring members of the Washington cartel.
A spokesperson for the Cruz campaign did not respond to multiple requests for comment.