Conservative Site's Lead Story: "Registered Dem Killed Trayvon"
Also reminds readers that Zimmerman is Hispanic. "It's obviously newsworthy," says Continetti. "We do what we do."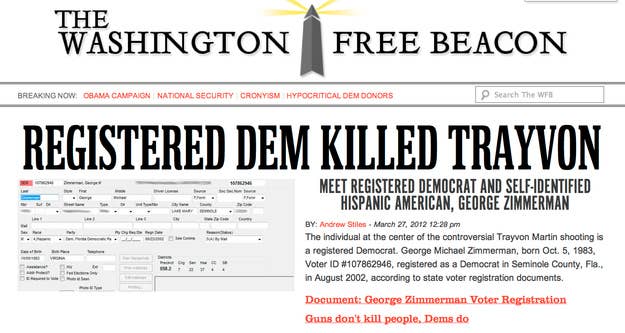 The front page of the Washington Free Beacon right now an advance in the story of slain Florida teen Trayvon Martin. The all-caps headline: "Registered Dem Killed Trayvon."
The story also points out that George Zimmerman, the neighborhood watch volunteer who shot the unarmed teenager, identifies as hispanic — not "white," as some outlets originally reported. The story cites left-wing pundits who have tried to pin the shooting on racism fueled by conservatives.
In response to a query about the newsworthiness of Zimmerman's party affiliation, Free Beacon editor Matthew Continetti e-mailed:
It's obviously newsworthy. This is a huge story and we are adding an important piece of context.
Since its launch last month, the Free Beacon has walked the line between being a conservative rival to the liberal, reported Think Progress, and a parody of it; this seems to err on the latter side.
Continetti also emailed:
We love BuzzFeed, but does a website that has George Takei taking a poll of straight people as a lead story really want to question our news judgment?

We do what we do, you do what you do. Love the site. Godspeed.