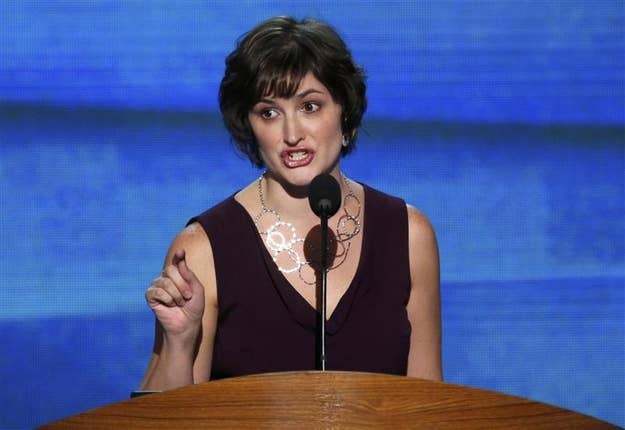 Sandra Fluke may be in for an awkward hour sometime in the near future.
The reproductive rights activist who came to fame earlier this year when Rush Limbaugh called her a "slut" is auctioning off an hourlong "strategy session" on the website BiddingForGood.com. The auction page promises that Fluke will use the time to help the winner "harness the power of activism and/or advocacy."
"You bring the expertise on your issue, and Sandra will bring her sharp strategic mind and national experience," the page reads.
But so far, it appears two of the most frequent bidders are editors at competing conservative websites: Breitbart.com editor-in-chief Joel Pollak, and Daily Caller executive editor David Martosko.
The site's bidding history page shows that a "martosko" and "JoelPollak" have each placed multiple bids for the hour with Fluke. The current leader, however, is a "RosieR," who offered $270 late Wednesday afternoon. The auction, which benefits the non-profit group "Women, Action and the Media," closes on Dec. 5th.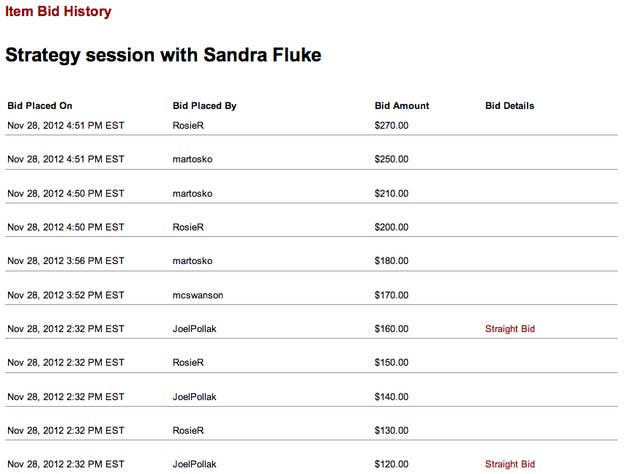 Both Breitbart and The Daily Caller — along with much of the conservative blogosphere — have been exceptionally critical of Fluke, who has worked to become a star culture warrior on the left. In September, she spoke at the Democratic National Convention, and this week she was nominated for Time Magazine's "Person of the Year."
She first came on to Limbaugh's radar after arguing in testimony before Congress that religious universities like Georgetown, where she studied law, should be required to provide insurance coverage for birth control. Social conservatives believed this was a violation of religious liberties.
It remains to be seen how the sites hope to use their hour with Fluke. Martosko and Pollak did not immediately respond to BuzzFeed's request for confirmation that they were the bidders.
This article has been updated.