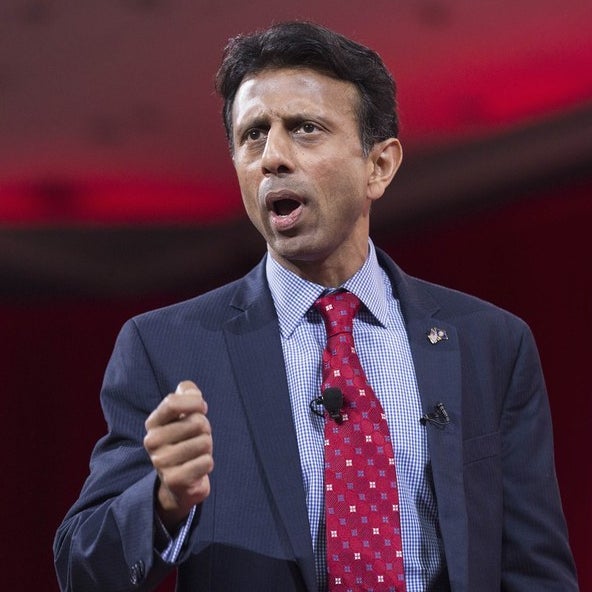 In an interview Tuesday, likely Republican presidential candidate Bobby Jindal sharply criticized a series of ads running across Iowa that many believe are intended to give political cover to Jeb Bush over his support for Common Core.
The ads — which are appearing in print, radio, and TV — feature Ronald Reagan's former education secretary Bill Bennett touting the merits of the federal education standards, and contending that they align with conservative principles. Listeners are urged to "learn why so many conservatives are taking another look at Common Core."
Paid for by a nonprofit group called the Collaborative for Student Success, the ads don't mention Bush by name, but their timing and placement suggest an interest in reshaping the Republican primary debate around the issue — to the benefit of one particular candidate. The same day Bush landed in Iowa last week for his first visit as a likely candidate, the Des Moines Register carried a full-page ad from the group laying out the conservative case for Common Core.
"I've heard the ads," Jindal told BuzzFeed News in a phone interview from Iowa. "They can run all the ads they want telling us why they should have control of education... and that parents aren't smart enough to know what's best for their kids. They can do that. But I wouldn't bet against the parents."
He added, "Clearly, the folks that are for Common Core have a lot of money. Good for them. I still put my money on the moms and dads."
Jindal and Bush hold similarly conservative records on education in their respective states. As governor of Louisiana, Jindal has championed school choice, and is currently battling the U.S. Justice Department over his signature school voucher program. And when Bush was governor of Florida, he made education a central component of his agenda, dramatically expanding access to charter schools in the state. For a time, both men supported Common Core, but Jindal reversed his position in 2013 amid a growing conservative backlash, leading some to accuse him of political opportunism. Jindal has maintained he and other governors were misled about the policy, and he has since become one of his party's sharpest critics of the education standards.
Bush, meanwhile, has stood by his position, and it remains one of his most conspicuous, and potentially damaging, breaks with the Republican base — particularly since he seems eager to trumpet his education record. On Tuesday, the Wall Street Journal reported that the Foundation for Excellence in Education paid nearly $3 million through 2013 and 2014 to a PR firm headed by top Bush strategist Mike Murphy to create ads touting the former governor's education overhaul in Florida.
Though neither man have officially announced their candidacies, both are expected to run. And Jindal seems eager to frame the battle for the Iowa caucuses around the issue.
"If voters want to vote for someone who's pro-Common Core, they're going to have an opportunity to do that in this election," Jindal said, implicitly referring to Bush, who is the only one in the GOP field who supports the standards.
Jindal also suggested that his experience serving as governor during the Obama administration has made him better attuned than others to the dangers of big government — an argument he is likely to deploy against Bush more directly once the primaries are in full swing.
"Without talking specifically about Jeb or anybody else, I do think that one common experience for those of us who have been governors for the last six years is we've seen firsthand federal overreach by the Obama administration," he said, adding, "I think that's been a formative experience for many folks. We have more of a sharp distrust of the federal government's unwillingness to let us make our own decisions."
The Collaborative for Student Success did not respond to a voicemail left by BuzzFeed Nes, and a spokesperson for Bush declined to comment.