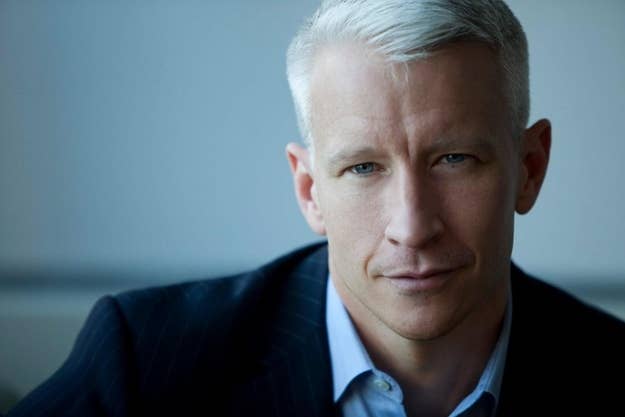 Anderson Cooper's decision to come out as gay — an unthinkably risky move in an earlier era — has almost nothing but upside for his career in television, other openly gay TV figures told BuzzFeed Monday.
Cooper now joins a growing list of openly gay cable news contributors, including MSNBC's Rachel Maddow, Thomas Roberts, and Steve Kornacki, as well as the weekend anchor at his own network, Don Lemon, who came out last year. (Fox News is now alone among the major cable networks without an openly gay or lesbian host.) For some, their sexuality barely factors in to their public personas; for others, it helps attract viewers and enhance loyalty. But one thing openly gay public figures agree on is that, in today's personality-driven news industry, confiding in your audience has great power.
"You expect the worst," said Lemon of his professional concerns before he made the announcement. "Oh, nobody's going to support me, nobody's going to want to watch me. All those ladies who say, 'I want to marry you, I want to date you, I want to have your kids,' are going to stop watching me when they find out."
Instead, Lemon said, the result was a more engaged viewership, and greater ability to fine-tune his personal brand.
"For me, I have a much more open and honest and even more personal relationship with my viewers," he said, adding, "It was a much more positive reaction than I expected. I was pleasantly surprised."
That sentiment was echoed by Kornacki, co-host of MSNBC's new show, "The Cycle," and writer at Salon, who published a long personal essay last year describing his journey out of the closet.
"My own experience in the aftermath of what I wrote was that I realized pretty quickly it was far less central to how people viewed me, and it didn't affect my work," he said, noting the outpouring of fan letters he continues to receive from readers prompted by the article.
But while both men found the world outside the closet professionally rewarding, Cooper has, until now, held tightly to his privacy — even as his sexuality remained an open secret in the Manhattan media scene and beyond. At Kornacki's family Thanksgiving dinner shortly after he came out, for example, his sister made a joke about Cooper following his lead. And when Lemon was first reached for an interview, he asked in faux shock, "Anderson is gay?!"
Privately, Cooper has been telling colleagues and competitors that he hesitated to come out because he feared it would restrict his travel to foreign countries — a reason he also gave in his e-mail to The Daily Beast's Andrew Sullivan, who broke the story.
But sources who know Cooper outside of work said the rationale always sounded like a cop-out. In New York, he'd increasingly been living a wide open life — getting photographed with his boyfriend, as well as frequenting a Manhattan gym popular among gays, David Barton, where he was a regular subject of gossip. Gawker — motto: "Today's gossip is tomorrow's news" — has waged a years-long campaign to get the host out of the closet.
Blogosphere chatter aside, Cooper was also feeling competitive pressure. The day before President Obama announced his support for same-sex marriage, Cooper aired a "Keeping Them Honest" segment, in which he took Obama to task for his muddied stance on the issue. The host's critics pounced, raising questions about whether he was the one who wasn't being honest with his viewers.
The next day, when Obama's gay marriage endorsement dominated the news cycle, Cooper was beaten in the ratings on a story he had the potential to own. It could have been a classic example of the type of emotional first-person TV journalism with which he's made his name. Instead, his coverage was run-of-the mill, and both MSNBC and CNN's Piers Morgan beat him.
Meanwhile, Maddow had been publicly nudging Cooper out of the closet for over a year, telling The Guardian last April: "I'm sure other people in the business have considered reasons why they're doing what they're doing, but I do think that if you're gay, you have a responsibility to come out." (Maddow, who didn't respond to BuzzFeed's interview request, later clarified that she didn't have anyone specific in mind.)
For CNN, the news is well-timed. With the network struggling for ratings and reportedly facing a major shakeup, Cooper is still its brightest star, one CNN executive said. The largely positive coverage so far has made for the first upbeat story about CNN in weeks.
And Cooper, who now hosts a syndicated daytime talk show on the side, could well benefit from being able to add a personal touch to shows devoted to gay celebrities, high school bullying, and other such fare that dominates the afternoon airwaves.
"Living authentically always produces more, not less," said Ric Grenell, the openly gay former Mitt Romney aide who left the campaign amid controversy surrounding his sexuality. "I've got to beleive this means more viewers eventually."