Can Romney Break His Obsession With The Rules?
Weeks of debate prep still haven't cured him of his most potent weakness: his reverence for the rulebook. "The way the rules work here is I get 60 seconds..."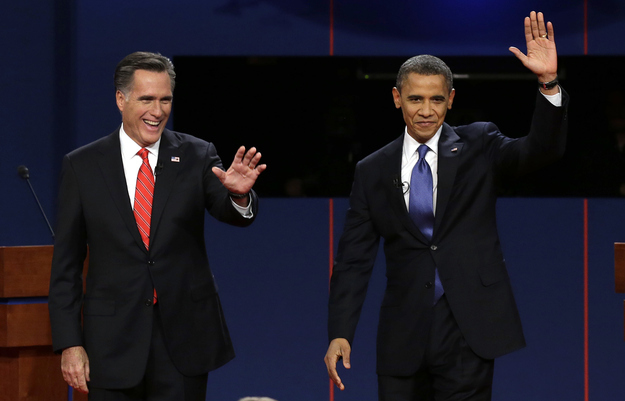 Even in the most commanding debate performance of his career earlier this month, Mitt Romney revealed that weeks of intensive debate training had failed to cure him of his most off-putting, and potentially fatal tactical weakness: His unflinching, all-consuming obsession with the rules.
It's a personal preoccupation that dogged the candidate throughout the Republican primary debates, during which he often bristled when an opponent interrupted him, or he felt he was being cheated out of his fair allotment of time. The results were always awkward, and sometimes painfully so.
In one infamous encounter in an October 2011 debate, Romney took issue with Texas Gov. Rick Perry cutting him off while he attempted to defend his immigration record.
As Perry tried to challenge him, Romney placed his hand on his opponent's shoulder and insisted over and over, "I'm speaking, I'm speaking, I'm speaking, I'm speaking."
When Perry wouldn't back down, Romney continued, "The way the rules work here is that I get sixty seconds and you get thirty seconds to respond."
He was technically right, but his recitation of the rules came off as petty and peevish, not commanding and presidential.
Romney demonstrated a similar sensitivity to rule-breaking in several other debates, making appeals to the moderator when he felt they were being bent, and frequently citing his right to respond when directly attacked by one of the other candidates.
And within 30 minutes of taking the stage in Denver, it became clear that Romney still hadn't broken the habit. The most obvious evidence was this exchange captured in the official debate transcript:
MR. LEHRER: OK. (Inaudible) —

MR. ROMNEY: Jim, the president began this segment, so I think I get the last word, so I'm going to take it. All right? (Chuckles.)

MR. LEHRER: Well, you're going to get the first word in the next segment.

MR. ROMNEY: Well, but — but he gets the first word of that segment. I get the last word of that segment, I hope. Let me just make this comment.

PRESIDENT OBAMA: (Chuckles.) He can — you can have it. He can —

MR. ROMNEY: First of all —

MR. LEHRER: That's not how it works.

MR. ROMNEY: Let me — let me repeat — let me repeat what I said — (inaudible)...
Romney's reverence for the rulebook dovetails with the personality type assigned to him by Aubrey Immelman, a political scientist at St. John's University whose work has been widely cited this election cycle. Immelman has assembled a complex model to determine a given candidate's Personal Electability Index, and he has done extensive research to accurately identify Romney's personality traits.
According to a Newsweek profile last year, Immelman has found that Romney's single most prominent characteristic is "conscientiousness," a trait belonging to people who are "proper, diligent, detail-oriented, and super-rational." In another era this trait was common among presidents, including Herbert Hoover, Calvin Coolidge, Woodrow Wilson, and James Madison.
But it doesn't play well 2012. In fact, according to Immelman, Romney's Personal Electability Index score is six. President Obama's is 28.
Campaign aides did not respond to questions about whether this was a tick they were trying to iron out with Romney. But if not, it could very well be magnified in the more intimate town hall format of Tuesday's debate.