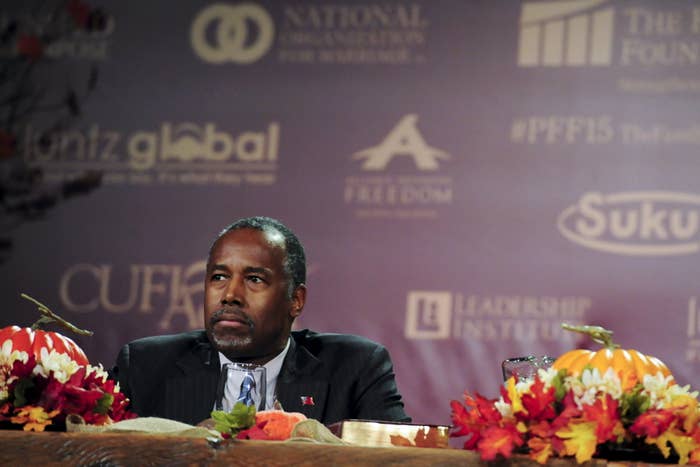 DES MOINES, Iowa — About halfway through Friday night's Presidential Family Forum — a Republican candidate roundtable that featured seven 2016 contenders — the moderator lobbed a softball question toward Ben Carson.

"Is President Obama an armchair quarterback?" Frank Luntz asked, referring to what conservatives widely view as the administration's overly passive foreign policy.
"Are you asking me?" a momentarily confused Carson replied, which prompted friendly laughter to ripple across the ballroom of more than a thousand Iowa conservatives.
"Yes," Luntz said.
"Yes," Carson replied, "He is an armchair — an armchair quarterback."
This rhetorical regurgitation was greeted with a warm round of applause by many in the audience — not the loudest ovation of the night, but probably the most easily won. They may not have all been Carson 2016 supporters, but there was little doubt that this was a roomful of Carson fans.
Indeed, even as the candidate has begun to slide recently in national polls amid brutal media coverage and questions about his grasp of foreign policy, the gentle neurosurgeon has remained remarkably popular, with huge majorities of Republican voters reporting favorable impressions of him. And while there hasn't yet been enough polling to measure how the recent terrorist attacks in Paris might effect Carson's standing in this first-in-the-nation caucus state, voters interviewed Friday often seemed torn between wanting to support him, and doubting whether he is up to the job.
Asked which candidate most impressed her after the forum concluded, Jan Swinton — who traveled two hours from the southern Iowa town of Fairfield to see the contenders live — enthusiastically rattled off the names of several Republicans. She was dazzled by Marco Rubio's confident command of the issues; attracted by Carly Fiorina's eloquence; struck by Ted Cruz's nerve.
What about Carson?
Swinton emitted a reluctant chuckle, and then sighed wistfully. "I really like Ben," she said. "He's really smart." She thought for a moment, and then offered up another virtue. "If you read his stuff, it's the best stuff." But? "When you see him in person he just doesn't bring it on. I don't think he's gonna be quick enough and firm enough ... He's a nice guy, but I don't know if he can be president."
Mike Crook, from the nearby suburb of Urbandale, said he had donated to Carson's campaign, and he eagerly praised the quality of the candidate's character.
"He's very down to earth. He relates to people. He's been through so much. He knows what it's like to live in poverty, he knows what it's like to live in abundance," Crook said, adding, "I've never seen him think like, 'I've got to be the president!' He just prays about it, and if he's the one, great."
But Crook himself isn't sure anymore whether Carson is "the one." He said he was interested in Cruz now, and he gently suggested that he'd like to see Carson demonstrate a firmer understanding of international issues. In the last Republican debate, Carson mistakenly suggested that China's military had become involved in Syria — one of several flubs that led to one of his own advisers conceding to the New York Times this week that the candidate has struggled to master the complexities of the Middle East.
"It matters to me that he knows foreign policy, for sure," Crook said, hastening to add, "but his integrity's above any politician that I know of on both sides of the aisle."
This current of loyalty to Carson seemed to course through the crowd here Friday. Even voters aligned with one of his rivals were protective of him, believing that the mainstream media had subjected his inspirational life story to nitpicky vetting, and that liberals were unfairly targeting him because they were threatened by the idea of a black candidate winning the Republican nomination.
If this electoral dynamic holds, it could give Carson a unique opening for another surge. As opposed to most of his opponents — who must scrap for every vote and favorability point in the primary popularity contest — Carson has many voters who are actively looking for an excuse to support him.
A student from Iowa State University who attended the forum said Carson held special appeal among the college Republicans he knew, who were disillusioned with Washington and wanted an "outsider," but found Donald Trump's alpha-male schtick to be over-the-top and dated.
Still, the student (who requested anonymity so as not to complicate a family member's job in politics) said his classmates weren't sold on Carson.
"They see how likable he is. They love his story, and everything that he's about, and what he's been through. And they want so badly to think he would be a great president," the student said. "And he might very well be. But I feel like ... he's falling short."