Can A Party Dominated By Trump Convince America It Cares About Poverty?
Six presidential candidates gathered in South Carolina over the weekend and gave it a try.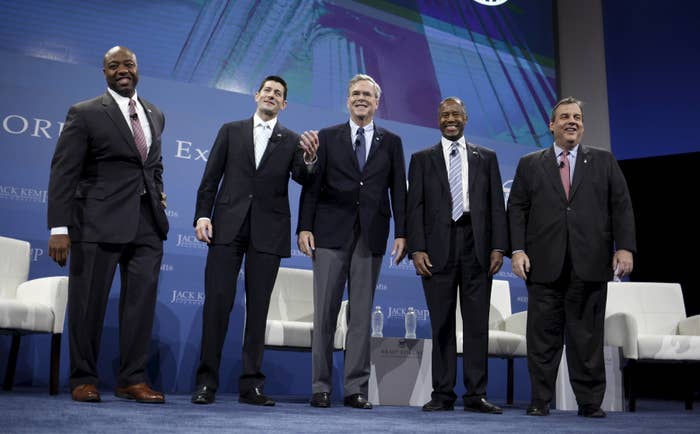 COLUMBIA, South Carolina — After four hours of watching Republican presidential candidates perch themselves on stage here Saturday and earnestly lay out their ideas for combatting poverty, Mika Brzezinski was impressed.
"This," the left-leaning Morning Joe co-host proclaimed to the thousand-plus crowd, "is a Republican Party that can win the White House!"
The courtly conservatives in the audience clapped approvingly at the applause line — but just outside the ballroom, party leaders were wrestling with an uneasy question: Would "this Republican Party" even be on the ballot in November?
Indeed, the battle lines in the GOP civil war of 2016 don't get much brighter than they were this past weekend.
On one side, half a dozen candidates — including Marco Rubio, Chris Christie, and Ben Carson — gathered at the Kemp Forum on Expanding Opportunity for a series of friendly, substantive panel discussions focused on poverty and revamping the Republican platform to reach more disenfranchised Americans.
On the other, the party's presidential front-runner, Donald Trump, skipped the collegial poverty forum and held a raucous rally the night before about seventy miles north, which made news when a silent Muslim demonstrator was ejected from the event amid a hail of angry boos and, reportedly, shouts of, "You have a bomb, you have a bomb."

For Republicans who have spent years working to refocus their party's attention on the needs of the poor, the noisy Trump-ruption of this election cycle has been especially disorienting and depressing.
"We've had deep, deep hopes at [the American Enterprise Institute]. We had a full-court press to make these issues the issues," said Arthur Brooks, president of the leading conservative think tank, after the forum. "But there are sometimes circumstances that conspire against that.
Brooks continued carefully: "We've had some kind of outlandish political dynamics. The result is that even though all of the candidates you saw today, they care a lot about this and they have a bunch of ideas, there's been no oxygen in the debate."
"It is easy to appeal to anxieties, but we're not gonna win," said John Hart, editor-in-chief of OpportunityLives, a conservative website that sponsored the forum. "President Reagan didn't win on an anxiety message. President Obama didn't win on an anxiety message."
In the wake of the GOP's 2012 defeat, leading figures in the party latched onto the notion that conservatives could widen the party's tent by dealing compassionately with issues of mass incarceration, falling incomes, substance abuse, and immigration. House Speaker Paul Ryan was of the most vocal champions of this theory, and in many ways Saturday's forum — which he helped organize and moderate — marked the culmination of a long, fraught mission for him.
As I report in my new book, The Wilderness, Ryan — fresh off his failed vice presidential bid, and consumed with spiritual and political soul-searching — spent the months and years after 2012 visiting blighted communities, halfway houses, and inner-city ministries that catered to the needy. He watched homeless heroin addicts vomit and convulse their way through detoxes, and listened to countless bracing testimonials from former drug dealers and ex-convicts.
In 2014, Ryan released a set of anti-poverty proposals inspired by these trips, and urged his party to join him in laying out a new conservative vision for helping the poor. Among his ideas: expanding the earned income tax credit for childless adults, deregulating occupational licensing requirements that hurt disadvantaged workers, and finding ways to reduce incarceration. The proposals were well received by many across the ideological spectrum, and Ryan noticed a growing number of prospective GOP presidential candidates talking about the issue. He ultimately decided not to run because he feared a campaign would poison the project with toxic primary politics. From The Wilderness:
Some rivals would no doubt de-emphasize their own poverty talk, figuring Ryan had the market cornered on the issue, while others might even begin blasting away at his proposals in an effort to outflank him on the right. If the goal was to place the issue front and center in the primaries, Ryan decided it would be better to stay on the sidelines, advising everyone in the field and declining to endorse any one contender. "I didn't want to jeopardize this project and these causes by betting it on a presidential campaign," he would later explain to a reporter. "You know, who knows who's going to win? . . . I wanted to make sure that this got some distance from being seen as some personal ambitious project for a politician."

But if Ryan felt a sense of personal achievement Saturday when he sat down on stage with a slew of 2016 contenders for an in-depth discussion of poverty, it was no doubt dampened by the realities of this political moment.
National polls show the two candidates who skipped the poverty forum — Trump and Ted Cruz — currently command the support of a combined 55% of primary voters. When you add up the totals for all six of the candidates who attended the forum, you only get 32%.
Ryan, in his capacity as House Speaker, has steadfastly refused to criticize any of the Republican presidential candidates, and in public he does his best to downplay the notion of a serious schism in the party. But if there is indeed a civil war in the GOP, Ryan's side is so far getting routed.
Of course, there still is time for that dynamic to change. Many of the Kemp Forum's organizers were heartened by the turnout: After all, corralling six presidential candidates — and 200 political reporters — for a Saturday morning discussion on poverty three weeks out from the Iowa caucuses is no easy feat.
And Brooks, the perennially upbeat AEI president, argued that high-profile forums like these can do enormous good for the GOP. He pointed to studies that show Americans are much more likely to vote for a Republican who talks compassionately about poverty issues, even if they disagree with the candidate's policies. In his view, the party is much better positioned now than it was in the run-up to the 2012 election.
But even Brooks had to hedge. "It depends on who gets nominated."