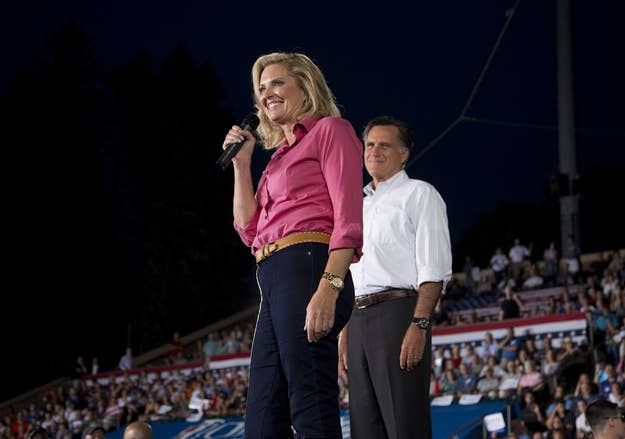 ABOARD THE ROMNEY PLANE — Despite a program advertising her attendance at this weekend's Value Voters Summit, Ann Romney never planned to attend the social conservative conference, the campaign told BuzzFeed.
"Mrs. Romney is not scheduled to attend VVS this weekend. To my knowledge, it has not been on our schedule," said Sarah Haley, a campaign spokesperson.
As of Tuesday evening, the online schedule for the conference, which is hosted by the Family Research Council (FRC), still had Mrs. Romney attending the Friday morning plenary session, from 8:40 a.m. to noon.
A spokesperson for FRC did not respond to BuzzFeed's inquiry about the program. (Update below.)
The program also has vice presidential candidate Rep. Paul Ryan attending the conference, and the campaign confirmed he will be there.
The confusion comes as liberal and gay advocacy groups pressure politicians to skip the event, with a letter sent to lawmakers accusing FRC of being "far outside the mainstream."
"It has engaged in repeated, groundless demonization — portraying LGBT people as sick, vile, incestuous, violent, perverted, and a danger to the nation," the letter reads.
But the FRC also represents a large swath of religious, socially conservative voters — a group the Romney campaign has been seeking to rally in recent days with a sustained attack on the Democratic Party for temporarily removing the word "God" from its platform.
Sending Ryan to court the summit is one thing, but Mrs. Romney could risk jeopardizing her role as the soft, humanizing face of the campaign if she's perceived as engaging in divisive culture war issues. It's something she apparently realizes: Last week she repeatedly declined to answer an interviewer's questions about same-sex marriage, saying she wouldn't engage in "hot-button" issues.
UPDATE: FRC spokesperson Darin Miller told BuzzFeed that the people listed on the online program were those both invited and confirmed. Only the ones with an asterisk next to their names were confirmed — and Mrs. Romney never had an asterisks.