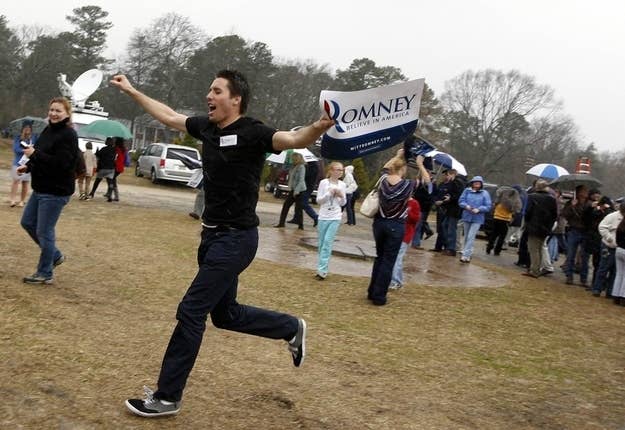 GREENVILLE, South Carolina--Outside Tommy's Ham House here this morning--where Mitt Romney and Newt Gingrich scheduled back-to-back visits--a boisterous crowd of young, fresh-faced supporters was waving Romney signs and chanting, "MITT! MITT! MITT!"
But this wasn't a grassroots youth movement rooted at the University of South Carolina. No, many of the students cheering on the candidate told BuzzFeed they were actually BYU students and young Mormons from D.C. and Virginia who traveled to the Palmetto State to give their coreligionist's presidential effort a much-needed jolt of energy.
Kat Wardle, a 23-year-old BYU student who is spending the semester in Washington, D.C., said she and several young Latter-Day Saints have been following Romney around the state, playing the role of cheerleaders at various campaign stops.
"I was all over the place at the Lexington rally!" said Wardle, referring to a rainy outdoor event that the campaign has been spinning as an example of growing momentum. Despite the weather, a crowd of several hundred remained for the event and, Romney surrogates like Nikki Haley have pointed out, they were loud and proud.
"We were the girls dancing by the band and definitely the loudest ones there," Wardle said. "There is a group of 12 BYU Washington Seminary students, and several other random groups and some kids from [University of Utah]."
Another BYU student, who asked not to be named, said he traveled to South Carolina on a bus with several other Mormons and non-Mormons from Virginia, home to the small Mormon liberal arts school, Southern Virginia University. He said as far as he knew, the Romney campaign would be reimbursing the cost of the charter bus, and that volunteer coordinators suggested the out-of-towners show up at Tommy's.
Their presence certainly contributed to the momentum theme the campaign has been pushing. Supporters lined the street leading up to the restaurant, cheering on Romney with the sort of enthusiasm typically reserved this cycle for Ron Paul supporters. But while the majority of attendees at recent campaign stops still appear to be from South Carolina, if Romney loses Saturday despite the apparent energy, it might be because his most ardent fans can't vote here.
UPDATE: Andrea Saul, a spokesperson for Romney, told BuzzFeed it was "not true" that the campaign would be paying for the charter bus students took to South Carolina.