Bush World Agrees: Condi Rice Should Be NFL Commissioner
The internet has spoken, and so has Karl Rove.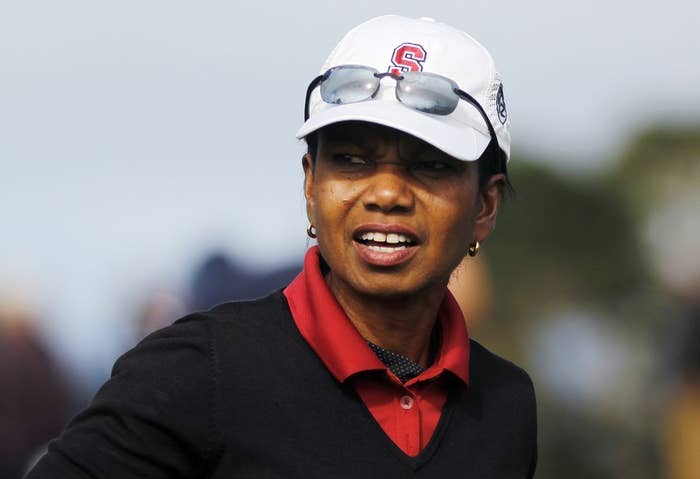 As pressure mounts on the National Football League to replace its commissioner, a quirky draft movement has formed on the internet behind former Secretary of State Condoleezza Rice — and her old colleagues in the Bush administration tell BuzzFeed News they're on board.
Karl Rove, former deputy chief of staff under George W. Bush, said Rice would excel in the position.
"I think Condi would succeed in any job she had, as she did when she was National Security Advisor, Secretary of State, Provost of Stanford, etc.," Rove said. "If it's a job she wants, with her encyclopedic knowledge of the sport and passion for the game, I have no doubt she'd be great."
Elise Jordan, who served as Rice's speechwriter at the State Department, added, "She knows and loves the game, and her leadership could energize the league and attract a broader fan base for the sport."
The Condi-for-commissioner buzz started with a column earlier this week by liberal Washington Post writer Jonathan Capehart, who noted that Rice, a diehard Browns fan, has publicly coveted the gig in the past. Since then, writers, bloggers, and tweeters across the political spectrum have talked up the idea, arguing that handing the reigns over to a woman of color might be the best way for the league to seriously address its issues of abuse and violence.
Zalmay Khalilzad, who was U.S. Ambassador to the United Nations under Bush, said Rice has always worn her football obsession on her sleeve.
"She would talk a lot about it even with foreign leaders who did not necessarily follow the game," including Kurdish leaders in Iraq, and Afghanistan President Hamid Karzai, he said.
"She brings energy, diversity, increased interest by women in the game... I think it would be a positive change at the top. I think it would be great," Khalizad said. He added that the NFL could use an aggressive leader to tackle the league's cultural issues laid bare in the recent Ray Rice scandal.
"When she sees a problem, she goes after it. She's tenacious."