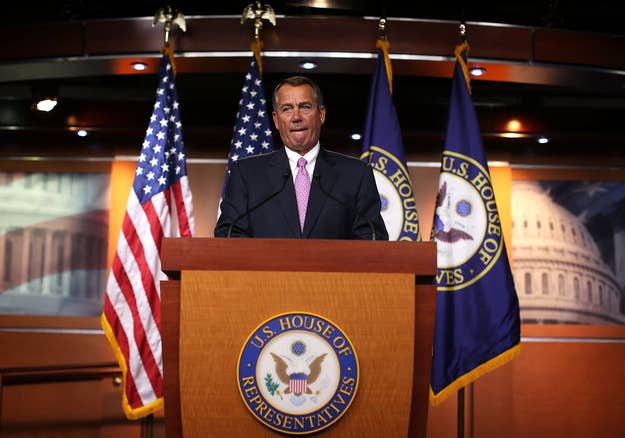 WASHINGTON — Conservative activist and fundraiser Brent Bozell is drawing a line in the sand for congressional Republicans, warning that any who vote for House Speaker John Boehner's latest fiscal cliff plan will suffer the wrath of Bozell and his army of millionaires.
Boehner's plan is unlikely to actually come to the floor in it's current form, but Bozell's harsh criticism and warning indicate how deeply the bad blood between many grassroots conservatives and GOP leadership runs.
"Should America assume that Rep. John Boehner et. al. have been misleading the country for more than two years now? It would appear so," he wrote in a statement shared first with BuzzFeed, and posted to his grassroots website ForAmerica. "It would be impossible to count the times and ways Boehner, Cantor, McCarthy and so many others have told America that tax hikes would kill jobs and cripple the economy. Lo and behold, that's just what they've proposed, $800 billion of them."
Last month, Bozell warned he would aggressively push conservative donors to avoid any Republicans who vote for a tax increase.
In an interview with BuzzFeed, Bozell said he makes no distinction between raising tax rates and eliminating deductions to increase federal revenue.
"Closing loopholes is always a malarky adventure," he said. "If the loopholes are open, then why didn't they close them before?"
"This is the opening bid," he added of the Republicans' proposal. "It's only going to get worse from here! It's just insanity."
Bozell's statement asserts that "the Republican Party has now surrendered its principles and is in full retreat," and he told BuzzFeed their proposal crossed the line for him.
"All the party organs should be cut off," he said. "The only people who should be funded are those conservatives who don't break their word, and the primary opponents of the ones who do."
He also said he has spoken with a number of conservative mega-donors since the Republicans announced their plan to raise revenue, and he described them as up in arms.
"I just got off the phone with a multi-million dollar donor to Republican causes and his answer to me was, 'I don't think I can support them anymore.' I got an e-mail from another billionaire who said, 'I think my money should go to the Tea Party.'"
Of course, Bozell, who is also the founder of the conservative Media Research Center, is unlikely to single-handedly lead a mass grassroots rebellion. But his hard line against any revenue increases at all — let alone tax rate hikes for the wealthy — illustrates how hard it will be for Boehner to sell Republicans on a grand bargain.
As Bozell put it, "There are only two things these people seem to pay attention to: Money and primary challenges."
Bozell's full statement:
"Should America assume that Rep. John Boehner et. al. have been misleading the country for more than two years now? It would appear so. It would be impossible to count the times and ways Boehner, Cantor, McCarthy and so many others have told America that tax hikes would kill jobs and cripple the economy. Lo and behold, that's just what they've proposed, $800 billion of them. They aren't taxes, no siree. They are 'revenue,' and 'loopholes' that are closed (which also begs the question: if these are loopholes, why were they open?). The Obama administration now demands double that amount, and why not? The Republican Party has now surrendered its principles, and is in full retreat, the Democrats taste blood, and they're going for it all. I would too.

"Sen. Jim DeMint as usual is sounding the clarion call against this fiscal insanity. Others — the ones who believe in honoring their solemn commitments to their constituents — will join him in slamming this job destruction agenda. They are, unfortunately, firmly in the minority. It is no coincidence that right before releasing this disastrous proposal, the Speaker of the House orchestrated a purge of conservatives from key positions of power in the Republican Conference. The Republican Party is no longer the party of limited government, with limited spending and limited taxes. It is now officially exactly right behind the Democrats — on everything. It is time for conservatives to start looking for a new home. There's precious little left for us here."