Bill Maher: Romney Spent 2 Years "Trying To Brow-Beat Frenchmen Into Joining His Cult"
Silence from the Obama campaign, despite a push to "refute" political attacks on religion. [UPDATED with response from campaign spokeswoman.]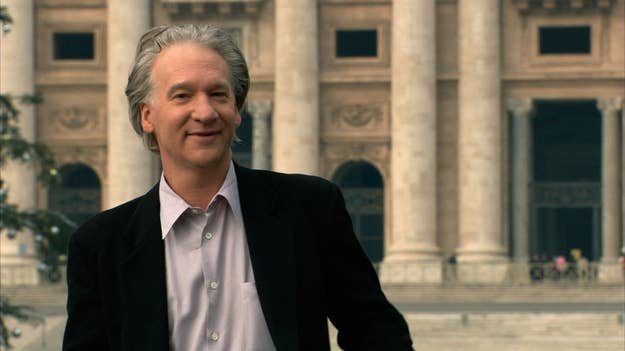 Noted Mormon-mocker and Obama donor Bill Maher Tweeted this Monday afternoon:
It's not the first time Maher — the liberal comedian who donated one million dollars to President Obama's re-election effort — has attacked Mitt Romney for his religion.
But it comes at a time when the Obama campaign is trying to assert moral superiority on the subject of political attacks on religion. After it was revealed last week that some Republicans were planning to resurface Obama's old minister, Rev. Jeremiah Wright, as a campaign issue, David Axelrod called for civility. Declaring Mormonism "off-limits" to the Democrat's campaign, he called on Romney to follow their lead.
"We wish that Governor Romney would stand up as strongly and as resolutely, consistently, to refute these kinds of things on his side," said David Axelrod on CNN's State of the Union. "Instead, he's amplified them in the past and he's put logs on that fire, and that's not leadership."
The Obama campaign did not immediately respond to an e-mail from BuzzFeed asking whether they would repudiate Maher's remarks.
UPDATE: Obama campaign spokeswoman Lis Smith told BuzzFeed, "Attacking a candidate's religion is out of bounds, and our campaign will not engage in it, and we don't think others should either."
UPDATE II: A spokesperson for Priorities USA Action, speaking on condition of anonymity, told BuzzFeed: "We do not think anyone should question a candidate because of their religion — it is an issue that has absolutely no place in this campaign."