At Romney Rally In Little Bavaria, Talk Is Of Immigration
"I don't know why they ever dropped Ellis Island and all that crap. Nothing wrong with it."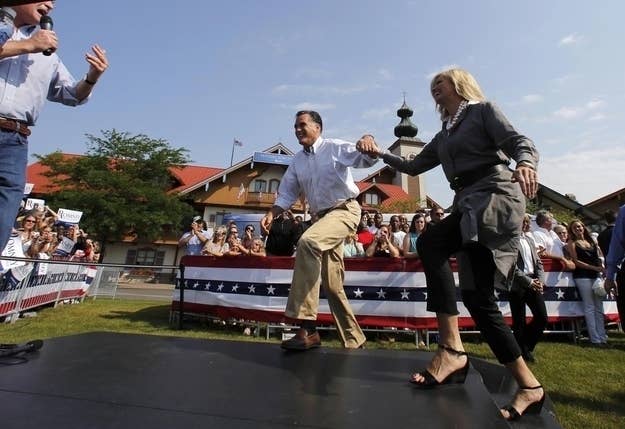 FRANKENMUTH, Mich. — Even in Frankenmuth, where the immigrants showed up more than a century ago, Mitt Romney can't get away from the immigration issue.
At a rally outside the Bavarian Inn Lodge — a large, German-themed "family resort" where the staff wear lederhosen and boast of their chicken and dumplings — Romney stuck to familiar economic themes, a logical choice in a state whose economy has been decimated by the recession.
But from the unusual vantage point of many in the 1,000-strong crowd, immigration loomed large. Indeed, if President Obama hoped to redirect the national conversation toward immigration when he decided last week to stop deporting young illegal immigrants who came to the U.S. as children, then he may have succeeded — but in Frankenmuth, it didn't take much prodding.
More than half the town's population comes from German immigrant ancestry — and they wear their heritage on their sleeves.
Settled by 19th-century Lutheran missionaries from Franconia, Frankenmuth has proudly branded itself "Little Bavaria" — greeting visitors to its website with a German "Willkommen," and touting its "Bavarian hospitality." (The town is also known for its large, Christmas-themed mall, complete with a year-round Nativity set and lavish holiday decorations.)
To add a touch of local color, Romney's rally even featured an accordion-heavy polka band playing patriotic tunes. But while immigration may be top of mind, that doesn't mean everyone agreed on the issue — a reason, perhaps, for why Romney has been so reluctant to wade into the murky waters.
Harry Bassicker, 83, a retired pharmacist and lifelong resident of Frankenmuth, dismissed Obama's immigration move as "strictly political." Still, he said young immigrants people should have an approved path to citizenship.
"My folks came from Germany, they went to Ellis Island, took them ten years to become citizens," Bassicker said. "I don't know why they ever dropped Ellis Island and all that crap. Nothing wrong with it."
He then declared himself "a kraut all the way."
Wendy Shannon, a financial advisor who lives in nearby Vassar, said illegal immigrants should be deported unless danger awaits them at home.
"I don't see why deportation is such a dirty word," she said. "I grew up in a farming community, and had dear friends who were immigrant. One of them went back to Mexico and she's a lawyer now. I don't think it's such a bad thing."
As for the day's big campaign news — an anonymous leak to ABC News that Florida Sen. Marco Rubio is not being vetted for the veep spot — John Milne, a local Republican activist, said he's "a gifted politician, but he's not ready to be president."
"People keep saying [Romney] needs a vice president who's going to help him with this group, or that group, but he can just run as Romney," said Milne. "Immigration's an important issue everywhere, including here, but... the economy is still number one."