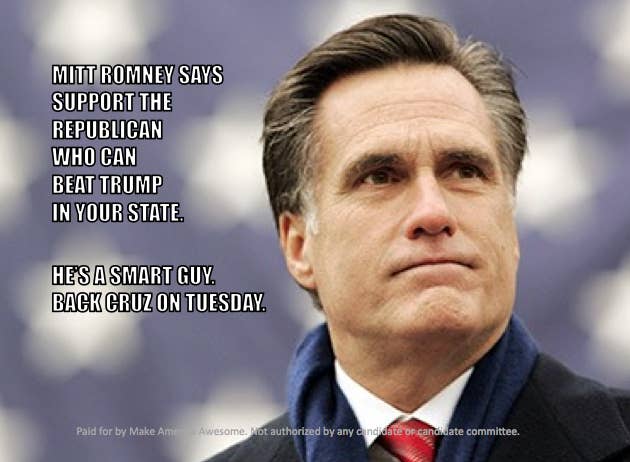 With Tuesday's presidential primary contests in Utah and Arizona approaching, a conservative anti-Trump group is running Facebook ads aimed at rallying Mormon voters against the billionaire frontrunner.

Members of the Church of Jesus Christ of Latter-day Saints — a solidly Republican demographic in most elections — have shown a uniquely strong aversion to Donald Trump this year, for reasons I explain here. A Y2 Analytics poll released over the weekend shows Trump running a far-distant third in Utah, garnering just 11% of the vote. And a new Deseret News/KSL poll shows Trump losing Utah, one of the reddest states in the country, to both Hillary Clinton and Bernie Sanders in the general election.
Liz Mair, a Republican strategist whose anti-Trump super PAC Make America Awesome launched the Facebook campaign last week, said each ad is expected to reach around 10,000 Mormons of voting age a day. The goal is twofold: increase turnout among LDS voters, and urge them to strategically consolidate around Ted Cruz, who is close to the 50% winner-take-all threshold in Utah.
The group is running three ads: one that features Mitt Romney, one that emphasizes Trump's past support for pro-choice policies, and a third that shows Melania Trump posing nude. The Melania ad, which is by far the most provocative, invites viewers to meet "your next first lady." Mair said that one is being promoted on Instagram as well, but only to LDS women.
Mair said this is the first time the group has run ads urging voters to back a specific candidate. In Utah and Arizona, polls show Cruz with a much better chance than John Kasich of beating Trump. And Mair, who has Mormon family members, believes she could bring some expertise in the effort to court LDS voters.
"We think the Cruz campaign has turned evangelical outreach into something of a fine art," Mair said. "We're not so sure he has LDS outreach locked down, though, and this is an area where we have a little bit of experience and knowledge over and above some Republican operatives, so it's something we've decided to delve into for these contests, at least."
Here are the anti-Trump ads targeting Mormon voters: