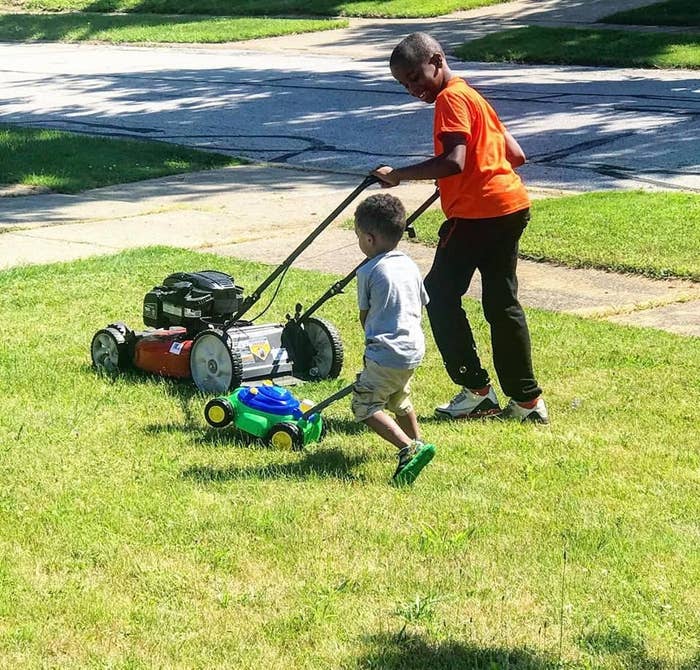 Last week a video went viral of police being called on a group of young black kids as they mowed the lawn in a neighborhood just south of Cleveland.

The moment comes amid a string of events that have highlighted everyday racism throughout the US, including the arrest of two black men at a Starbucks in Philadelphia and the news that a white woman had called the cops on a girl for selling a bottle of water in San Francisco.
In reaction to the latest video, people have shown an outpouring of love for 12-year-old Reginald "Reggie" Fields — a young entrepreneur who originally started cutting lawns so he could buy candy, but plans on turning his company, Mr. Reggie's Lawn Cutting Service, into a year-round landscaping business that will help support his siblings and cousins.
The incident in question took place June 23, when Lucille Holt saw Reggie in the parking lot of a Dollar Tree, where he was standing with a lawn mower, accompanied by his siblings and a cart with gas cans, a rake, brooms, and garbage bags. And so she asked them to mow her lawn.
"To see him with everything, to be that equipped, it caught my attention," Holt told BuzzFeed News.
Holt, a 51-year-old who runs a support group called Love Out Loud, was so impressed with Reggie, his 9-year-old brother Jerron Fields, and his 11-year-old cousins that she filmed the crew's work on Facebook Live.

"All young people ain't out here doing wrong," Holt said in the video, which shows Reggie pushing the lawn mower and the other kids helping out. "I'm so loving it."
Just a few minutes later, however, the police arrived. The Maple Heights Police Department had been called to Holt's home by a white neighbor, who was concerned that the children, who were black, were trespassing on her lawn, according to Holt. She said the same neighbor has called the police to her home about half a dozen times since she moved there in October.
BuzzFeed News has reached out to the Maple Heights Police Department, but did not immediately receive a response.
Holt noted that there is no fence or clear line between her property and that of her neighbor.
When the cops approached, Holt took out her phone and again turned on Facebook Live. Just a little over a week later, the video has more than half a million views.

"You called the police because the kids are out here cutting the grass?" Holt said on the video.

She then mentioned 9-year-old Saniyah Nicholson, a Cleveland resident who was killed in crossfire between two rival gang groups while she was sitting in a car, and said that the community needs to show more love for one another in light of the shooting.
"I knew her too," said Jerron Fields, who is also 9.
Reggie's mom, Brandy Marie Fields, told BuzzFeed News that she was surprised to see so many people respond to the video this last week. Her son has received support from all over the world, she said.
"They're just so supportive, because, they said, no 12-year-old should ever have to go through that — period."
A GoFundMe that was started for Reggie has received more than $37,000 as of Monday afternoon.
Originally, Reggie started cutting grass because he wanted to buy candy, but he liked it so much that he started Mr. Reggie's Lawn Cutting Service, hiring his siblings and cousins and handing out flyers in the neighborhood. Now with all of the support he's been receiving, he is starting to think much bigger, his mother said.

"He said that he wants to expand his business," said Brandy Fields. "He wants to do it all year round. He wants to rake leaves. He wants to snow-blow. He wants to do it all."
"He said something about opening up a store that sells parts," she added. "He has his mind set."
Reggie has also put together a business page that he runs himself.
"He reads all the comments. He doesn't have any negative comments on there," his mother said. "He reads them and he's like, 'Mom, they're inspiring me to do better and to keep on doing what I'm doing.'"
Reggie's mother said a Maple Police Heights Department officer had greeted her son on Sunday while he was cutting a lawn in the neighborhood and told him he wanted to get the family's information, because the department wanted to pass on the many messages of support and encouragement that had come into their office.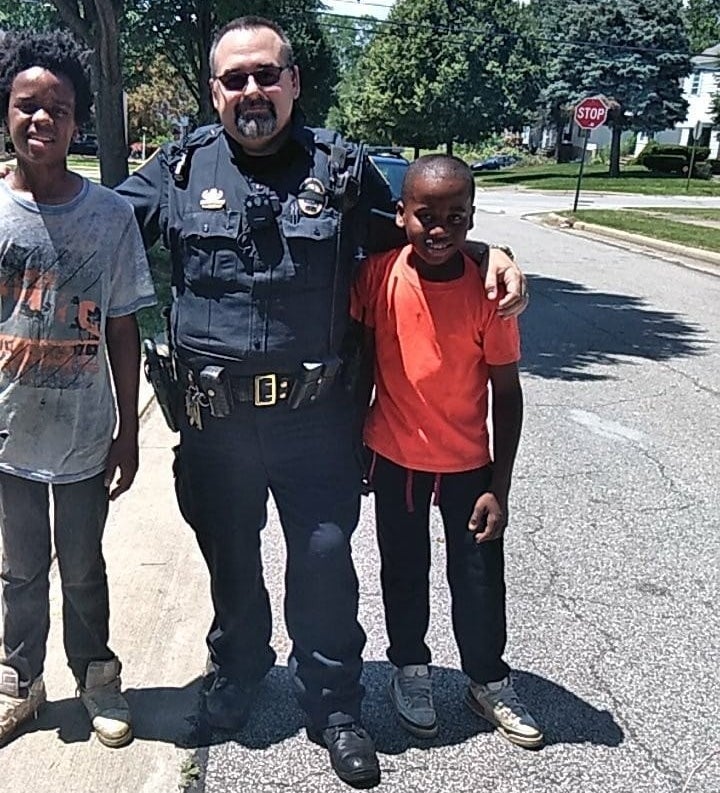 "America has stepped up and showed me love from everywhere," Holt said of the reaction to the video. "I just really want to thank them for loving me out loud."

Still, Holt said that she has also faced some challenges since the video went viral. Just last night, she said someone knocked on her window at midnight and then disappeared, making her concerned for her family's safety. She said she has asked her brother to stay with them this week.

"I feel like that now I'm not safe in my own home," said Holt.