Ava Munro's tweet went viral Thursday after she asked followers a simple question: which color nail polish goes with her shoes?
"I asked friends and they didn't know the answer to my dilemma," the 14-year-old told BuzzFeed News. "So I decided to tweet it out."
It turns out, no one can agree upon the answer.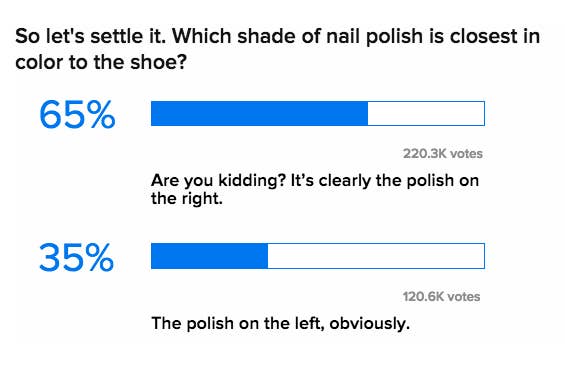 The tweet, originally posted on Wednesday, already has more than 6,000 retweets.
People were using #TheShoe to discuss their thoughts...
And some people were making comparisons to the Dress.
Munro, from Boston, told BuzzFeed News that she was simply trying to plan her outfit for an event on Sunday hosted by the non-profit 15-40 Connection, which raises awareness for cancer.
The shoes are from BCBG and are known as the Paris Jaze Suede Pump, while the nail polishes are both made by Sinful Colors and "funny enough they are both named Dream On," Munro said.
Munro is shocked, to say the least, about the sensation #theshoe has started.
"I have been getting some strong and positive reactions," she told BuzzFeed News.
Munro said she hadn't decided which nail polish to wear yet. She said the responses have been helpful, but they "also made it more difficult."
She added that "I think I will decide from the outcome of all the polls." So if you want your opinion heard, now you know where to cast your votes.