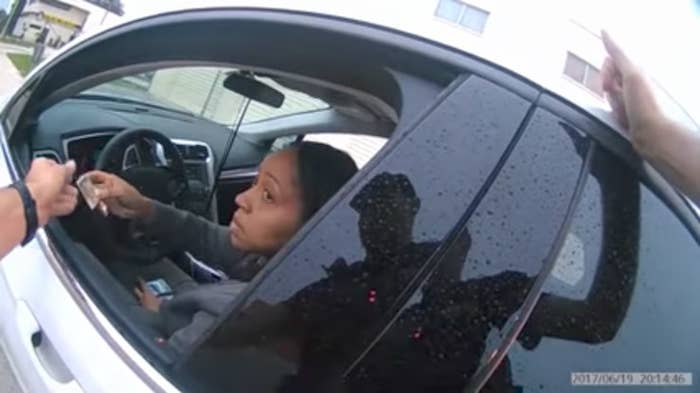 Aramis Ayala, Florida's first black state attorney, gained national attention Tuesday after video emerged of two police officers struggling to explain why they had pulled her over in a traffic stop in Orlando.

In the body camera footage, released by the Orlando Police Department, the officers are seen returning Ayala's driver's license after running her vehicle's tags, and then asking her what government agency she works for.
"I am the state attorney," Ayala replied.
"Thank you, your tag didn't come back, never seen that before," the officer said. "We're good now. We ran the tag, I've never seen it before with a Florida tag, it didn't come back to anything, so that's the reason for the stop."

She then asked the officers to explain why they ran her tags.
"Oh, we run tags through all the time, whether it's a traffic light and that sort of stuff, that's how we figure out if cars are stolen and that sort of thing," the officer said. "Also, the windows are really dark. I don't have a tint measure, but that's another reason for the stop."

At the end of the video, Ayala asks for the officers' information.

The Orlando Police Department said in a statement sent to BuzzFeed News that running of tags is "done routinely on patrol," and "for official purposes only."
"In regards to the video, which was released by the Orlando Police Department last month, the officers stated the tag did not come back as registered to any vehicle," the statement said. "As you can see in the video, the window tint was dark, and officers would not have been able to tell who, or how many people, were in the vehicle."
In a statement to BuzzFeed News, Ayala confirmed that she was pulled over after teaching a class at Florida A&M University Law School on June 19. While she agreed that the stop was legal, she said she hoped it would open a dialogue about police relations in the community.

"Since its release, the video has had more than 2 million views," Ayala said. "To be clear, I violated no laws. The license plate, while confidential, was and remains properly registered. The tint was in no way a violation of Florida law."
"Although the traffic stop appears to be consistent with Florida law," she continued. "My goal is to have a constructive and mutually respectful relationship between law enforcement and the community."
"I look forward to sitting down to have an open dialogue with the Chief of Orlando Police Department regarding how this incident impacts that goal."
Ayala also sent a tweet out that appeared to reference the incident.

Ayala has already become well-known in Florida for her announcement this March that she would not pursue the death penalty for violent felonies, setting up a public fight with Republican Governor Rick Scott, who removed her office from 21 first-degree murder cases.

The video of her June traffic stop quickly went viral, with some on social media suggesting that racial profiling was in play.
Others noted the cops seemed stunned when she said she was the state attorney.

A lot of people applauded Ayala's response to being pulled over.

And people loved the way she asked for the officer's business cards.