New Video Footage Emerges Of Texas Deputies Fatally Shooting Man With Hands Up
Footage released Monday appears to show a 41-year-old man putting his hands into the air moments before two Texas deputies fatally shoot him. However, a second video shot from a different angle is being reviewed, authorities said Wednesday.
A second video has emerged in the fatal shooting of a man by sheriff's deputies in Texas, even after he raised his hands, said the Bexar County Sheriff's department.
News of the additional footage comes after a Texas television station on Monday aired a video that appears to show Bexar County sheriff's deputies fatally shooting Gilbert Flores, 41, with his hands up, after authorities said they were unable to detain him using non-lethal weapons.
Flores was killed Friday morning after sheriff's deputies Robert Sanchez and Greg Vasquez opened fire while responding to a call for a domestic disturbance. Officials said Flores was armed with a knife when they arrived and deputies found a woman with a head wound, holding a baby.
The deputies, who have served in the sheriff's office for more than 10 years, have been placed on paid administrative leave an investigation into the incident.
On Tuesday, the FBI said it was also launching a federal civil rights investigation into the fatal shooting to "to determine whether a civil rights violation took place as a result of a deputy willfully engaging in the use of excessive or unjustified force," according to a statement from the San Antonio FBI Division.
"We coordinate our investigation to ensure that we are not interfering with (BSCO's) investigation," said FBI spokeswoman Michelle Lee to The Houston Chronicle. "They have been extremely cooperative and transparent."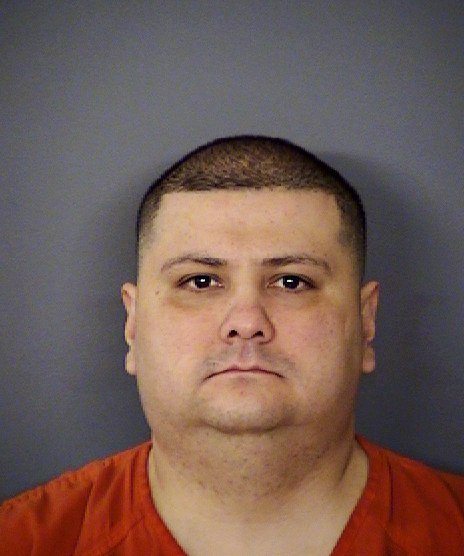 Bexar County Sheriff Susan Pamerleau said Friday that deputies struggled with Flores for 20 minutes and tried to take him into custody using a Taser and shield before he was fatally shot, the San Antonio Express News reported.
"The two deputies attempted to arrest the individual and he resisted," Pamerleau said. "They also tried to use non-lethal weapons to try and detain him and after a lengthy confrontation both deputies fired shots causing the man's death."
An edited portion of the video, which was recorded from about 100 feet away by witness Michael Thomas, was first broadcast Friday by KSAT-TV but did not show the fatal shooting.
The full video released Monday shows Flores with his shirt off, running back and forth in front of his house, and putting his hands up before he is shot by the two deputies. In the video, however, one of his hands is obstructed by a utility pole.
"It's very shocking and looks very bad," county judge Nelson Wolff, Bexar County's highest elected official, told The New York Times. "I've been in this position for 14 years, and I've never seen anything like it."
After the shooting, another sheriff's department vehicle arrives, and a deputy appears to roll Flores' body over.
But District Attorney Nico LaHood said Monday night that there is a second video that was filmed from a different perspective. The unreleased footage is currently being reviewed by authorities, according to Bexar County Sheriff's department spokesman James Keith.
The video confirms Flores had a knife in his hand at the time he was shot, according to a press release from the Bexar County Sheriff's Office.
"The videos are troubling to me," Bexar County District Attorney Nico LaHood told the Houston Chronicle. "We obviously want to act quickly, and I'm encouraging everyone not to react, but to respond appropriately."
Keith also said in the second video it can be seen that Flores did have both of his hands up at the time he was shot.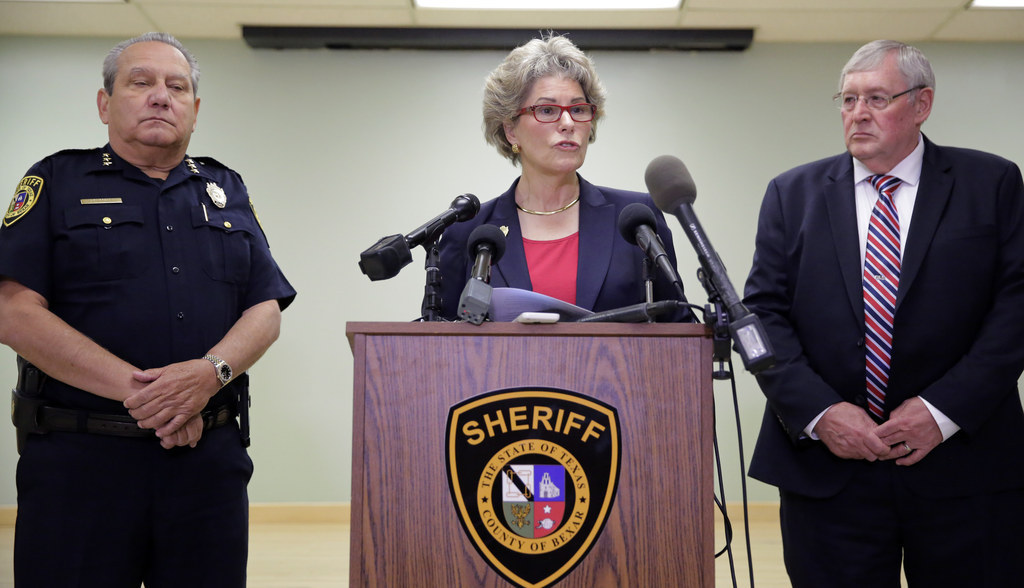 U.S. Rep. Joaquin Castro of San Antonio took to Twitter to say that the second video should be released:
San Antonio attorney Thomas J. Henry, who is representing the Flores family, confirmed to the Associated Press that the woman and child found at the scene were Flores' wife and child.
Flores' family is considering filing a lawsuit to compel officials to turn over more evidence, Henry said.
The 41-year-old had a criminal record, which included multiple arrests, and had spent 10 years in jail, the San Antonio Express-News reported.
The first video was purchased from Thomas for $100, according to a reporter at KENS.
The sheriff's office took to Facebook to criticize the release of the first video, asking people to "let the local media know this sort of sensational behavior doesn't fly in Bexar County."
On Tuesday, Bexar County Commissioners Court approved its annual budget, which included $630,000 to purchase sheriff office's dash and body cameras. The decision was disgusted at length in light of the controversy surrounding Flores' death, the San Antonio News Express reported.
"We know that some of those videos are going to be just like the ones this person did the other day that might reflect something on the part of the patrol officer or the hazard to them that might have a gun or a knife," said County Judge Nelson Wolff.