United Airlines has faced an onslaught of criticism over its treatment of animals this week, after admitting that a flight attendant forced the owner of a 10-month-old French bulldog, Kokito, to put him in an overhead bin, where he suffocated to death during a three-hour flight.
The airline called the puppy's death "a tragic accident that should never have occurred."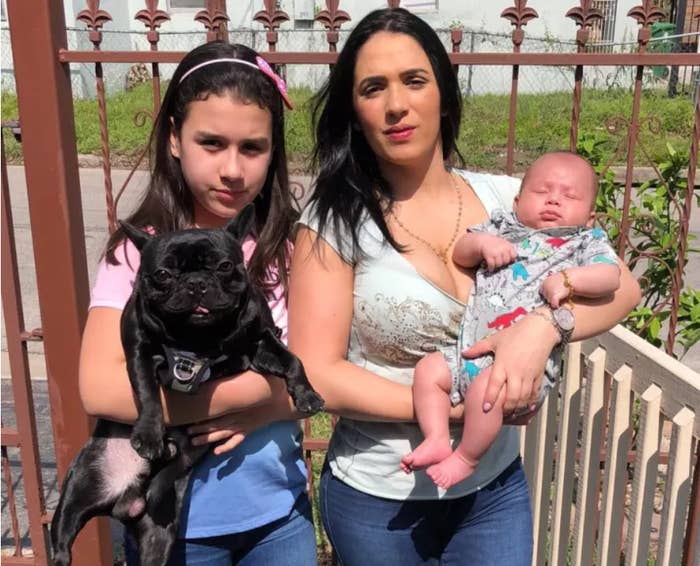 But the airline had to apologize again Wednesday, after a 10-year-old German shepherd heading to Kansas City, Missouri, was instead sent across the Pacific Ocean to Japan.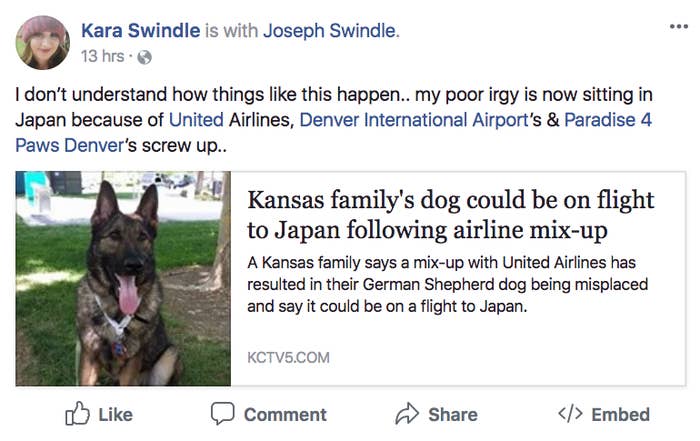 Kara Swindle, along with her husband Joseph, their children, and their German shepherd, Irgy, are in the process of moving. On Tuesday, Swindle took a United flight from Denver to Kansas City — but when she went to pick up Irgy from the airport cargo facility, she found a great Dane in her dog's kennel instead, she told OregonLive.com.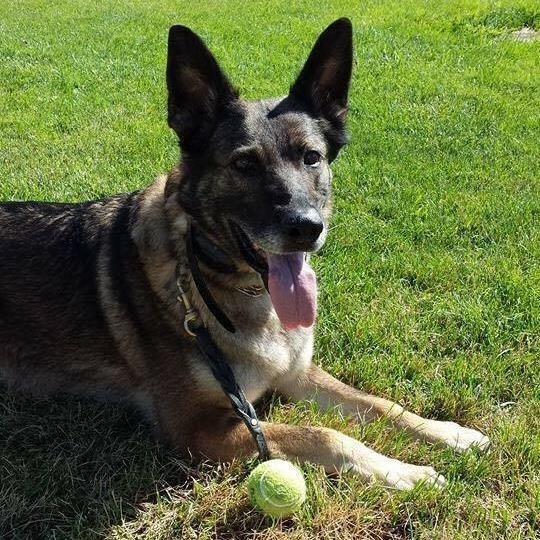 She told OregonLive.com she "burst into tears" when she realized her dog was missing. It turned out the Great Dane was supposed to go to Japan and the two dogs had somehow been mixed up.
"An error occurred during connections in Denver and we have notified our customers that their pets arrived safely and will arrange to return the pets to them as soon as possible," United said in a statement sent to BuzzFeed News.
"We apologized for this mistake and are following up with the vendor kennel where they were kept overnight to understand what happened."
The German shepherd was reunited with his family on Friday morning after United flew him from Tokyo to Wichita on a private jet, costing the airline around $90,000, CBS News reported.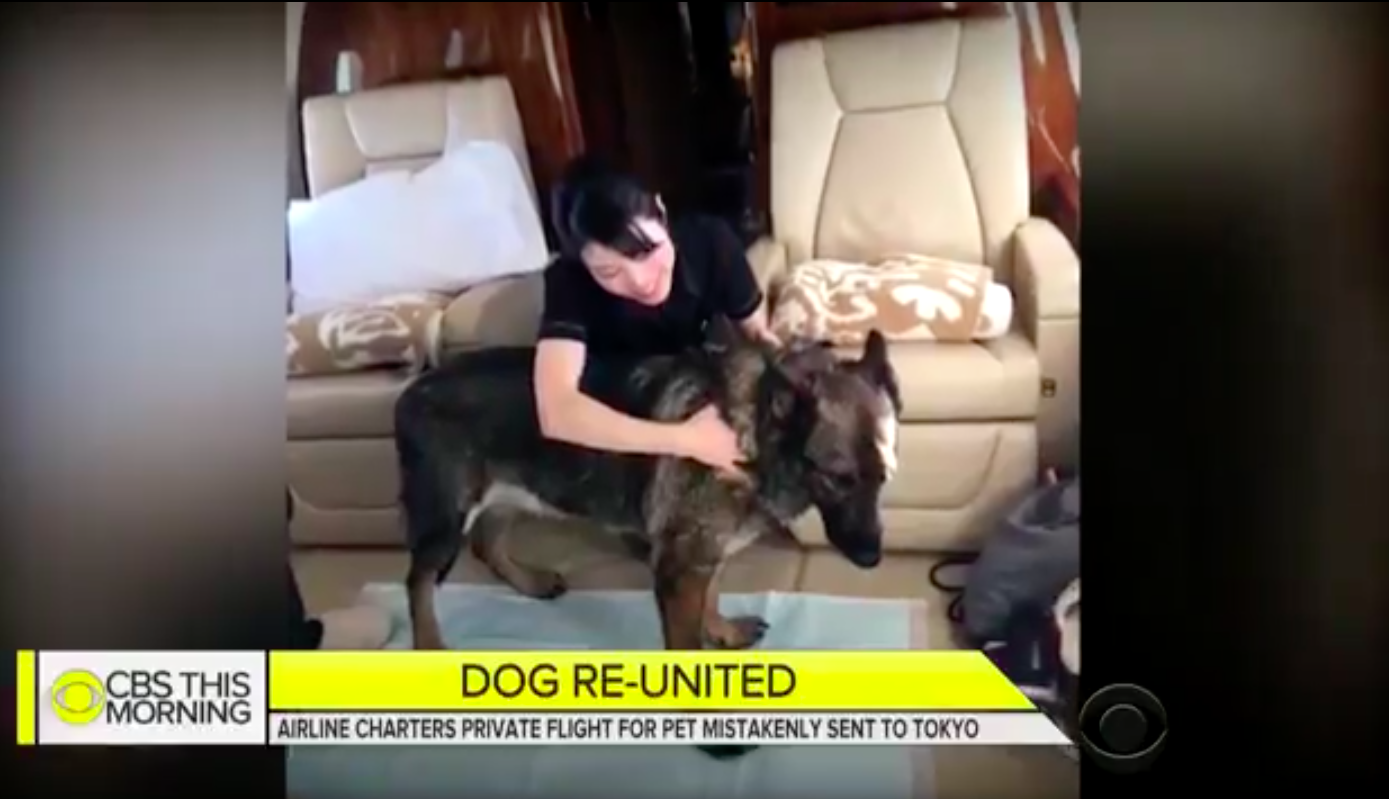 "It feels absolutely amazing to finally have him back," Swindle told reporters at the airport. "It's been a long four days."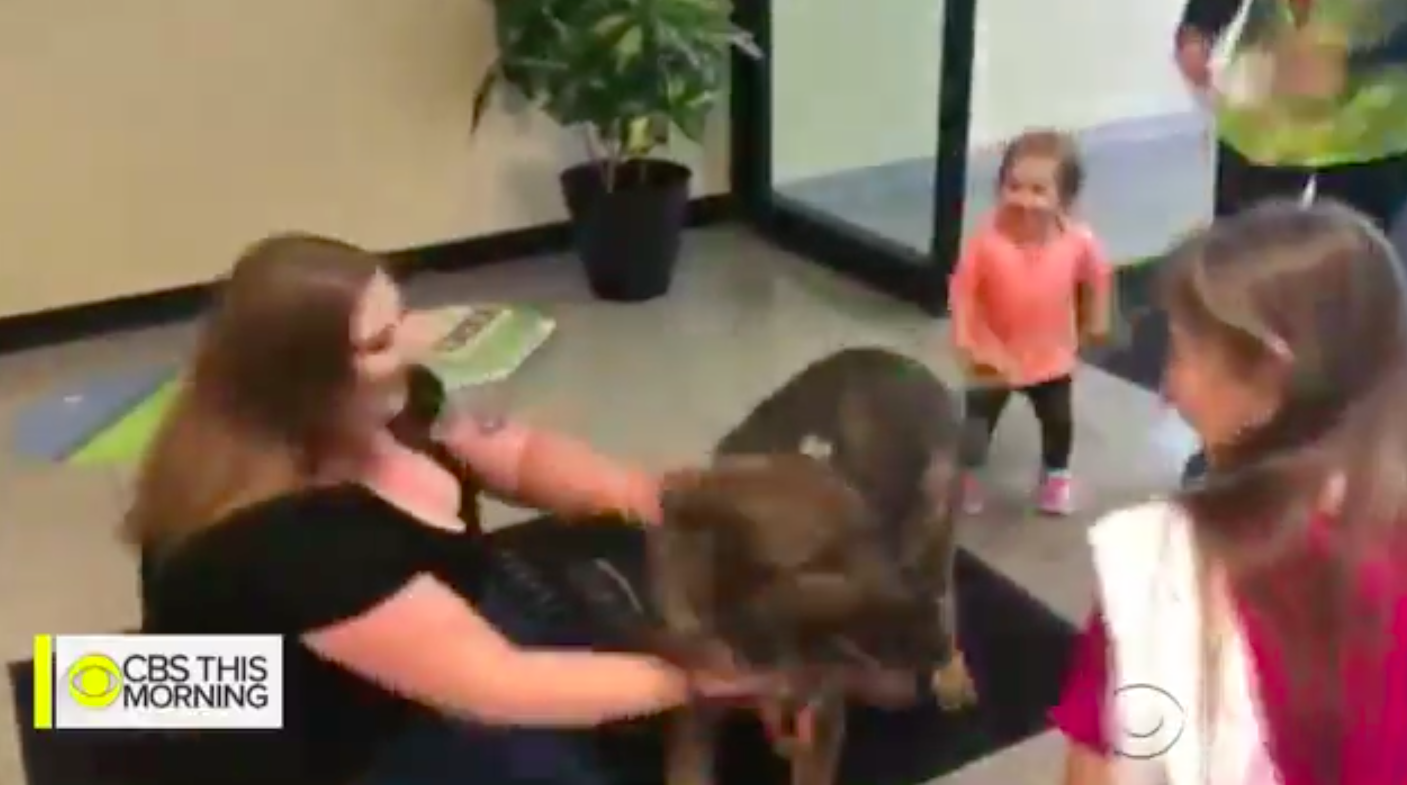 Even before these recent incidents, United has had a notoriously bad record for its handling of animals on flights.
In the last three years, the company has had the worst record of animal deaths out of any US airline carrier, according to the Bureau of Transportation Statistics.
In 2017, 24 animals died on airplane flights, one was lost, and 15 were injured, according to the agency's data. More than 75% of those incidents occurred on United's flights.
The previous year, United reported nine animal deaths and 14 injuries. Delta, which had the second-worst record, reported five deaths and five injuries.
United reported that these animals died mostly from natural causes, such as heart failure, arteriosclerosis, and respiratory failure. Animals also had "self-inflected injuries," often described as coming from scratching or chewing at their crates, according to the airline.
For most of the 2016 incidents, United accepted no responsibility and said no corrective action was necessary, except in the case of an 11-week-old Maltese puppy who was injured when a flight agent attempted to modify its crate while the animal was still inside.
"Reviewing proper procedure to secure kennel ties with agent," United wrote about the incident.
BuzzFeed News reached out to find out more information about United's record on animal deaths and whether corrective measures were taken after the Maltese puppy was injured or after any other animal incidents.
Sen. John Kennedy, a Republican from Louisiana, has now sent a letter to United demanding the airline take immediate action to prevent animals from suffering in its care.
"This pattern of animal deaths and injuries is simply inexcusable," Kennedy said. "For many people, pets are members of the family. They should not be treated like insignificant cargo. Frankly, they shouldn't be placed in the cargo hold, much less an overhead bin."
Kennedy tweeted he would be introducing a bill Thursday to prohibit airlines from putting animals in overhead bins.
And he isn't the only one who wants United to do more. Some people have even called for a boycott of the airline.