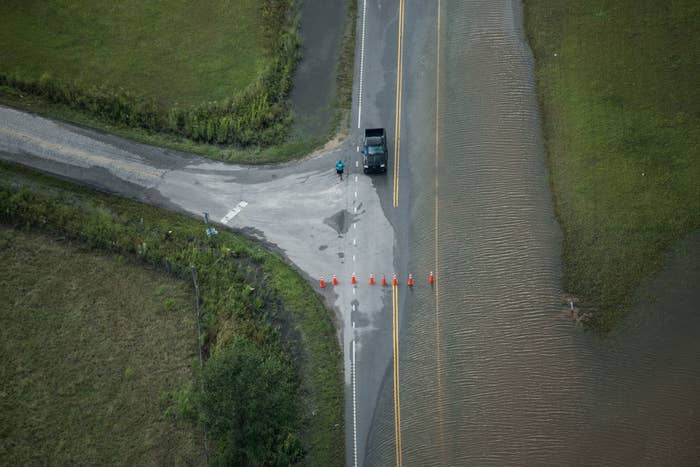 Two detained mental health patients who were being transported by law enforcement Tuesday were killed when the vehicle they were riding in was overtaken by floodwaters in South Carolina.
The Horry County Sheriff's Office was transporting the two women from facilities in Conway, just north of Charleston along South Carolina's coast, to a hospital further inland, when the vehicle they were riding was submerged, authorities said Tuesday. Horry County Deputy Tom Fox told WPDE-TV the victims were mental health patients.
"The vehicle, staffed by two Horry County Sheriff's Office deputies, was transporting two detainees from Conway to Darlington. The vehicle was traveling west on Highway 76 around ½ mile from the Little Pee Dee River when the vehicle was overtaken by flood waters," Horry County Sheriff's Office spokesperson Brooke Holden said in a statement.
The two deputies tried to rescue the victims, Holden said, but were unable to open the doors as floodwaters rose rapidly. The deputies were rescued from the top of the van by a team of first responders.
The officers involved in the incident were placed on administrative leave, the sheriff's office said in a statement Wednesday.
Horry County Sheriff Phillip Thompson identified the victims as Wendy Newton, 45, and Nicolette Green, 43. The Marion County coroner had previously misidentified one of the victims as Winy Wenton.

As of Wednesday morning, efforts were still underway to recover the victims' bodies as the vehicle is still under water, Thom Berry, spokesperson for the South Carolina Law Enforcement Division, told BuzzFeed News.
Berry noted that there was flooding in the area where the incident occurred, adding that as part of the investigation, officials will look into why the van was driving that route.
Horry County Sheriff Phillip Thompson said the department will cooperate with SLED's probe, adding that there are two additional investigations including a traffic investigation and an internal investigation.
"Tonight's incident is a tragedy," Thompson told local media. "Just like you, we have questions we want answered. We are fully cooperating with the State Law Enforcement Division to support their investigation of this event."
The two deaths are the latest attributed to Florence, which hit North and South Carolina as a hurricane this weekend and continues to cause devastating flooding, tornadoes, and other treacherous weather conditions in both states.
CORRECTION
Wendy Newton's name was misspelled in an earlier version of this post.