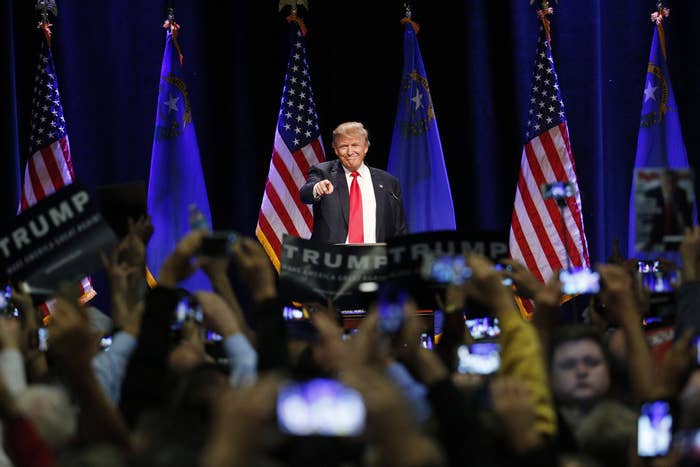 Donald Trump held a rally Monday night in Las Vegas a day before the Republican presidential candidates are set to appear onstage for the final GOP debate of the year.
During the rally, multiple protesters attempting to interrupt the candidate's speech were escorted out of the Westgate Las Vegas Resort. In a video captured by BuzzFeed News senior political writer McKay Coppins, a Trump supporter could be heard yelling "light the motherfucker on fire" as security officers restrained a protester.
The protester, Ender Austin III, spoke to BuzzFeed News after he was ejected from the rally, saying he attended with a group of friends to stand up against Trump's recent comments about Muslims.
"We came to the rally tonight to make sure issues that matter to us were heard," he said.
When Austin began to shout and disrupt the candidate's speech, he was not given a verbal warning before he was physically removed, he said.
"They immediately used physical force," he said. "I absolutely was being disruptive, but as I was making statements I felt hands grabbing on me."
Austin said he was placed in police custody outside of the rally, but was not arrested.
"What concerns me is that people were yelling racial epithets and hateful things," Austin said, referring specifically to the person in the crowd who called for him to be lit on fire. "I heard the n-word a couple of times."
"If we really want to make America great again, then we have to come together," Austin added. "We have to promote a positive agenda that's not going to exclude or promote racial hate towards anyone."
Other protesters who were with Austin were also removed from the rally by security.
Trump appeared unbothered by the demonstrations, making jokes about the disruptions, before continuing with his prepared remarks.
Some of the protesters were heard shouting "black lives matter."