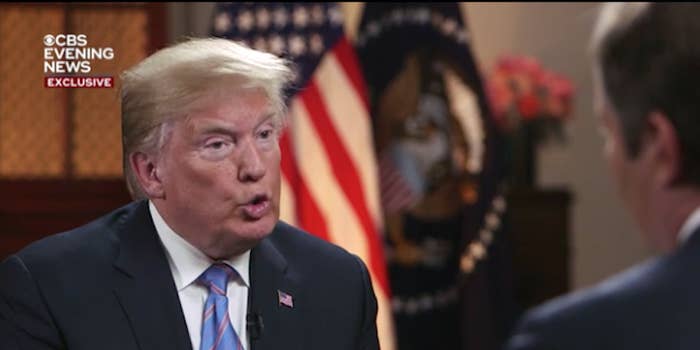 President Trump said Wednesday it is "true" that Russia interfered in the 2016 US presidential election and that he holds Russian President Vladimir Putin personally responsible for the meddling "because he's in charge of the country."
The US president has gone back and forth on the issue of election hacking since his summit meeting with Putin Monday, when Trump said publicly he doubted Russia interfered with the election, despite the findings of US intelligence services and the indictment of 12 Russian officials in the cyber attack.
After a wave of fierce backlash from Republicans and Democrats, Trump attempted to walk back his comments Tuesday, claiming he had meant to say he saw no reason why Russia "wouldn't" be responsible.

On Wednesday morning, Trump was asked by reporters whether Russia was still interfering in US politics, to which he replied "no." But at a White House briefing hours later, press secretary Sarah Huckabee Sanders said Trump's "no" was in response to reporters asking questions after the cabinet meeting, and not about Russian interference.
Trump made his latest comments about Russian interference in an interview with CBS Evening News anchor Jeff Glor, which aired Wednesday night.

Asked to confirm whether he agrees with US intelligence services' findings that Russia meddled in the 2016 election, Trump said: "Yeah, and I've said that before, Jeff. I have said that numerous times before, and I would say that is true, yeah."
Glor then pushed Trump on the fact that he hasn't specifically condemned Putin.
"Do you hold him personally responsible?" asked Glor.
"Well, I would, because he's in charge of the country," replied Trump. "Just like I consider myself to be responsible for things that happen in this country. So certainly as the leader of a country you would have to hold him responsible, yes."
In response, Glor asked Trump what he said to the Russian leader.
Trump replied that he was "very strong on the fact that we can't have meddling."
"We're also living in a grown-up world," added Trump. "Will a strong statement, you know — President Obama supposedly made a strong statement — nobody heard it. What they did hear is a statement he made to Putin's very close friend. And that statement was not acceptable. Didn't get very much play, relatively speaking. But that statement was not acceptable. But I let him know we can't have this. We're not going to have it. And that's the way it's going to be."
The incident that Trump appeared to be referring to happened in March 2012, when then-president Barack Obama was caught on a hot microphone talking privately to then–Russian president Dmitri Medvedev, saying that he would have "more flexibility" to negotiate with the country about missile defense after winning reelection.
"I will transmit this information to Vladimir," Medvedev had replied, referring to Putin, who just won an election to succeed Medvedev.

At the time, the comments were picked up by almost every major news organization.
When questioned by Glor about Trump's earlier statement that Putin had denied meddling, the president said "I don't want to get into whether or not he's lying."
Trump was also asked whether he thought that US intelligence agencies are out to get him, and he responded that "certainly in the past it's been terrible."

Also in the interview, he called the former CIA Director John Brennan "a total low life" and disparaged other past leaders of US intelligence agencies, including the former Director of National Intelligence James Clapper, who Trump said had "gone haywire, because they got to him and they probably got him to say things that maybe he doesn't even mean."

Asked whether he would be more likely to sit for an interview by Special Counsel Robert Mueller, as part of the investigation into Russian interference, Trump said his lawyers "are working on that."
"I always wanted to do an interview because, look, there's been no collusion," Trump said. "There's been no talk of Russia. There's been no phone call. There's been nothing."
In response to questions about the backlash to the summit with Putin, Trump said "I think I did great" and, "I think we did extremely well. It's fake news."