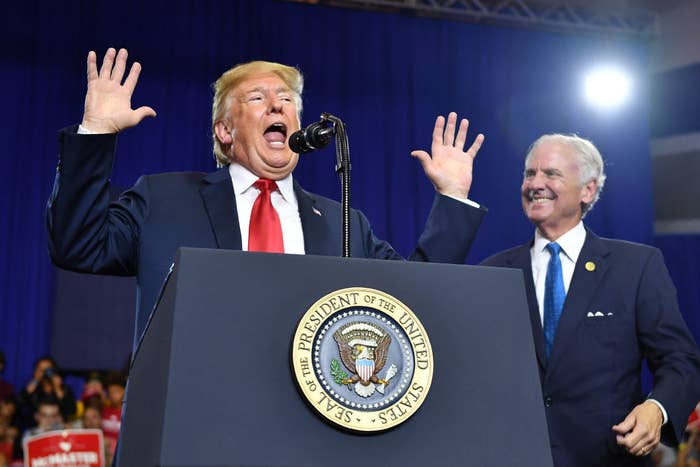 President Donald Trump railed against a series of late-night hosts and celebrities Monday night, treating more than 2,000 fans in South Carolina to a rambling and random speech loaded with references to his various enemies — and fans — in Hollywood and the media.

"Honestly, are these people funny? And I can laugh at myself. Frankly, if I couldn't, I'd be in big trouble," Trump said, beginning an extended invective against late-night television hosts. "But there's no talent. They're not, like, talented people."

He then began to attack each host by name, beginning with NBC's Jimmy Fallon, whom Trump had earlier criticized after the comedian apologized for a 2016 segment in which he messed with Trump's hair.
After tweeting Sunday that Fallon should be "a man," Trump continued to criticize the host to his fans, describing him as a "lost soul" who had done the then-candidate a favor by proving on national television that Trump's famous mane was real. Since that interview, Trump noted, no one has questioned whether his hair is "phony."

"If it's not your hair, don't run for office, folks," Trump quipped. "Because the gig would be up."

"A year and a half, two years later, he is now apologizing because he humanized me," Trump said. "And he really hurt himself."
Fallon, he added, is now "going to lose all of us" by apologizing.

Trump then started in on CBS's Stephen Colbert, whom the president referred to as "that low-life." ABC's Jimmy Kimmel, Trump added, is similarly "terrible" and has "no talent."
He then went on to relate a story about doing Kimmel's show during the 2016 campaign. "He would stand outside of the studio waiting for me," Trump said of the Jimmy Kimmel Live! host. "He's standing out on Hollywood Boulevard, he's standing there opening the door... I wasn't president. I was like a guy. A guy with potential."
In contrast, Trump cited the late Johnny Carson as very talented.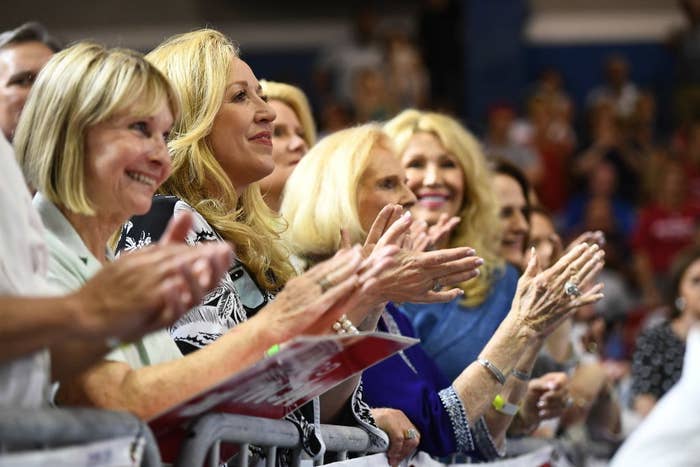 Trump also criticized NBC for treating him "horribly" despite his having "made a fortune" for the network with The Apprentice. "I think they are worse actually than CNN," the president said as the crowd booed. Naturally, Trump also contrasted his reality show ratings with those of his nemesis Arnold Schwarzenegger, who took over the franchise briefly following the election.
"Arnold Schwarzenegger — big movie star — took my place and it bombed in about two shows," Trump said, eliciting cheers.
The president did take time to highlight one unexpected defender in Hollywood, pulling out what appeared to be a printed copy of an article quoting director David Lynch's interview with the Guardian, in which he said Trump may be remembered as one of the great presidents in US history.
"This is a Hollywood guy," Trump said. "The reason I do this is, you know, you don't hear this. And plenty of them voted for me."

Hours earlier, Trump had tweeted a link to a Breitbart article about the interview, and he proceeded to read from the story on stage Monday night, highlighting passages quoting the director.

"There's David Lynch," Trump concluded, waving the printout. "Enjoy it because his career in Hollywood is officially over."