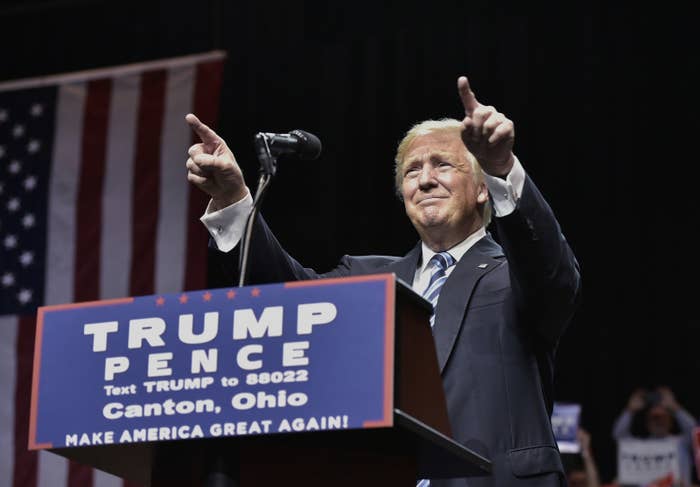 CANTON, Ohio — Donald Trump on Wednesday suggested his rival Hillary Clinton lacks the stamina to lead a large rally, days after her campaign revealed that she had been diagnosed with pneumonia.
"It's hot and it's always hot when I perform because the crowds are so big," he told a crowd in Canton, Ohio.

He then followed up by asking: "You think Hillary would be able to stand up here for an hour and do this? I don't know. I don't think so."
A BuzzFeed News reporter at the Ohio rally, meanwhile, disputed Trump's assertion that it was hot inside the venue.

Clinton was diagnosed with pneumonia on Friday, but her campaign didn't reveal her condition until Sunday, after she was caught stumbling while leaving a 9/11 memorial.

Trump has largely refrained from addressing Clinton's health, but Wednesday marked the first time he did so in a negative light. Though his comments were vague, several supporters in the audience held theories that were quite specific.
"Hillary has a serious medical problem that they are not disclosing," Dave Sumser told BuzzFeed News. He speculated Clinton actually suffered a seizure on Sunday and has Parkinson's disease. Still, he noted, "All you can do is speculate."
While there is no evidence to support the claims, he suggested, "She might not make it to Election Day."

In contrast, Sumser and other supporters in the arena believe Trump's vigor at Wednesday's rally — and his busy schedule — demonstrate his fitness.

"I think Trump is in good health personally," Sumser said. "Look at how many rallies he is doing a week — sometimes two a day."

Another man told BuzzFeed News that Trump was "strong as a horse."
For his part, Trump taped a segment with Dr. Oz, set to air Thursday, during which he discussed his own health exam results. His campaign also said the results would be released publicly.

One audience member told reporters that Trump said he wanted to lose 15 pounds and discussed why he eats fast food. Trump also purportedly said he never exercises.
Nancy Ley said she believed Clinton "is covering up an illness that she has had a long time." She cited a YouTube video that claims Clinton has Parkinson's disease as the basis for the speculation. She thought both candidates should release their full medical records.

"I thought he was healthy, because his wife cooks for him and she is beautiful and thin," Ley added. "Anybody who can do what he does is healthy. He was in Flint, Michigan, and now he's here. I can't imagine."
Trump later told the crowd Clinton was "lying in bed, getting better." When the crowd booed, he added: "We want her better, we want her back on the trail."
Several Trump backers noted Clinton's stumble on Sunday.
"If someone is going to be president, you don't want them to keel over," Alex Stone said. "Trump doesn't have any problem getting into a van and Hillary does."

But Jennifer Burn dismissed the health conspiracies and theories on both sides, noting that both candidates are seniors.
"Everybody has health issues," said Burn. "They are not spring chickens."