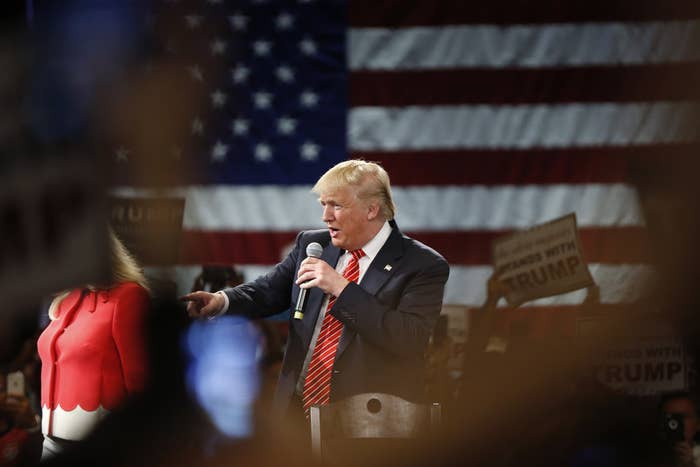 Five sheriffs deputies in North Carolina have been disciplined in connection with an assault that took place at a Donald Trump rally last week where one of his supporters punched a protester.
Three Cumberland County deputies were demoted in rank and suspended for five days without pay for "unsatisfactory performance" and "failing to discharge their duties," Sheriff Earl "Moose" Butler said in a statement. Another two deputies were suspended without pay for three days.
Police arrested 78-year-old John McGraw last week after video footage emerged of him punching a protester, Rakeem Jones.
McGraw was charged with assault and communicating threats after video from Inside Edition showed him saying he would kill Jones the "next time."
All five deputies have been reprimanded and placed in a probationary status for the next 12 months, the sheriff said.
"The actions of the deputies and their failures to act in situations such as that which occurred during the Trump rally at the Crown Coliseum have never been and will not ever be tolerated under the policies of this office," Butler said.
The Cumberland County Sheriff's Office had been looking into "the potential of whether there was conduct on the part of Mr. Trump or the Trump campaign which rose to the level of inciting a riot" in Fayetteville on March 9. But later in the day, investigators determined there wasn't enough evidence to pursue the case.
In a statement, the sheriff's office said "legal counsel advised, and the sheriff concurred, that the evidence does not meet the requisites of the law as established under the relevant North Carolina statute and case law to support a conviction of the crime of inciting a riot."
The lead attorney for the Cumberland County Sheriff's Office, Ronnie Mitchell, had earlier said charges were unlikely.
The sheriff's office on Monday said it was also considering pressing for additional charges against McGraw.
Asked about the incident during the GOP debate Thursday, Trump said he didn't condone violence, but the people who attend his rallies "come with tremendous passion and love for their country."
When pressed on the issue, Trump blamed the violence on protesters themselves, calling them "bad dudes" and "really dangerous."
Trump, meanwhile, has said that he might pay the legal fees for McGraw.