Toronto Mayor Rob Ford Takes Leave Of Absence As New Crack Video Emerges
Toronto Mayor Rob Ford is seeking help for a substance abuse problem after a new video emerged Wednesday of him smoking what's described as crack cocaine.
Update — April 30, 11:07 p.m. ET: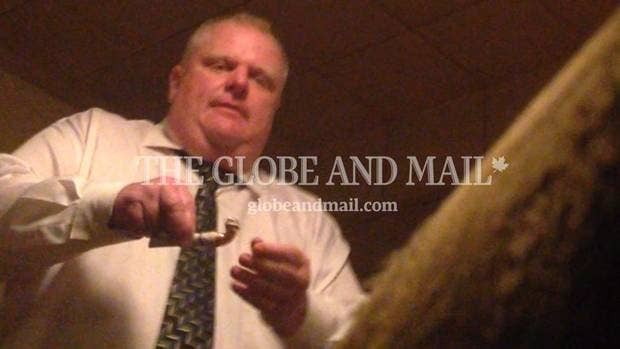 Toronto Mayor Rob Ford will take a leave of absence to seek help for substance abuse, his lawyer said Wednesday.
The mayor's decision came shortly after The Globe and Mail reportedly viewed a new video of Ford smoking what's described as crack cocaine, and the Toronto Sun obtained a new audio recording of Ford swearing in a bar.
"I have a problem with alcohol and the choices I have made while under the influence," Ford said in a statement late Wednesday night.
Ford's lawyer, Dennis Morris, said on Wednesday that the mayor wants to do something about his substance problem.
Despite Ford taking a leave of absence, he will remain on the October ballot for reelection, Morris said.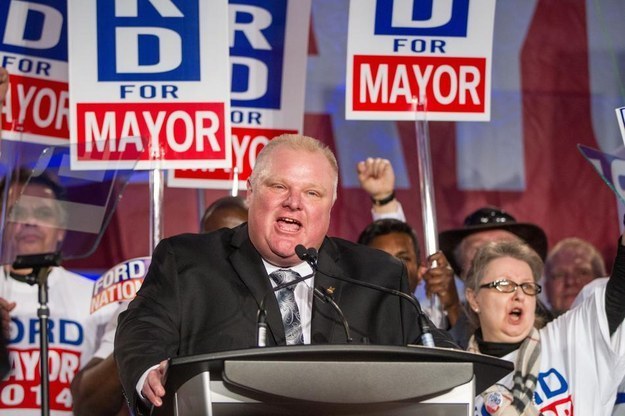 The clip viewed by The Globe and Mail reporters allegedly shows Ford taking a drag from a long pipe and exhaling a cloud of smoke, while his right arm starts convulsing.
The newspaper said the footage reveals a man that looks like Alessandro "Sandro" Lisi, the mayor's former driver, who has previously been arrested for possession of drugs, as well as Ford's sister, Kathy, an admitted drug addict, who is seen sitting in front of her brother.
The footage reportedly was recorded by the self-professed drug dealer in a basement early Saturday morning. It is one of three videos the dealer said was filmed around 1:15 a.m. The crack cocaine dealer said he is now selling the videos for "at least six figures."
When The Globe and Mail asked Ford to comment on the video Wednesday the mayor declined. An hour later Morris announced the mayor's leave.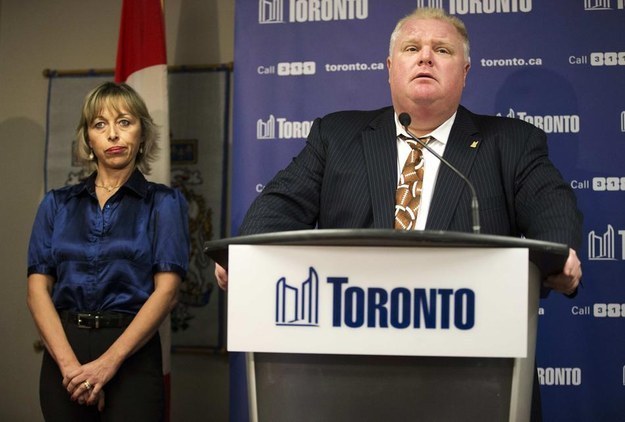 The separate audio recording obtained by the Toronto Sun was secretly taped by a patron of the bar Sullie Gorman's in the Etobicoke neighborhood Monday night and captures the mayor ranting as he orders shots. He reportedly complains about his wife Renata and makes obscene comments about his opponent Karen Stintz.
"I'd like to fucking jam her [Stintz], but she doesn't want ... I can't talk like this ... I'm so sorry," Ford reportedly said on the recording. "I forgot there's a woman in the house."
The Toronto Sun reportedly confronted Ford with the audio recording they obtained and he said that he is "ready to take a break" from the mayoral election campaign to "go get help."
In May 2013, news surfaced of the existence of a video showing Ford smoking crack. He admitted last year after months of denials that he smoked crack in a "drunken stupor," after police said they had obtained the video, but he refused to resign his position as mayor.
The Toronto City Council voted to strip Ford of his many powers and granted them instead to Deputy Mayor Norm Kelly. The first video of Ford reportedly smoking crack has never been released to the public, but numerous other videos have surfaced in the mean time depicting the mayor in different states of inebriation.
Tonight I want to take some time to speak from my heart to the people of Toronto. It's not easy to be vulnerable and this is one of the most difficult times in my life. I have a problem with alcohol, and the choices I have made while under the influence. I have struggled with this for some time.Today, after taking some time to think about my own well-being, how to best serve the people of Toronto and what is in the best interests of my family, I have decided to take a leave from campaigning and from my duties as Mayor to seek immediate help.I have tried to deal with these issues by myself over the past year. I know that I need professional help and I am now 100% committed to getting myself right.I love the people of Toronto, I love being your mayor and I hope you will continue to stand by me.