Three People Are Dead After Being Shot "At A Very Close Range" At An Auto Race
The suspect is still on the loose.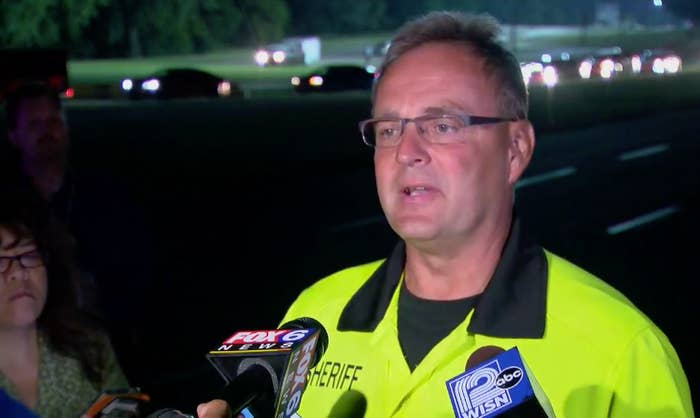 Three men were shot and killed "at a very close range" at an auto race track in Wisconsin Sunday, in a bizarre case the left local officials with few answers about a motive for the shooting or what had happened to the killer.

"We don't know if our suspect is still here," Kenosha County Sheriff David Beth said in a press conference late Sunday night at the Great Lakes Dragaway, where the victims and suspect had been attending an event called Larry's Funfest. Fox6Now reported that the area has now been evacuated.
The sheriff said that law enforcement does not know who the suspect was or what his motive might be for killing the three black men, whom Beth described as being from Illinois.
On Monday, the victims were identified as 30-year-old David L. Watson, 30-year-old Khalid R. Howard, and 26-year-old Derek K. Edwards, according to a statement released by the sheriff's department. Two of victims died at the scene, while the third died en route to the hospital. All three suffered from multiple gunshot wounds.
In the statement on Monday, the sheriff's office said they believe the crime was "street gang related," and that the victims were specifically targeted and not the victims of a random shooting.
Beth said Sunday they did believe the suspect was a black man and had a black vehicle, but described other details about the murder as "sketchy." Authorities believe the suspect is between 20 to 30 years old, and "approximately 5'09" with a thin athletic build," according to a police description.

According to Monday's statement, the suspect was "last seen fleeing the area on foot," but is "believed to have left the area in vehicle of unknown description at this time."
The shooting occurred around 7 p.m. at Larry's Funfest, billed as a large drag racing event in Wisconsin in its 10th year, according to a Facebook invite. The event drew 5,000 people from Milwaukee, Chicago, and other areas, the sheriff said in a statement.
The sheriff said that authorities are hoping to talk with witnesses and look through video footage.

"This is pretty distressing," Beth said. "There's a lot of families out."
Local and state law enforcement, fire departments, and other emergency responders were on the scene to assist.
This is a developing story. Check back for updates and follow BuzzFeed News on Twitter.