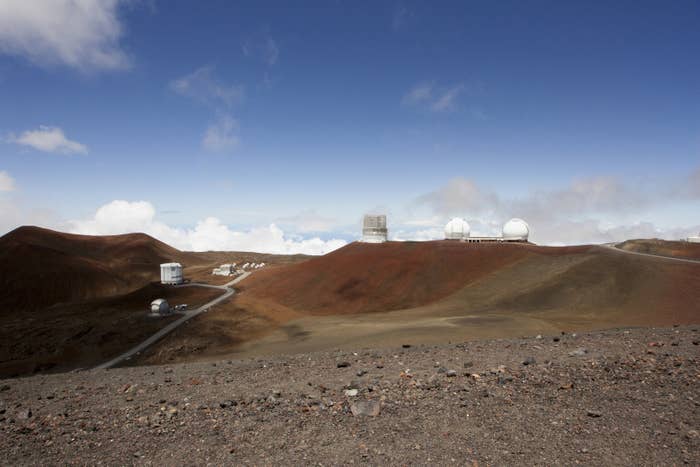 A construction permit should be granted for a giant $1.4 billion telescope planned for the top of Mauna Kea in Hawaii, a hearing officer recommended on Wednesday — the latest in a long-running controversy that has pitted the scientific community against Native Hawaiian groups.
Scientists and educators want to build the Thirty Meter Telescope on the summit of the Big Island because its high elevation and remote location make it uniquely suited for stargazing. But Native Hawaiian groups say the area is sacred and is where their creation story began. It is also home to a fragile ecosystem, including the threatened wekiu bug.

Retired circuit court judge Riki May Amano's recommendation, released on Wednesday, will now go to the state Board of Land and Natural Resources for a vote.

The top of Mauna Kea — where 13 observatories are already located — became the scene of protests as soon as construction started in March 2015. Native Hawaiian groups and environmentalists soon started camping there. The protests spread from the Big Island to neighboring islands, as well as across the Pacific Ocean to Pasadena, California, where the Thirty Meter Telescope headquarters are located.
Construction was halted after 31 people were arrested for blocking the site. By the end of 2015, the Hawaii Supreme Court had invalidated a permit for the Thirty Meter Telescope, saying the Board of Land and Natural Resources violated due process when it granted its initial permit without allowing it to be contested. This sent construction of the telescope back to the courts to be considered.
Amano's decision comes about a month after hearings ended. She considered hundreds of exhibits and hours of testimony over four months.

In her ruling, she wrote that opponents of the telescope had not proven that religious practice "whether contemporary, or traditional and customary" had taken place at the site prior to construction of the telescope.
The fact that the site is considered sacred is not enough to stop construction of the telescope, she wrote, since constitutional protection against "unreasonable interference with religious practices" does not protect against "interference with religious beliefs."
Telescope opponents and supporters may now file arguments with the Board of Land and Natural Resources, which will hold a hearing and make the final decision. After the Land Board makes a decision, the case will likely be contested and go to Hawaii's Supreme Court.
Hawaii Governor David Ige said in a statement that he was thankful for the work Amano had done on the case.
"Regardless of the BLNR's ultimate decision, I support the co-existence of astronomy and culture on Mauna Kea along with better management of the mountain," Ige said.