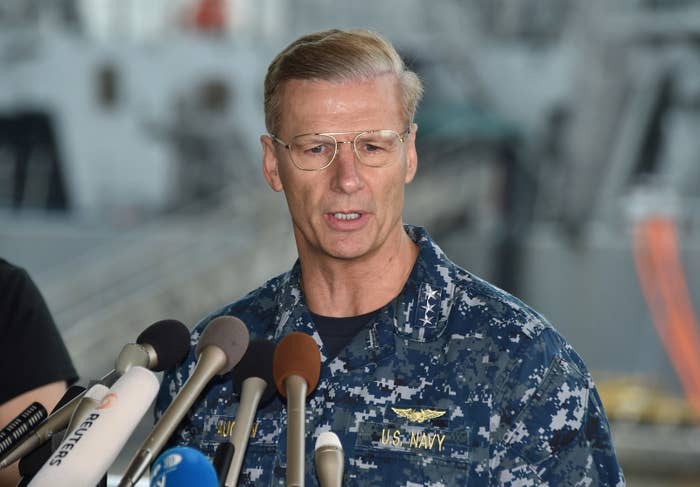 The US Navy dismissed the commander of the fleet that has suffered four collisions this year, including two fatal ones.
Vice Adm. Joseph Aucoin, the three-star commander of the US 7th Fleet in Yokosuka, Japan, was relieved of his duties on Wednesday due to a "loss of confidence in his ability to command," according to a press release from the US Pacific Fleet.

Rear Adm. Phil Sawyer will take over the post, effective immediately.
The news comes after the USS John S. McCain collided with a merchant vessel near Singapore early on Monday, leaving several men dead. It's still not clear if all 10 missing from the ship are deceased, but some bodies were recovered on Tuesday.
BuzzFeed News has reached out to the Navy for more information about the dismissal. A Department of Defense spokesperson said it was a "Navy personnel matter" when contacted, and declined to comment further.

Aucoin was planning to retire soon, but the firing is in accordance with the Navy's policy of public accountability, by which it dismisses commanders or ship captains as soon as it loses confidence in their leadership.

Monday's collision was the fourth mishap this year for the 7th Fleet, and the second fatal one. In June, the destroyer USS Fitzgerald collided with a container ship near Japan, killing seven sailors. Last week, the Navy relieved three of the Fitzgerald's senior officers, including its captain, for mistakes that led to the accident.

In May, the guided-missile cruiser USS Lake Champlain was hit by a small fishing boat near the Korean Peninsula. And in January, another guided-missile cruiser, the USS Antietam, ran aground while trying to anchor in Tokyo Bay.
The Navy announced on Monday that it would have an "operational pause" to investigate what could be done to improve its practices and save lives in the future.