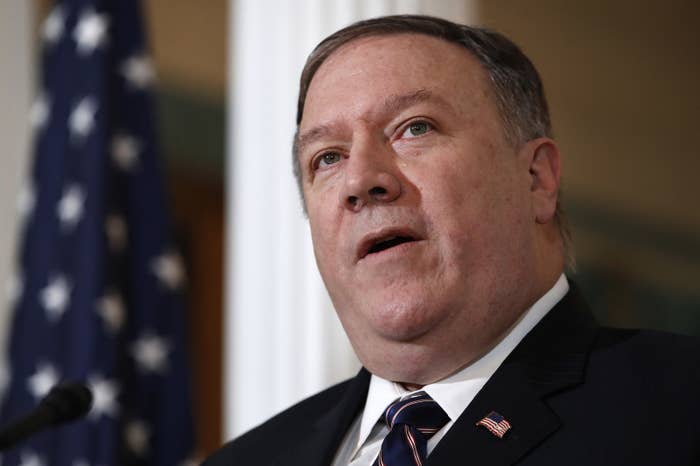 President Donald Trump plans to cap the number of refugees allowed into the United States over the next year at 30,000, the administration announced Monday, a historic low for the program that resettles foreigners fleeing war, violence, and persecution.
Secretary of State Mike Pompeo announced the changes Monday, saying the cut reflected the "daunting operational reality" of processing the growing backlog of US asylum claims.
"In consideration of both US national security interest and the urgent need to restore integrity to our overwhelmed asylum system, the United States will focus on addressing the humanitarian protection cases of those already in the country," Pompeo said.
The cap, which will take effect next month, is the lowest its been since Congress passed the Refugee Act of 1980, which standardized resettlement services in the US. Once the ceiling is reached in fiscal year 2019, the US will no longer allow refugees to enter the country — even if they meet the requirements of the program.
The refugee resettlement cuts mark the latest in a long series of efforts Trump has taken to crack down on both legal and illegal immigration. Just weeks after taking office last January, he suspended the refugee program entirely for 120 days, part of a broader executive order banning travel and immigration from certain Muslim-majority countries.
Since then, the president has scaled back refugee admissions dramatically, lowering the refugee cap to 45,000 in 2018, down from 110,000 the previous year. And with two weeks to go in the fiscal year, the administration has admitted just 20,918 refugees — less than half the number allowed under the current cap.
In a statement Tuesday, Republican Senator Chuck Grassley, the chairman of the Senate Judiciary Committee, chastised the Trump administration for not consulting with Congress before setting the cap.
"While I appreciate the administration's commitment to protecting national security and public safety by proposing a refugee cap...it is imperative the agencies abide by their statutory mandate to consult with Congress before any number is proposed," Grassley said in a statement. "Yet, for the second year in a row, the administration has willfully ignored its statutory mandate to inform and consult with Congress, including designated members of both the House and Senate Judiciary Committees, about the number of refugees to be admitted during the next fiscal year."