The President Of NAACP's Los Angeles Branch Resigns Under Pressure
Los Angeles NAACP President Leon Jenkins has stepped down after his past as a judge defrocked for taking bribes came into the spotlight. The civil rights group had also come under fire for planning to give a lifetime achievement award to Clippers owner Donald Sterling.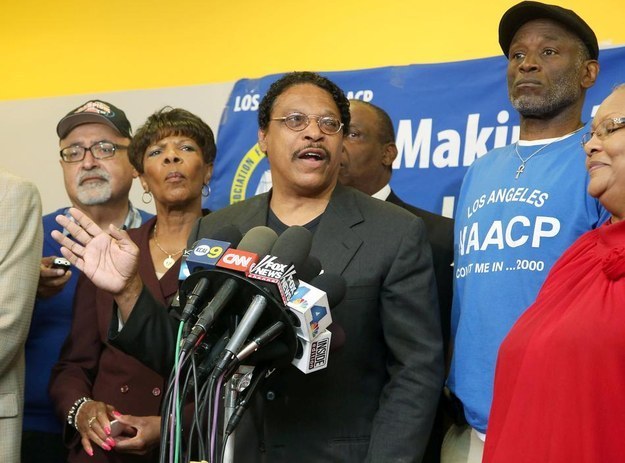 The President of the Los Angeles chapter of the National Association for the Advancement of Colored People resigned Thursday after reports surfaced about his past as a judge who was forced from the bench for taking bribes.
The Los Angeles NAACP had also been criticized for giving awards to Los Angeles Clippers owner Donald Sterling, whose racist comments have ignited outrage and protest. The organization had planned to give a lifetime achievement award to Sterling this month.
In his letter of resignation, Jenkins wrote, "Please be advised that the legacy, history and reputation of the NAACP is more important to me than the presidency. In order to separate the Los Angeles NAACP and the NAACP from the negative exposure I have caused the NAACP, I respectfully resign my position as President of the Los Angeles NAACP." Jenkins had been elected president of the chapter in late 2008 and had been reelected twice.
Yesterday, BuzzFeed published a story about Jenkins' troubled past, which was followed by similar stories in the Los Angeles Times and the New York Times. In 1991, the Michigan Supreme Court removed Jenkins from the bench based on evidence that while he was a district court judge in Detroit he "systematically and routinely sold his office," including taking bribes to dismiss traffic tickets, accepting gifts from attorneys who appeared before him, and using his office to secure the release of a personal acquaintance without legal justification.
He was also disbarred in Michigan and California, meaning that he cannot practice law in those states. He had twice tried to win reinstatement in California, but was denied both times, most recently in April.
Jenkins did not immediately respond to voicemail and text messages left on his cell phone, and the Los Angeles NAACP also did not immediately reply to voicemails and emails.
The Los Angeles branch of the NAACP had been planning to honor Clippers owner Donald Sterling with a lifetime achievement award before he allegedly made racist comments in a recorded conversation with his girlfriend. Sterling had been slated to receive the honor on May 15 as part of the 100th anniversary celebration of the NAACP's Los Angeles chapter.
On Monday, Jenkins announced that Sterling would no longer be receiving the award. The following day Sterling was banned from the NBA for the rest of his life.
Sterling received a President's Award in 2008 from the Los Angeles branch of the NAACP, and in 2009 the chapter awarded Sterling the Humanitarian Award.
The national office of the NAACP said it is developing guidelines for its branches to help them in their award selection process.