The North Face Co-Founder Dies While Kayaking In Patagonia
Doug Tompkins, 72, was pulled from the water in Chile after his kayak capsized, but he later died from hypothermia.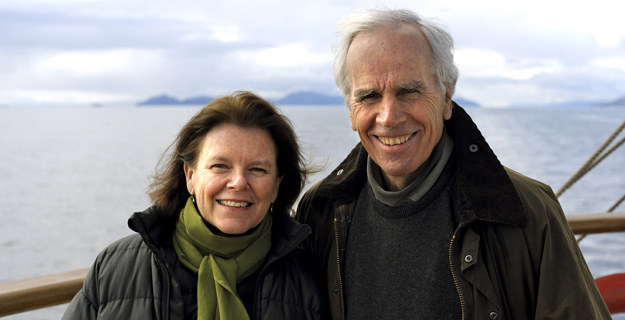 The North Face co-founder Doug Tompkins died Tuesday after his kayak capsized in freezing waters in Patagonia, Chile, the outdoor gear company said.
Tompkins, 72, was with a group of five other people when the kayak capsized. Chile's army said there were strong waves at the time, which caused the boats to flip, the Associated Press reported.
Rescue crews pulled the six people from the water — three by boat and three airlifted by helicopter. The New York Times reported that Tompkins was brought to Coyhaique Regional Hospital with "severe hypothermia." He later died there.
"We are all deeply saddened at the news of Doug's passing," The North Face said in a statement to BuzzFeed News. "Douglas Tompkins helped forge The North Face's mantra to Never Stop Exploring from our very beginnings in 1966 when he opened The North Face as a small ski and backpacking retail operation in San Francisco's North Beach neighborhood."
Tompkins, who also co-founded the Esprit clothing company, left the industry in 1989 to devote his time being an environmental activist and conservationist.
He and his wife, Kris Tompkins, the former CEO of the Patagonia outdoor clothing company, bought over 2 million acres in the Patagonia region in Chile and Argentina and turned it into conservation land.
He also launched Tompkins Conservation, which is dedicated to creating parklands and preserving habitats.
"At his core an activist for nature and beauty, Tompkins possessed an incredible love for the wild world he explored in climbing and paddling trips," a representative for the Tompkins Conservation, Tom Butler, said in a statement sent to BuzzFeed News. "After 'cheating death' so many times on perilous climbing expeditions to some of the planet's most remote places, Tompkins was enjoying a kayak camping trip with friends on South America's second largest lake when the accident occurred."
Tompkins is survived by his wife, his mother Faith Tompkins, brother John Tompkins, and daughters Summer Tompkins Walker and Quincey Tompkins Imhoff, and grandchildren Brooks Thomas Walker, Della Walker, Susie Kate Walker, Gardner Imhoff and Willa Imhoff.