The Last Living Survivors Of The Pearl Harbor Attack Were Honored In An Emotional Commemoration
The 75th anniversary was especially moving since it was one of the last major commemorations where veterans of the battle would still be alive to share their memories.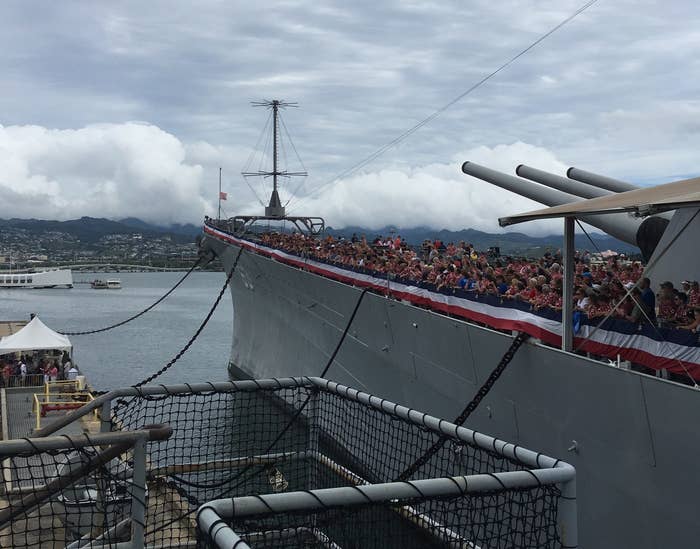 HONOLULU — Seventy-five years after the attack on Pearl Harbor, thousands of people from across America gathered in Hawaii on Wednesday to commemorate the anniversary.

This year was especially poignant as many at the event felt it was the last major anniversary of the attack where survivors would still be present.
Veterans in their nineties were given special attention throughout the day, and safely guarded from the tropical heat by volunteers handing out bottles of water.
"My wife and I decided to come every year for Pearl Harbor day until there are no Pearl Harbor survivors left," said retired Chief Warrant Officer 2nd Boatswain Joe Lavoie, who lives in Seattle.
Lavoie said they had been returning to the anniversary for at least 10 years.
"We've watched it getting slimmer and slimmer … but we'll keep coming every year."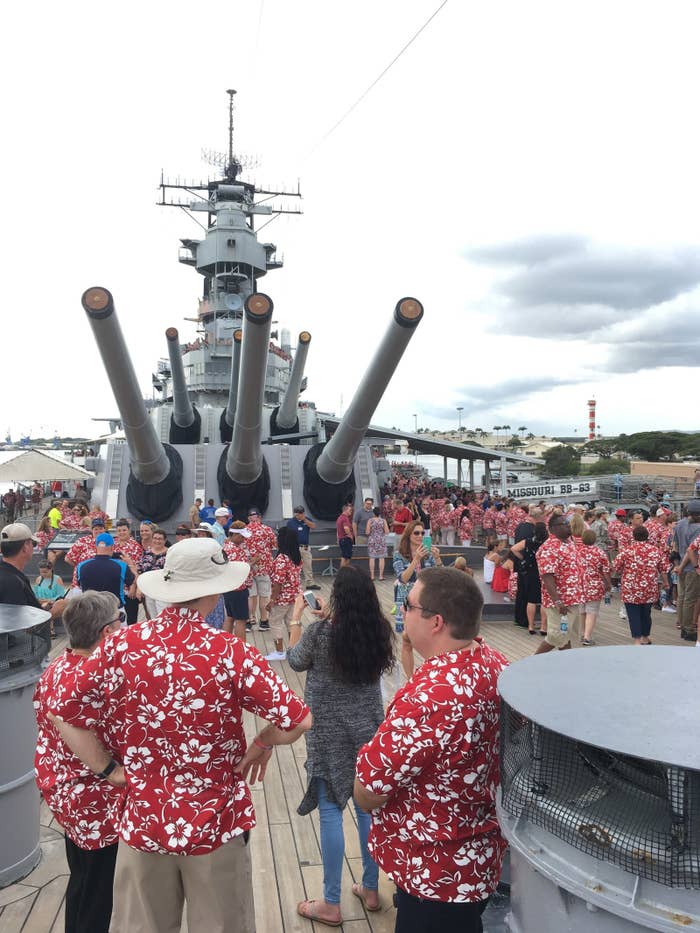 The deck in front of the USS Missouri Battleship Memorial — known as the Mighty Mo — was filled with more than a thousand students. Most were wearing matching red-and-white aloha shirts, and had come from across the country to perform in the band.

On board the Mighty Mo, which is most famous for being the site where the Empire of Japan surrendered, family members of the band wore the identical aloha shirts with cameraphones in hand alongside men and women in uniforms from all military units who had come to the event.
Senior Airman Cody Schwart said he had four grandfathers who had fought in World War II.
"Just to be here is a great honor and privilege to say thank you and remember those who gave their lives for us to be free," Schwart said to BuzzFeed News.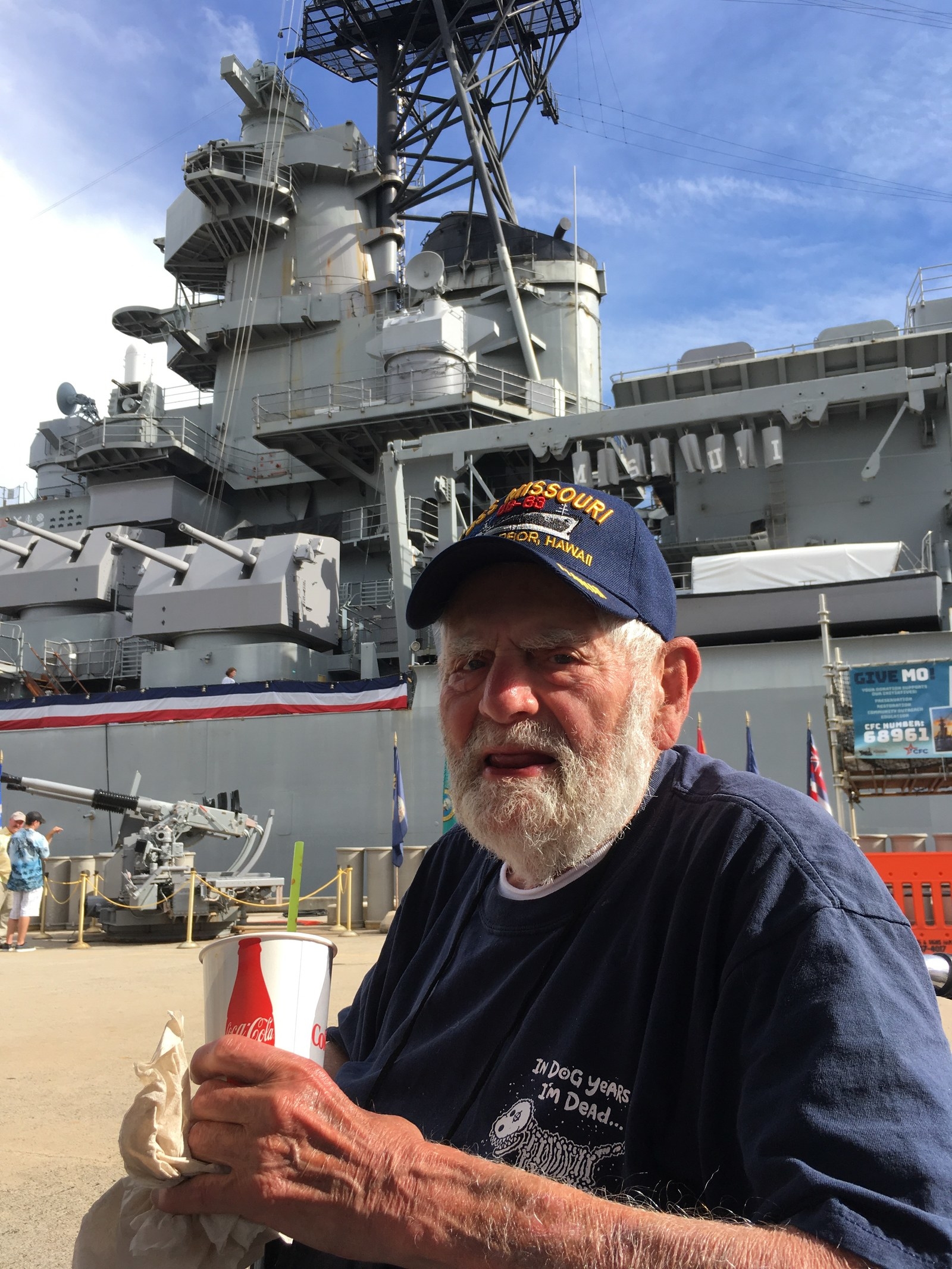 Charlee Shelby, who is 93 years old, said he remembers the exact cross streets he was standing on in Los Angeles when he learned about Pearl Harbor.

"I was 18. It was Sunday morning. We would sell newspapers on the corner," Shelby said about Dec. 7, 1941. "That particular morning, there was nobody on the street."
Eventually, Shelby said, he and the other paperboys started to slowly hear from people slivers of what had happened.
"In those days, everybody depended on the radio. When the president spoke, we could hear him coming out of everyone's window," Shelby said about the famous speech by then President Franklin D. Roosevelt where he declared war on Japan.
At the site of the USS Oklahoma memorial on Ford Island, Brigadier General Mark Spindler talked about the work of the Defense POW/MIA Accounting Agency to identify unknown sailors. A total of 429 crew members died when the ship was hit by torpedoes on Dec. 7, 1941, but 388 were "regrettably" buried as unknowns.

In 2015, with advances in DNA deciphering, the unknown sailors were disinterred with special permission from the Office of Secretary of Defense. Since then, 72 of the remains have been identified. Survivors and other veterans applauded the news.
Spindler added that they were "more than optimistic" that they would be able to identify all of the unknowns within five years.
The attack at Pearl Harbor killed at total of 2,403 Americans. More than half of the casualties happened on the USS Arizona, where 1,777 crew members died.
Two USS Arizona survivors were interred in a watery memorial during a private event — during which scuba divers took their urns into the sunken ship's barbette gun turret — where a total of 39 servicemen have previously been buried.
Clarendon Hetrick, who died in April, and John Anderson, who died in November 2015, were recognized for their service on Wednesday before the burial in their former ship's wreck. Anderson's twin brother died on the USS Arizona 75 years ago.

President Barack Obama did not attend the event, as he had with the 70th anniversary, but will come to Hawaii over the holidays for a historic meeting with Japanese Prime Minster Shinzo Abe.