"The Devil Is After Him": Everything We Know About The Ottawa Shooting Suspect
Michael Zehaf-Bibeau reportedly had a history of drug use, a criminal record, and had been asked to leave the mosque where he prayed after acting "erratic."
UPDATED — Oct. 23, 8:15 p.m. ET: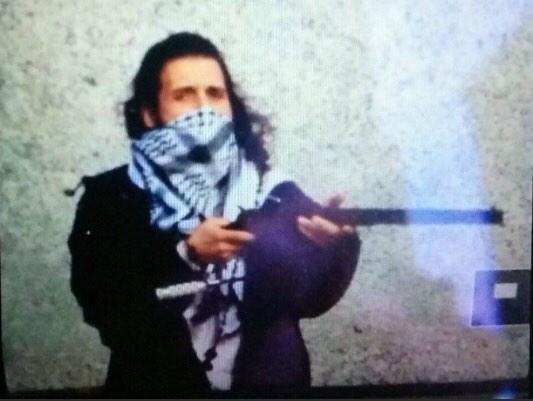 The gunman who opened fire Wednesday in Canada's capital city, killing one and injuring three others, was identified by officials as 32-year-old Michael Zehaf-Bibeau.
The Canadian-born man ambushed a soldier guarding the National War Memorial, killing him at point-blank range, then stormed the country's Parliament and opened fire. Prime Minister Stephen Harper called it a terrorist attack.
Zehaf-Bibeau converted to Islam at least three years ago, and had a history of criminal and drug-related charges. A friend said he began to show "disturbing" behavior in recent years and may have been mentally ill, the Globe and Mail reported.
Zehaf-Bibeau was born Michael Joseph Hall in Quebec in 1982 to businessman Bulgasem Zehaf, who went to fight in Libya as recently as 2011, and deputy chair of a division of Canada's Immigration and Refugee Board, Susan Bibeau. The couple divorced in 1999, the Globe and Mail reported.
He grew up in eastern Canada, living in both Ottawa and Montreal, before moving to western Canada. He was employed at one point as a laborer.
The suspect's mother said her son seemed lost and "did not fit in."
Bibeau has homes in Montreal and Ottawa, but told the the Associated Press on Thursday that she had not seen her son for over five years—until last week when they met for lunch.
"So I have very little insight to offer," Bibeau said.
She also said that she is crying for the victims, not for her son.
"Can you ever explain something like this?" she added. "We are sorry."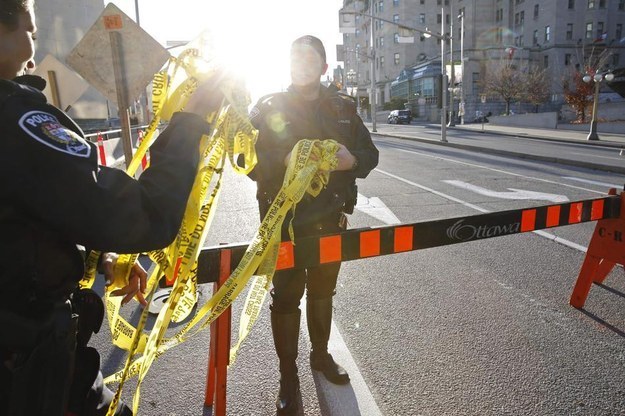 Zehaf-Bibeau reportedly had a history of drug use, and a criminal record.
Global News reporter Domenic Fazioli said Zehaf-Bibeau had been arrested five times in Montreal — three times for drug possession, and twice more for breaking his parole terms. In Quebec, he was sentenced to 60 days in jail in 2004 for drug charges, CNN reported.
Zehaf-Bibeau was also charged in 2011 in Vancouver for robbery and uttering a threat. He was only convicted of the latter charge and sentenced to a day in jail.
After the case, Zehaf-Bibeau had a psychiatric assessment at Surrey Pretrial Services Center and was "found fit – not certifiable per overnight assessment," according to the Globe and Mail.
He had been asked to leave the mosque where he prayed after acting "erratic."
Zehaf-Bibeau was asked to stop attending prayers at the mosque he attended in Burnaby, British Columbia, because some members found his behavior "erratic," a friend, Dave Bathurst, told the Globe and Mail.
Bathurst said Zehaf-Bibeau once told him the "devil is after him," and that he frequently talked about Shaytan, an Islamic word for the devil.
"I think he must have been mentally ill," Bathurst told the paper.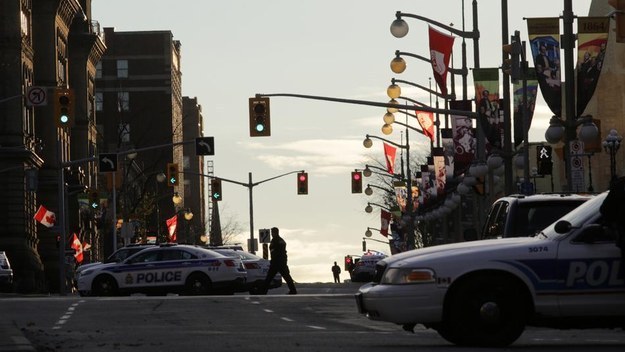 Zehaf-Bibeau had been interested in traveling to the Middle East, but Canadian officials would not give him valid documents.
More recently, reports say he had wanted to travel to the Middle East, where he told friends he hoped to study Arabic and Islam, but Canadian officials had not granted him a passport, so he was unable to travel abroad. Zehaf-Bibeau was interested in going to Libya, a friend said Wednesday to the Globe and Mail, or to Syria, police said Thursday.
The Royal Canadian Mounted Police have a list of 90 individuals under investigation for potential threats, but Zehaf-Bibeau was not on the list, RCMP Commissioner Bob Paulson said Thursday. He added if they had known he wanted to travel to Syria, then he would've been on the list.
Paulson said delays in obtaining his visa to fly to the Middle East may have caused Zehaf-Bibeau to get frustrated and made him last out.
"I think the passport figured prominently in his motives. I'm not inside his head, but I think it was central to what was driving him," Paulson said.
In addition, he traveled to the U.S. four times, most recently in 2013. It is not clear what he was doing in the U.S., but American officials are investigating, CNN reported.
Most recently, Zehaf-Bibeau had been living in a homeless shelter.
Zehaf-Bibeau had stayed at the Ottawa Mission homeless shelter in the past few weeks , said, Abubakir Abdelkareem, who was also a frequent shelter visitor. He said Zehaf-Bibeau had told him he had been drug free for three months and wanted to go to Libya to steer clear of temptation.
Abdelkareem said in the the days leading up to the attack, "his personality changed completely."
"He was not talkative; he was not social" as he had been before and slept through the day. Abdelkareem said he suspected he was using drugs again.
Another individual who met Zehaf-Bibeau in a shelter, Lloyd Maxwell, said he had lived for some time in Vancouver, then Calgary, and had moved to Ottawa to try to get a passport, believing that it would be easier in the nation's capital.
"He didn't get it, and that made him very agitated," Maxwell said.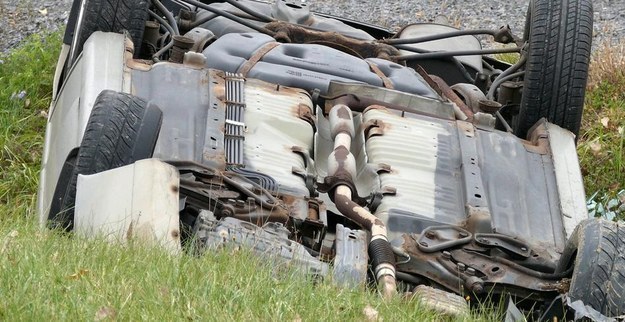 Officials said Thursday there's no evidence to link Monday's terrorist attack in Quebec and Wednesday's incident in Ottawa.
Earlier this week, two Canadian soldiers were struck by a car, killing one, in an incident that police believe was also an act of terrorism. Prime Minister Stephen Harper said Wednesday night the attack was launched by an "ISIL-inspired terrorist." ISIL is an acronym for the group known as the Islamic State in Iraq and Syria, also known as ISIS. The attacker, Martin Couture-Rouleau, was shot dead by police during the altercation Monday.
Paulson said Thursday there's no evidence to link Zehaf-Bibeau and Couture-Rouleau, but the suspects do share a few similarities, including that they were both born in Quebec and recent converts to Islam.
Unlike the Ottawa shooter, Couture-Rouleau was on the list of 90 people considered high-risk by the RCMP. In July he had tried to travel to Turkey, but was arrested at Montreal's airport and his passport was revoked.
The question remains where whether the killers acted alone in carrying out their attacks or were getting support from a larger extremist network, such as ISIS.
Elizabeth May, leader of the Green Party, said in Parliament that both attacks were probably "the acts of isolated, disturbed and deeply troubled men who were drawn to something crazy."
In Zahef-Bibeau's case, Paulson agreed that he probably acted alone, considering his history of crime and drugs, and "mental instability."
Paulson also said Thursday that Zehaf-Bibeau's email was found on the computer of an individual charged with a terrorist-related offense. He didn't elaborate on the contents of the email or say who the other individual is, describing the connection as very weak.