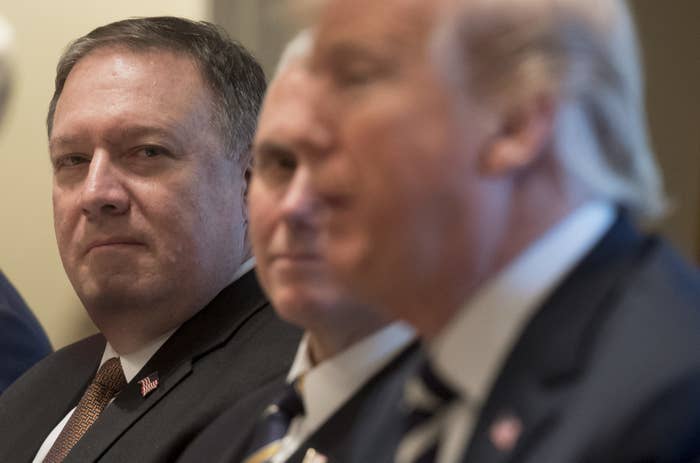 CIA Director Mike Pompeo secretly traveled to North Korea over Easter weekend and met with the rogue nation's leader, Kim Jong Un, in an effort to set up a meeting with President Trump, according to multiple reports published Tuesday.
Trump confirmed the reports of the clandestine trip, which was first reported by the Washington Post, in a tweet Wednesday morning saying the "meeting went very smoothly and a good relationship was formed."
President Trump first seemed to allude to the meeting Tuesday evening at his Mar-a-Lago resort in Florida, telling reporters, "we've had talks at the highest level" with North Korea.

Asked if he had spoken directly to Kim, Trump said, "Let's leave it short of that. We've had talks at the highest level. It's going well. We'll see what happens."
Pompeo's meeting with Kim is the highest-level contact between the US and North Korea since 2000, when then-secretary of state Madeleine Albright met with the current leader's father, Kim Jong Il.

In 2014, then-director of national intelligence James R. Clapper Jr. visited the country to ensure the release of two Americans being held in North Korea. Clapper did not meet with Kim, but with other officials.

Pompeo became director of the CIA in January last year after he was nominated to the position by Trump. Last month, Trump fired Rex Tillerson as secretary of state and nominated Pompeo to serve as his replacement. Pompeo has not yet been confirmed.

The Washington Post reported that the talks between Pompeo and Kim were meant to lay the groundwork for a meeting with the president to discuss North Korea's nuclear weapons program.
In March, South Korean officials said Kim was willing to negotiate about potential denuclearization, and shortly after it was announced that Trump had agreed to meet the leader.
Trump told reporters Tuesday that the US was looking at five different sites for a possible US-North Korea summit. He said that none of the sites were in the US.
"I look forward to meeting with Kim Jong Un," Trump said. "And hopefully that will be a success. And maybe it will be, and maybe it won't be. We don't know. But we'll see what happens."

Trump has previously said he supports discussions between Seoul and Pyongyang to bring a formal end to the Korean War, which ceased in 1953 with an armistice agreement, but a peace treaty was never formally signed.
Trump said Tuesday that a formal end to the war between South Korea and North Korea would also be on the agenda for the summit.