Remembering The Arizona Firefighters
Sunday night, 19 members of the Granite Mountain Hotshots lost their lives battling the wildfire in Yarnell, Ariz.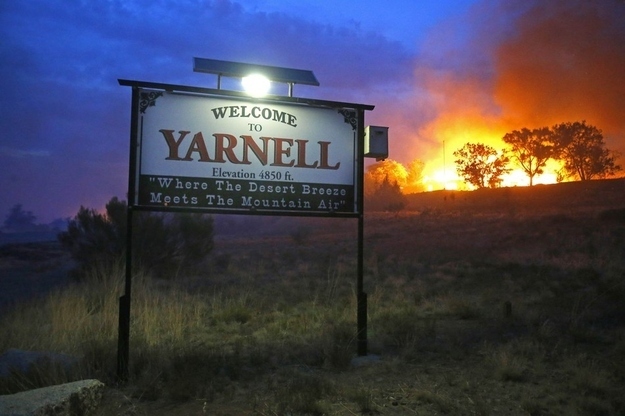 The names and ages of the firefighters who died: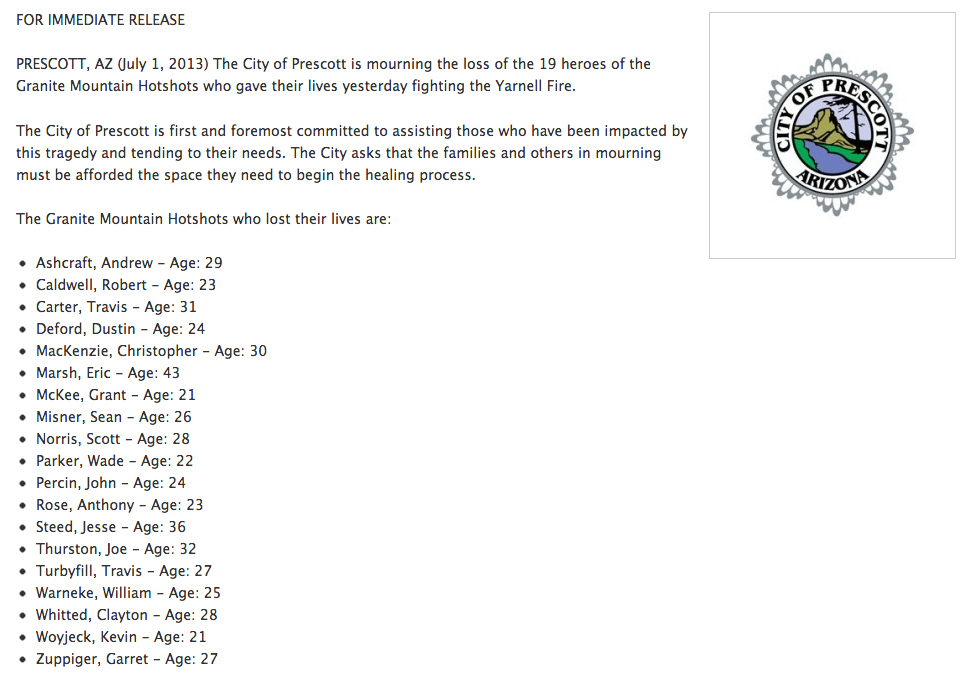 Fourteen of the victims were in their twenties.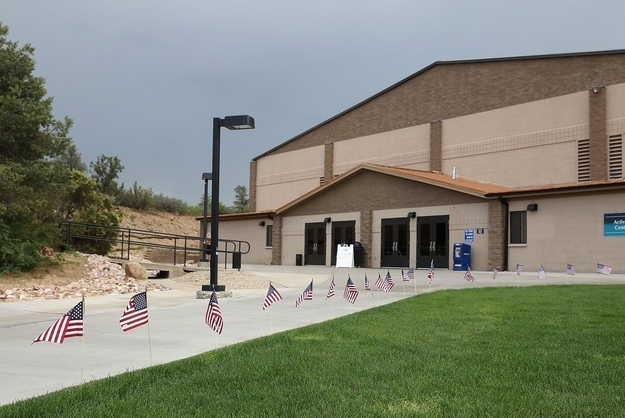 Here are the stories of some of those who died:
An avid snowboarder, 30-year-old Chris MacKenzie grew up in California's San Jacinto Valley, where he was a 2001 graduate of Hemet High School and a former member of the town's fire department. He joined the U.S. Forest Service in 2004, then transferred two years ago to the Prescott Fire Department, longtime friend Dav Fulford-Brown told The Riverside Press-Enterprise.MacKenzie, like at least one other member of the Granite Mountain Hotshots, had followed his father into firefighting. Michael MacKenzie, a former Moreno Valley Fire Department captain, confirmed that he had been informed of his son's death."I can't talk about it," he said.Fulford-Brown, also a former firefighter, feared for the worst as soon as he heard the news of the Arizona firefighters. "I said, 'Oh my God, that's Chris' crew.' I started calling him and calling him and got no answer," he told The Press-Enterprise. MacKenzie, he said, "lived life to the fullest ... and was fighting fire just like his dad.""He was finishing his credentials to get promoted and loved the people. It's an insane tragedy.
For 21-year-old Kevin Woyjeck, the fire station was always a second home. His father, Capt. Joe Woyjeck, is a nearly 30-year veteran of the Los Angeles County Fire Department. Keith Mora, an inspector with that agency, said Kevin often accompanied his dad to the station and on ride-alongs, and always intended to follow in his footsteps."He wanted to become a firefighter like his dad and hopefully work hand-in-hand," Mora said Monday outside of the fire station in Seal Beach, Calif., where the Woyjeck family lives.Mora remembered the younger Woyjeck as a "joy to be around," a man who always had a smile on his face. He had been trained as an EMT and worked as an Explorer, which is a mentorship training program to become a professional firefighter."He was a great kid. Unbelievable sense of humor, work ethic that was not parallel to many kids I've seen at that age. He wanted to work very hard."As he spoke, Mora stood before an American flag that had been lowered to half-staff. His own fire badge was covered with a black elastic band, a show of respect and mourning for those lost in the line of duty.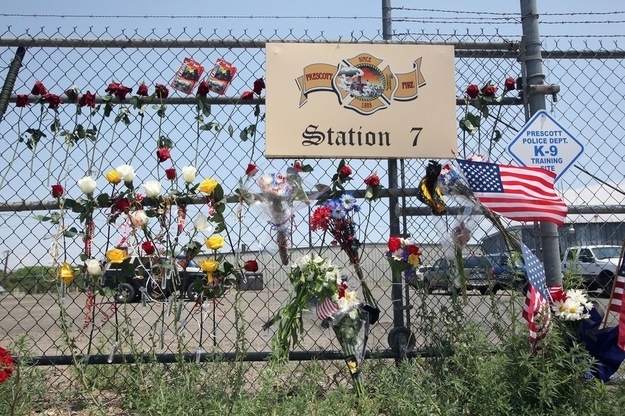 Billy Warneke, 25, and his wife, Roxanne, were expecting their first child in December, his grandmother, Nancy Warneke, told The Press-Enterprise newspaper in Riverside, Calif. Warneke grew up in Hemet, Calif., along with his fellow Granite Mountain hotshot, Chris MacKenzie. He was a four-year Marine Corps veteran who served a tour in Iraq and had joined the hotshot crew in April, buying a property in Prescott, near where his sister lived, the newspaper reported.Nancy Warneke said she called her sister after seeing the fire on the news."She said, 'He's gone. They're all gone,'" Nancy Warneke told The Press-Enterprise. "Even though it's a tragedy for the whole family, he was doing what he loved to do. He loved nature and was helping preserve nature."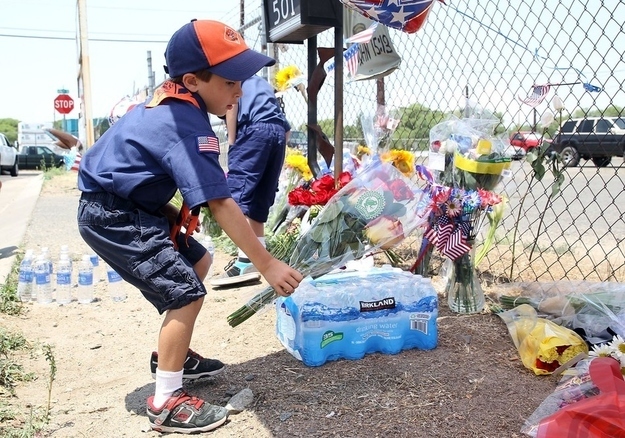 Scott Norris, 28, was known around Prescott through his part-time job at Bucky O'Neill Guns."Here in Arizona the gun shops are a lot like barbershops. Sometimes you don't go in there to buy anything at all, you just go to talk," said resident William O'Hara. "I never heard a dirty word out of the guy. He was the kind of guy who if he dated your daughter, you'd be OK with it."He was just a model of a young, ideal American gentleman."O'Hara's son Ryan, 19, said Norris' life and tragic death had inspired him to live a more meaningful life."He was a loving guy. He loved life. And I've been guilty of not looking as happy as I should, and letting things get to me, and Scott wasn't like that at all."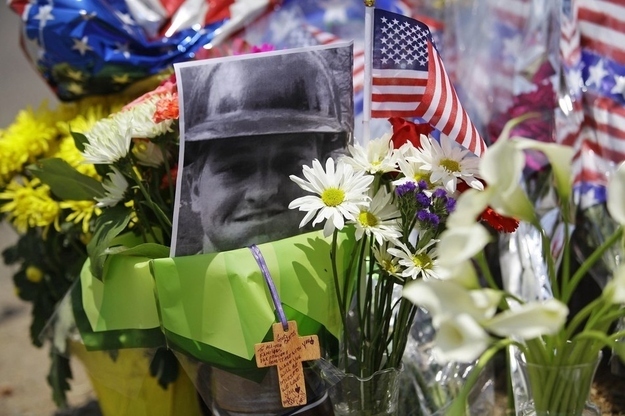 Full of heart and determination, Clayton Whitted, 28, might not have been the biggest guy around, but he was among the hardest-working. His former Prescott High School coach, Lou Beneitone, said Whitted was a "wonderful kid" who always had a big smile on his face. Whitted played for the football team as an offensive and defensive lineman."He was a smart young man with a great personality, just a wonderful personality," said Beneitone. "When he walked into a room, he could really light it up."Beneitone said Whitted loved being a firefighter and was well-respected among his crew. He says he ran into Whitted about two months ago and they shook hands and hugged, and talked about the upcoming fire season."I told him to be careful," Beneitone said.
Today, President Obama called Governor Jan Brewer to receive an update on the Yarnell Hill fire and express his condolences to the families of the 19 brave firefighters and all whose lives have been impacted by this tragedy. He also expressed his gratitude to the hundreds of first responders who continue to work around the clock to protect homes and businesses from this deadly blaze. The president reinforced his commitment to providing the necessary federal support to the state and local efforts. The administration will continue to keep in constant contact with the local officials and coordinate with our federal partners including FEMA, Department of Homeland Security, U.S. Forest Service and Department of Interior.Hundreds of brave men and women are responding to the Yarnell Hill fire, and hundreds more are battling dangerous fires in Arizona and other parts of the Nation. Additional assets have been deployed to support and assist the ongoing effort including airtankers, engines and helicopters. A National Wildland Fire Type 1 Incident Management Team has also been deployed to assist with the response. FEMA has approved Fire Management Assistance Grants for the Yarnell Hill fire and the president asked the governor to inform him of any additional resources that could be provided to protect the communities and families across the state. The president encourages all local residents to follow the instructions of local officials, especially evacuation orders.