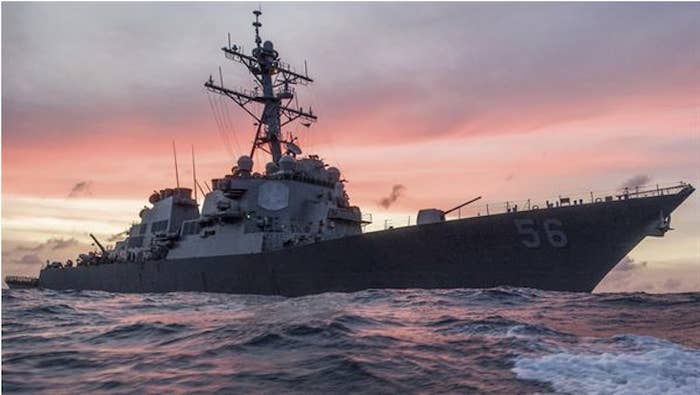 US Navy and Marine Corps divers recovered the remaining bodies of 10 sailors who went missing after the USS John S. McCain collided with a merchant vessel in waters east of Singapore, Navy officials said on Sunday.
The Navy's 7th Fleet had abandoned the search and rescue operation Thursday to focus instead on search and recovery—signaling that the military didn't expect to find any additional more survivors of the crash.
"After more than 80 hours of multinational search efforts, the US Navy suspended search and rescue efforts for missing USS John S. McCain (DDG 56) Sailors in an approximately 2,100-square mile area east of the Straits of Malacca and Singapore," the Navy said in a statement.

The guided-missile destroyer collided with the Alnic MC, an oil and chemical tanker, at 6:24 a.m. local time Monday, according to an earlier statement from the Navy's 7th Fleet. The commander of the U.S. Pacific Fleet said Tuesday that bodies had been found on USS John McCain.
Two bodies were recovered on Thursday and were identified as Kenneth Aaron Smith, 22, an Electronics Technician 3rd Class from Cherry Hill, New Jersey, and Dustin Louis Doyon, 26, an Electronics Technician 3rd Class from Suffield, Connecticut.
The other deceased sailors were identified as:
- Charles Nathan Findley, 31, an Electronics Technician 1st Class from Amazonia, Missouri
- Abraham Lopez, 39, an Interior Communications Electrician 1st Class from El Paso, Texas
- Kevin Sayer Bushell, 26, an Electronics Technician 2nd Class from Gaithersburg, Maryland
- Jacob Daniel Drake, 21, an Electronics Technician 2nd Class from Cable, Ohio,
- Timothy Thomas Eckels Jr., 23, an Information Systems Technician 2nd Class from Manchester, Maryland
- Corey George Ingram, 28, an Information Systems Technician 2nd Class from Poughkeepsie, New York
- John Henry Hoagland III, 20, an Electronics Technician 3rd Class from Killeen, Texas
- Logan Stephen Palmer, 23, an Interior Communications Electrician 3rd Class from Decatur, Illinois
Singapore's police coast guard assisted with the search and rescue mission. A Seahawk helicopter from the amphibious assault ship USS America also responded at the scene.

Four of those injured were transported by a Singapore navy helicopter to a nearby hospital for non-life threatening injuries. The fifth injured sailor did not require any further medical attention.

The destroyer docked Monday morning, having suffered "significant damage to the hull," the Navy said in a statement. The damage "resulted in flooding to nearby compartments, including crew berthing, machinery, and communications rooms," the statement added, but "damage control efforts by the crew halted further flooding."
No one was injured on the Alnic MC, a 600-foot tanker with a gross tonnage of 30,000, according to media reports, citing Singapore government officials. The commercial vessel is about twice the size of the Navy destroyer, a 505-foot warship that displaces about 9,000 tons. The ship had been on its way to Singapore for a routine port stop when it collided with the Alnic MC east of the straits of Malacca and Singapore.
There was no immediate explanation for the crash, which is second major collision involving a vessel from the Navy's 7th Fleet in as many months, and the fourth major crash involving a Navy ship this year. It comes just two months after the destroyer USS Fitzgerald collided with a container ship off the coast of Japan, killing seven sailors. Earlier this month, the Navy relieved three of the Fitzgerald's senior officers, including its captain, for mistakes that led to the accident, one of the Navy's deadliest in years.
In May, the guided-missile cruiser USS Lake Champlain was hit by a small fishing boat near the Korean Peninsula. And in January, another guided-missile cruiser, the USS Antietam, ran aground while trying to anchor in Tokyo Bay.
All four of the warships are equipped with the Aegis missile defense system, meant to protect against a missile attack from North Korea.
On Monday, US Admiral John M. Richardson, who currently serves as the 31st Chief of Naval Operations, discussed the need to make improvements.

"This is ... obviously an extremely serious incident ... and is the last of a series of incidents in the Pacific Fleet in particular," Richardson told reporters. "And that gives great cause for concern that there is something out there that we're not getting at."
Richardson added that he was working with senior leadership in the Navy to take an "aggressive stance" to figure out what went wrong.
First, he said, he ordered fleet commanders to take an "operational pause" in order to look into "fundamentals ... at the unit and team level" and to put together a plan to fix any basic problems.
He is also having Admiral Philip S. Davidson, who is the commander of the US Fleet Forces Command, investigate what is happening in the region and whether training is adequate.
Secretary of the Navy Richard V. Spencer released a statement Monday saying that his "thoughts and prayers are with our shipmates onboard USS John S. McCain," and that the US Navy would "fully investigate the cause of this incident."

President Trump, who returned to the White House Sunday night, was asked by reporters to comment on missing sailors onboard the John S. McCain, to which he replied: "That's too bad." A few hours later, he elaborated in a tweet, stating that his "thoughts and prayers."
The USS John S. McCain is named after John S. McCain, Sr., and John S. McCain, Jr, the grandfather and father of current Republican Senator John McCain, both of whom were navy admirals.

McCain tweeted Sunday that he and his wife were keeping the ship's sailors in their "prayers tonight."
This is a developing story. Check back for updates and follow BuzzFeed News on Twitter.

- Nidhi Prakash contributed to this report.
Outside Your Bubble is a BuzzFeed News effort to bring you a diversity of thought and opinion from around the internet. If you don't see your viewpoint represented, contact the curator at bubble@buzzfeed.com. Click here for more on Outside Your Bubble.