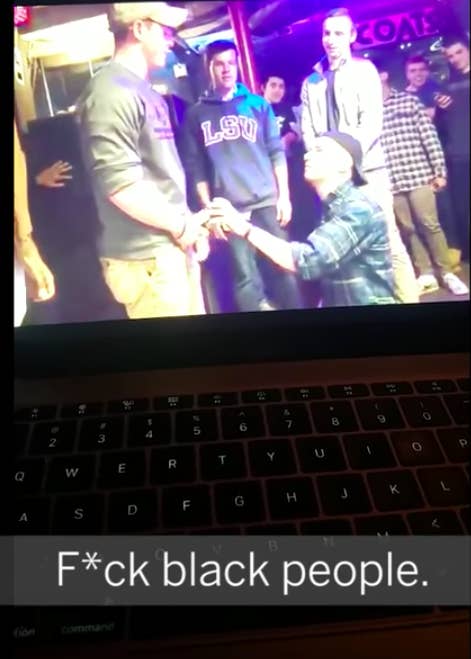 Syracuse University has suspended 15 students involved in a video filmed at a campus fraternity that showed brothers mimicking sexual assault on a person with disabilities, using racial slurs, and performing other offensive acts.

Karen Felter, an attorney who is representing the fraternity brothers, told BuzzFeed News that the 15 students "have received indefinite suspension of one or two years," which means the school will not have to readmit them when the suspensions are complete.
The students, all members of the Syracuse chapter of the Theta Tau fraternity, were suspended Tuesday. The fraternity was expelled from campus in April after the first video was published by the school's student newspaper, the Daily Orange.
In a statement at the time, Syracuse Chancellor Kent Syverud called the video "offensive" and "extremely racist, anti-Semitic, homophobic, sexist, and hostile to people with disabilities."

The videos, originally posted in a private Facebook group, showed fraternity brothers mimicking an act of oral sex, while one member said, "Fuck black people and fuck spics!"
The member was then made to repeat an oath that said, "I solemnly swear to always have hatred in my heart for niggers, spics, and most importantly, the fucking kikes," while other brothers can be heard laughing.
In a letter to students on Friday, Syracuse's dean of students, Robert Hradsky, said: "The hearing and deliberations, overseen by the Office of Student Rights and Responsibilities, have concluded, and the students were notified of their respective outcomes and subsequent sanctions."

The school declined to release further details about the punishments, citing privacy reasons, and said that the students could still appeal the decisions, which "could take as long as several weeks."
"We are letting the administrative appeal process work and then will pursue appropriate legal action," Felter told BuzzFeed News.
The fraternity chapter has apologized for the video and said it was a satirical skit. Theta Tau's national office said in April that it was conducting its own investigation into the incident.