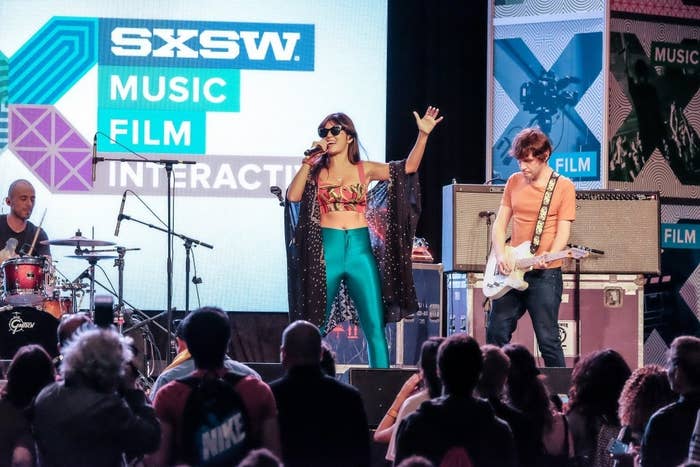 South by Southwest Interactive announced Monday it had canceled two panels at the Austin-based media festival related to gaming and online harassment after receiving "numerous threats of on-site violence."
Members of the "Level Up: Overcoming Harassment in Games" panel said they had received emails on Monday notifying them that SXSW had canceled the discussions after receiving threats.
While the Level Up panel was not specifically about Gamergate, a movement known for harassment of women in the online gaming community, it was filled with women panelists who had previously been targets of harassment, including Randi Lee Harper, Caroline Sinders, and Katherine Cross.
The other canceled panel, "SavePoint: A Discussion on the Gaming Community," included Perry Jones, Mercedes Carrera, Nick Robalik, and Lynn Walsh, who had been previously involved with the Gamergate movement.
"We had hoped that hosting these two discussions in March 2016 in Austin would lead to a valuable exchange of ideas on this very important topic," SXSW Interactives Director Hugh Forrest said in a statement Monday. "However, in the seven days since announcing these two sessions, SXSW has received numerous threats of on-site violence related to this programming."
"SXSW prides itself on being a big tent and a marketplace of diverse people and diverse ideas," Forrest said. "However, preserving the sanctity of the big tent at SXSW Interactive necessitates that we keep the dialogue civil and respectful. If people can not agree, disagree and embrace new ways of thinking in a safe and secure place that is free of online and offline harassment, then this marketplace of ideas is inevitably compromised."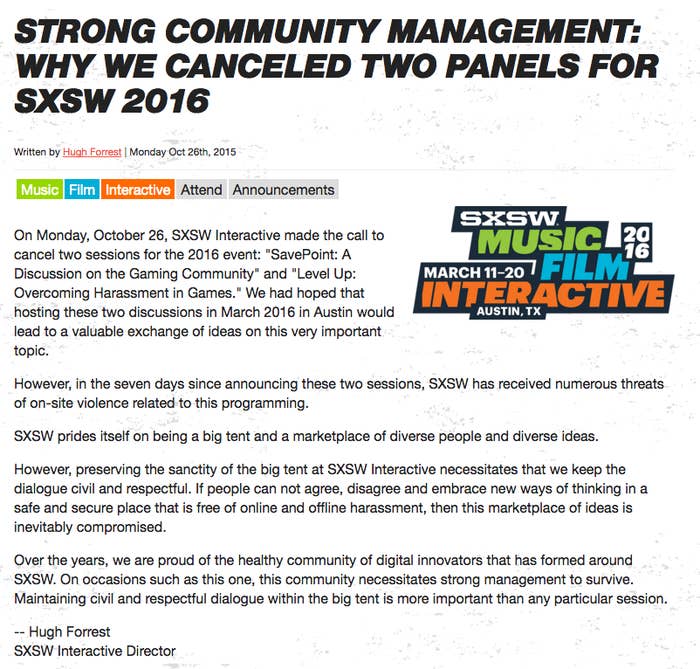 Earlier this week, Vice's Motherboard wrote about the critical response to the SavePoint panel.
The Opening Gaming Society, which was involved in the SavePoint panel, saidit was disappointed by the SXSW cancellation.
"I know all of you, on both sides, must be incredibly upset that this has happened, but take our honest advice; Step away from your computers/phones for a moment," Perry Jones, the group's founder and president said. "Go outside and take a breather, play a video game that calms your nerves, pet your cat or dog, and spend some time thinking. Don't let that anger and unrest plant itself in you – it will only ripen into hatred and lead you to say things you could someday regret."
Programmer Randi Harper, who was part of the Level Up panel, took issue with the fact other panels featuring past targets of Gamergate had not been canceled:
Many women who are involved in games criticism and online activism have been targets of Gamergate, receiving threats since the movement started last year. A speaking event featuring feminist critic Anita Sarkeesian at Utah State University was canceled last year due to a shooting threat.
Developer Brianna Wu, who has been a target of Gamergate harassment, has two panels on the SXSW schedule, one on virtual reality and another on women in technology. The panels have not been affected, The Verge reported.
Katherine Cross, who was also part of the "Level Up" panel, emphasized the topic was not about Gamergate, but about harassment in general.
The decision to cancel the panels led many to express their disappointment on Twitter.
And some argued SXSW was silencing those who were victims of harassment: